These Videos Of Johnnie Cochran's Ex Are Telling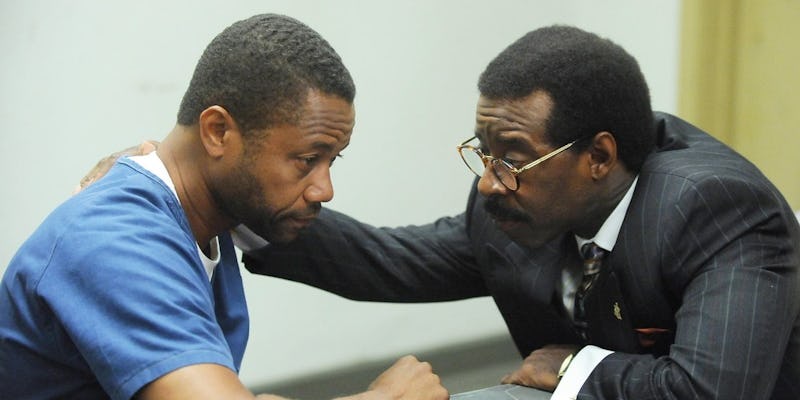 On the seventh episode of The People V. OJ Simpson: American Crime Story, the focus shifts from Marcia Clark's personal life to defense attorney Johnnie Cochran's. The show captures perfectly the nature of the media frenzy around this trial, including the fact that, as the whirlwind of the OJ Simpson trial was picking up speed in the courtroom, a number of personal dramas were developing on the home front for members of the legal team. For Johnnie Cochran, especially, there were many allegations that arose during and after the trial when his ex-wife, Barbara Cochran, published a book about their marriage, and when his alleged mistress, Patricia Cochran, sued him for support. The allegations culminated in a joint interview with Barbara Cochran and Patricia Cochran (née Sikora) on Geraldo Rivera that shined a very bright spotlight on Cochran's personal life. And, while no footage of this interview can be found on the Internet today, there is another video of Johnnie Cochran's ex-wife insinuating these allegations while on tour for her book, Life After Johnnie Cochran: Why I Left the Sweetest-Talking, Most Successful Black Lawyer in L.A.
Even though the clip doesn't show Barbara Cochran saying much about her ex-husband, an excerpt from her book details the abuse she claims she suffered at her husband's hand: "He grabbed me, holding me by one hand tightly — it hurt the way he was holding me — and started hitting me on the side of my head with his fists, where my hair would cover any marks. He hit me three or four times, yelling, 'I'm going to hit you where there won't be any bruises.' I cried out for him to stop." For his part, in an L.A. Times interview, Cochran said that he "never, never touched [his wife]."
But the accusations of abuse came long before the OJ Simpson trial. Barbara Cochran accused Johnnie Cochran of abuse for the first time in 1967, in a motion that she filed in order to get a restraining order against him. In that declaration she alleged that her husband "violently pushed [her] against the wall, held [her] there and grabbed [her] by [her] chin. He ha[d] slapped [her] in the past, torn a dress off [her] (and) threatened on numerous occasions to beat [her] up." Soon after that motion was filed, the two reconciled. But 10 years later, during their divorce proceedings, Barbara Cochran filed another motion for a restraining order, in which she claimed that, "During the course of [their] marriage ... [Cochran had] without any reasonable cause, provocation or justification physically struck, beat and inflicted severe injury" upon her.
In an exclusive interview with the L.A. Times Cochran responded to these allegations, and said that his ex-wife had made them in order to keep their various properties. But Barbara Cochran was awarded a restraining order against Johnnie Cochran in 1977 in response to her complaint, and, according to Harry Fain, an L.A. divorce attorney interviewed in the same L.A. Times article, in order for Mrs. Cochran to have received a restraining order in 1977, she would have to "provide the court with evidence of specific acts of assault, battery, intimidation and threats of harm."
But Johnnie Cochran isn't the only person defending his side of the claims. In an exclusive 1995 interview with People, Tiffany Cochran, Barbara and Johnnie's youngest daughter, claimed that her mother's allegations were unfounded. "My father is not a violent man," she said in the interview.
In response to her daughter's defense of her father's character, Barbara Cochran said, "sometimes things can go on in marriage that children never see."
But the person Tiffany Cochran seemed the most upset with in her interview was Patricia Cochran, the woman who came forward in the same Geraldo Rivera episode to open up about her alleged 30-year affair with the Los Angeles District Attorney. Shortly after the interview aired, Patricia Cochran filed a lawsuit for $1 million or a restoration of the $4,000 per month she claims Johnnie Cochran had been paying her for some time. The suit claimed that Johnnie Cochran had stopped paying her after her television appearance, and had been paying her monthly since 1983. In response, Cochran's lawyer, Larry R. Feldman, said that the lawsuit was "motivated solely for the purpose of gaining publicity for a tabloid-style book and for pure and simple greed."
Still, in her interview with People, Tiffany Cochran confirms the alleged relationship between Patricia Cochran and Johnnie Cochran. Tiffany claims that the interview Patricia Cochran conducted with Geraldo was "disgusting." She went on to say that Patricia "made it seem like she was a secret.... That was not the case" Even Tiffany confirmed in the interview that her father had been giving Patricia $4,000 a month and treated her and their son like family. In response to the People article, Johnnie Cochran declined to comment.
And here I was thinking the trial itself was where all the drama was. It turns out that the layers of accusations and deceit run deep in this crime story.
Image: FX (2)