Fashion Bloggers' Style: Here's What They're Wearing to New York Fashion Week Fall 2014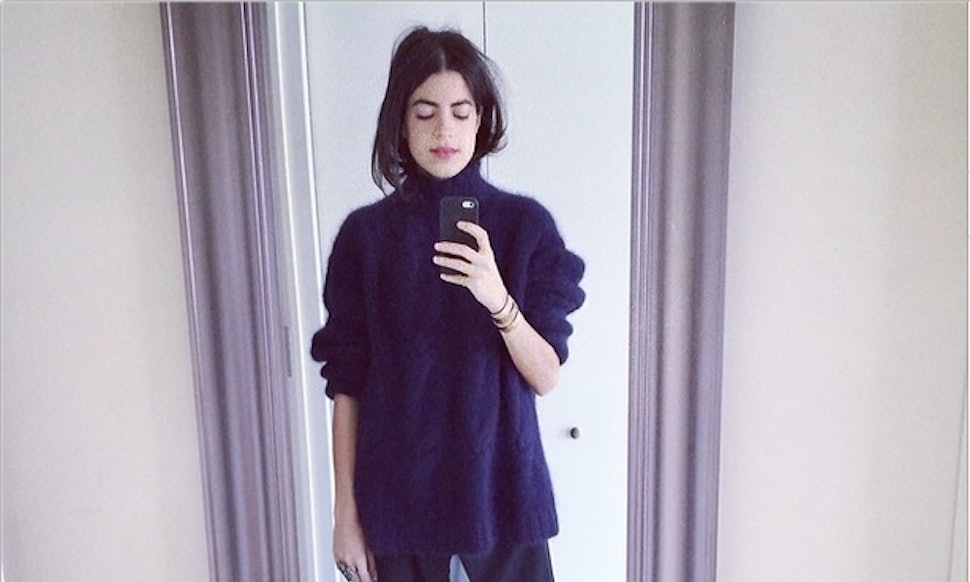 Let's be completely honest with each other right now: who am I more excited to be following this Fashion Week — designers or bloggers? While I'm obviously in it to see what these brilliant designers have come up with for Fall 2014, I'm definitely going to be doing it through the eyes (or should I say Instagram) of some of my favorite fashion bloggers. And I'm not embarrassed to say that I'm just as interested to see what they're all wearing to Fashion Week as I am about what's going to be paraded down the runway. We've got a long and fruitful week ahead of us, so here's just a taste of what Man Repeller, Bryanboy, Chiara Ferragni and more are wearing for the big first day.
POLKA DOTS
Bryanboy doesn't look too thrilled about the start of "Fashion month," but at least he's looking super on trend with his red and black polka dot scarf. Not to mention those sunglasses!
Instagram: Bryanboy/Instagram
FUR-TRIMMED MOTO JACKET
WeWoreWhat looks stunning in an all white ensemble topped with a fierce red moto jacket lined with fur. We die.
Instagram: WeWoreWhat/Instagram
FISHNETS UNDER JEANS
Wearing a pair of fishnets underneath a distressed pair of jeans is one way to stay (sort of) warm this frigid Fashion Week.
Image: PeaceLoveShea/Instagram
FLORALS & PASTELS
Song of Style jumps ahead into Spring in florals and pastels. It's all about forward thinking!
Image: SongofStyle/Instagram
CROPPED SWEATERS
Lust for Life channels our favorite winter pieces in a beige-colored cropped turtleneck and a simple black skirt.
Image: Lusttforlife/Instagram
RUSSIAN HAT
Le Blog de Betty celebrates the Olympics by wearing a furry Russian hat to Fashion Week. Or that's what we like to think.
Image: LeBlogdeBetty/Instagram
WILD SIDE
Lucky EIC Eva Chen and Susie Bubble strike a pose in their chic animal-inspired threads. I guess Susie's fur coat resembles more of a muppet than a real animal, but it's all very "wild" nonetheless.
Image: Evachen212/Instagram
SWEATER. DRESS. PANTS. REPEAT.
We're all about sweaters over dresses, but never thought to layer that over a pair of pants. So genius. You've done it again, Man Repeller.
Image: TheManRepeller/Instagram
CUTE AND CASUAL
The Blonde Salad's Chiara Ferragni rocks a surprisingly casual outfit for the first day of Fashion Week, debuting her pair of metallic gold slip ons she designed for Steve Madden.
Image: chiaraferragni/instagram
SHEER SWEATERS
Chriselle Lim manages to keep things sexy in the super cold weather with a sheer turtleneck sweater.
Image: ChriselleLim/Instagram