9 Adult Acne Mistakes That Prevent Clear Skin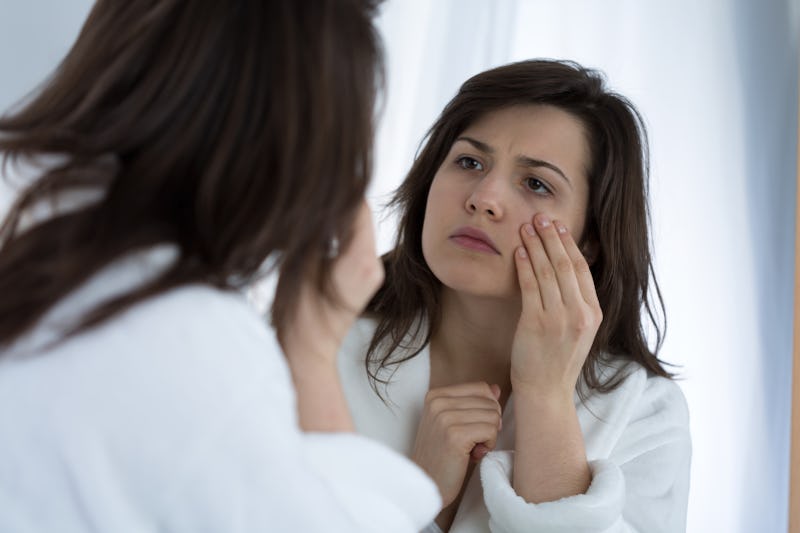 You did your time with puberty. You paid your sentence with tampon tutorials, boob pain, breakouts, and a sudden, shockingly deep desire for impeccably dressed teenage singing sensations. Why, then, is your acne suddenly flaring up halfway through your twenties? What can you do about it, if anything?
Adult acne is something that's affecting more and more people later on in life, and while there's no one overarching cure, doctors and dermatologists are definitely speculating. According to the experts, adult acne and mid-life breakouts can be heavily affected by things like poor diet, inadequate sleep schedules, unhealthy beauty routines, skin care products, and stress levels.
This is bad news and good news at the same time. The bad news is that people everywhere are, for the most part, a little stressed, a tad undernourished, a bit reliant on chemical-filled beauty products, and slightly sleep-deprived. The good news, however, is that these things are all within your own control. With a few minor changes to your routine and surroundings, you can switch up these habits so your skin can hopefully clear right up, and then you're free to leave those breakout-filled memories locked away in your middle school Password Journal.
If Oil-Based Liquid Makeup Clogs Pores: Turn To Mineral Powder
Gabriel Organics Dual Powder Foundation, $23, Amazon
Acne specialists say mineral foundations are the best choice for those with adult acne, as oil-based foundations often clog pores. This Gabriel Organics dual powder foundation is a natural plant-based formula that contains antioxidants to heal your skin while simultaneously concealing blemishes. Its matte finish is smooth and fresh-looking, and because it's hydrating and has a chemical-free sunscreen built in, it's great for the overall health of your skin.
If You're Waiting To Treat Problem Skin: Slough Away Dead Cells ASAP With Honey Scrub
Bee Friendly Honey Mask, $30, Amazon
Francesca J. Fusco, M.D. suggests treating your acne the second it appears. Because adult acne is sometimes caused by a build-up of oil, dirt, and dead skin, this Bee Friendly facial mask provides an all-natural way to buff away anything that might be blocking your pores. It's made with organic ingredients like Hawaiian wildflower honey, French pink clay, and diatomaceous earth to heal skin, unclog pores, and gently remove bacteria. Reviewers say that their acne has been reduced significantly, regardless of whether their skin was oily or dry to begin with.
If You're Not Washing Face Regularly: Cleanse With Salicylic Acid Twice Daily
Mario Badescu Acne Facial Cleanser, $15, Amazon
It's crucial that you don't use run-of-the-mill soaps to wash your face every day. While effective at killing bacteria, they also strip your skin of natural oils, which pushes your oil production into overdrive. This acne-fighting cleanser is formulated with salicylic acid and aloe vera, so it's tough on cleaning away dead cells but gentle on irritated skin. Salicylic acid is a must for acne, says Dr. Cheryl Karcher, because it helps clear up pores that might be clogged.
If You're Spreading Germs With Dirty Brushes: Natural Bristles Hold Up To Washing
EcoTools 6 Piece Brush Set, $15, Amazon
Poor-quality synthetic brushes can start to break down after several washes, leaching chemicals into your skin and clogging your pores. These EcoTools brushes are my go-to; they're carefully made from natural and environmentally friendly ingredients that are durable, but crazy soft. They hold up against countless washes, but still allow for smooth and even application. Since your brushes touch your face (and loads of other germs) on a daily basis, it's essential that they're clean.
If You're Stressing Out: Manage Anxiety With Therapeutic Coloring
Color Me Calm, $14, Amazon
Researchers found that stress causes an influx of cortisol and other hormones, which can then cause breakouts at any age. Managing stress, then, becomes synonymous with managing your adult acne, and adult coloring books are all the rage in therapeutic activities right now. This Color Me Calm coloring book, with its 100 beautifully intricate designs, is made specifically for relaxing. It has sections for mandalas, water scenes, wooded scenes, geometric patterns, flora and fauna, natural patterns, and spirituality, and it can be used with any coloring materials. (It's also a great alternative to unwinding with Netflix late at night, as bright lights disrupt REM patterns — lack of sleep being another cause of adult acne.)
If You're Aggravating Acne With A Cotton Pillowcase: Silk Soothes Skin
Mulberry Silk Pillowcase, $21, Amazon
Silk pillowcases are known to be great for your skin, but because sleep deprivation and acne breakouts are directly related, they might be better than you know. This Mulberry silk pillowcase is hypoallergenic and significantly more resistant to dust mites than cotton, so if nasal problems stop you from a good night's rest, here's your answer. It's also better at handling skin's natural oils and made with all-natural dyes, and because it's smooth and cool to the touch, you'll sleep comfortably and soundly until your alarm rings in the morning.
If You're Magnesium Deficient: Relax In A Magnesium Flake Bath
Ancient Minerals Magnesium Bath Flakes, $9, Amazon
According to Kathryn Matthews, a certified holistic health coach, magnesium deficiencies can severely affect your hormonal levels, which might then lead to adult breakouts. These Ancient Minerals magnesium bath flakes are a convenient and soothing way to up your magnesium intake. To reap the benefits, fill up a hot bath with clean water, add a cup of these, and let yourself soak for a while.
If You're Dehydrated: Remind Yourself To Drink Water By Toting A Bottle
Klean Kanteen, $22, Amazon
Good hydration is essential for keeping skin clear and elasticized because it helps cleanse your filtering organs — keeping hormones in check. I've owned a Klean Kanteen for about two years now, and because of that, I drink tons more water than I used to. It's BPA-free and food-grade stainless steel, so it's both safe and ridiculously durable. (I've accidentally smashed that thing against every surface imaginable, and it's still 100 percent pristine and intact.) My mom has asked me if she should start considering it her first grandchild.
If You're Exhausted: Bedtime Tea Helps You Drift to Sleep
Yogi Bedtime Tea, $23, Amazon
Because sleep deprivation messes with your hormones, it could be the reason why you're breaking out so often. Yogi Bedtime Tea uses a relaxing blend of herbs like valerian and chamomile, but it skips the caffeine, so you can drift off into a soothing sleep quickly and more easily. Reviewers say they like the taste, and it's a great way to wind down after a rough day — or any kind of day at all.
Bustle may receive a portion of sales from products purchased from this article, which was created independently from Bustle's editorial and sales departments.
Images: Fotolia; Amazon (9)