6 Ways You're Possibly Ruining Your Hair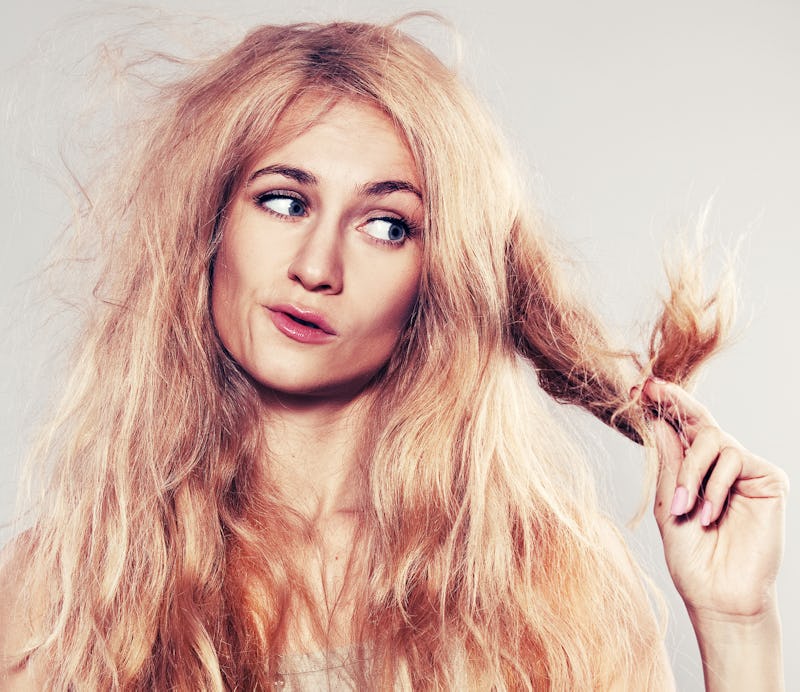 So, you're religious about doing hair treatment masks and taking your hair growth tablets, but you're still having the same issues: Your strands are dry, they keep breaking off, your hair won't style like you want it to, and it always looks flat and blah. I hate to tell you, but it's probably not your hair's fault. More than likely, the problem is you.
We're not trying to be harsh — we all make hair missteps. Unfortunately, though, "once hair is too overstressed and dried out, there's nothing to do but cut it and let new hair grow in," says George Gonzalez, salon owner and stylist who has worked with Cindy Crawford and The Originals' Danielle Campbell. NOBODY WANTS THAT (well, unless you were considering that drastic a change to begin with…). Here are six things you may be doing wrong:
1. You're heat styling too often
"One of the worst things you can do to your hair is over-styling on high heat," says Randi Peterson, who has done Mariah Carey's and Sarah Hyland's hair. "Most people have their heating tools set at high. You can get the same look on a low to medium heat without burning your hair."
Not enough of us are using heat protectants either, says Gonzalez. "So many girls put the dryer directly against the hair because they think that's the way to get it straight. Pair this with a metal brush that heats up and pulls the hair, and you are creating even more damage." Only use a brush on hair that's 3/4 dry, and always start with a heat protectant first.
Alterna Bamboo Smooth Anti-Breakage Thermal Protective Spray, $25, Check It Out
2. You've been using the same dryer since 2002
"Using an old dryer or not cleaning out the air vents can be really damaging. Due to lint or hair build up, air can't flow through properly, therefore the pressure goes down and too much heat is required to get it dry and styled," Gonzalez explains. "Clean out or replace your products periodically. Your stylist can help to make sure your tools are in great working condition."
GHD Air Hair Dryer, $225, Check It Out
3. You're not being sun-safe
Just like your skin, your hair is vulnerable to UV rays. "Ongoing sun exposure damages and dries out your hair, so look for products with UV protection built in, or work a hair sunscreen into your styling routine," says Gonzalez. And make sure you do it year-round, not just in the summer months. You're exposed to UV rays in the winter, too.
Phytoplage Protective Sun Veil, $30, Check It Out
4. You don't know how to create any heat-free looks
Give your hair a rest and play up your natural texture, Gonzalez says. "If you want to create a curly style, there are heatless options. Try braiding your hair at night or creating loose pin curls as you sleep. When you wake up in the morning and shake out the sets, these styles will mimic the work of your curling iron." Peterson also suggests throwing your hair up into a loose bun or topknot on your days off to give your strands a rest. "If you absolutely have to blow dry, just dry the root and let the rest go natural."
Xtava Professional 5-in-1 Curling Iron, $39.99, Amazon
5. You're using products that dry your hair out
Another no-no is using deep conditioner loaded with alcohol and other harsh chemicals, according to Peterson. Sulfates are added to shampoo formulations to give a lather effect, but are totally unnecessary. "Sulfates are, in essence, detergents," says Gonzalez. "Always choose products that are labeled 'sulfate free' because if your current product contains more than two types, you are just stripping your hair of moisture."
According to Peterson, the best treatments to hydrate your hair are either coconut or jojoba oil, both of which can be picked up at Whole Foods.
Kerastase Shampoo for Dry Hair, $21, Amazon
Viva Labs Organic Extra Virgin Coconut Oil, $10.79, Amazon
Desert Essence Pure Jojoba Oil, $9, Amazon
6. You've got your look, and you're sticking to it
Wearing your hair in the same look every day, whether that be an eye-level ponytail, your go-to top knot or your never-fail flat-ironed curls, is a no-no. "All of these looks worn repetitively will cause hair strands to weaken," says Gonzalez. Mix it up!
Image: Fotolia