What To Know Before Using Liquid Eyeliner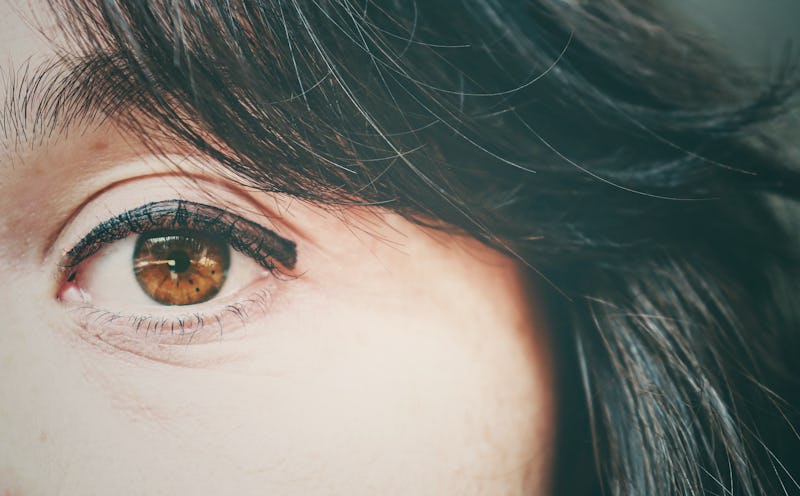 Laura Castro Diz / EyeEm/EyeEm/Getty Images
Being the winged eyeliner enthusiast that I am, I always make sure that my makeup bag is consistently stocked with one item: liquid eyeliner. My relationship with this versatile product is anything but simple, I've experienced everything from desperate struggling to overwhelming joy while using it. Because let's be real: liquid eyeliner certainly takes a lot of practice and time. Bottom line is that there are a lot of truths to know before using liquid liner.
It actually wasn't until college when I first started using liquid eyeliner. Everything before that was all pencil or gel liner and I had never attempted doing any cat eyes either. So when I first started to use liquid eyeliner, I was a little bit intimidated because of it's consistency and texture.
But after being patient with myself and the thistles of my liquid liner brush, I became extremely happy with it and have stayed with the product ever since. Different from using pencil or liner, I just love the idea that I'm sort of painting the liner on my face, so it feels more like a work of art when my eyeliner is finished. It's a great feeling.
However I do wish that I would've had a guideline of truths to know before attempting to use liquid eyeliner. So just in case you're deciding to make that switch from pencil or gel to liquid, here's what you should know:
1. It Can Get Messy
Neutrogena Makeup Remover Cleansing Towelettes, $4, Amazon
This is probably obvious, but if you've never used liquid eyeliner before, it can get really messy. It might get on your hands, your shirt, and even in your eye. Make sure to have makeup remover wipes right at your side just in case it gets all over the place.
2. Cotton Swabs Will Become Your Best Friends
Q-tips Cotton Swabs, 500 ct., $3, Walmart
Since it can get pretty messy, having cotton swabs will be super handy when trying to attain that perfect cat eyeliner. I will usually dip the bud in vaseline to thin out my wings or fix any mistakes I made.
3. The Type Of Brush Is Important
Sephora Collection Long Lasting Eyeliner High Precision Brush, $12 Sephora
This is really important to remember: You have to be comfortable with your brush. Before picking your liner, try to experiment and research to see what kind of brush is best for you. Whether it's felt tip or thistles, your whole experience is dependent on the kind of brush you use. I remember buying a certain type of liner that had the wrong brush and I immediately switched it with another liner brush that I had. So pick the right brush, it will make everything simpler.
4. It Takes A Lot Of Practice
Because everyone's eye shape is different, and not all liquid liners are created equal, you have to spend a lot of time in practicing with your brush and liner. However I can say that once you get the hang of it, it becomes really easy.
5. Don't Rush When You Use It
The last thing you want to do is rush using liquid eyeliner. Make sure you take time when applying it, and breathe. Since it's liquid, rushing can make your hand unsteady, leaving a bunch of paint marks everywhere.
6. Pick The Formula That's Best For You
Stila 'Stay All Day' Waterproof Liquid Eyeliner, $22, Nordstrom
Pick the liner that you're most comfortable with. If it's easier for you to use a pen or marker type of liner, then definitely work with that. For me, I really enjoy using a brush that I can dip so I can control the amount of product that gets onto my brush.
7. Avoid Putting It On Your Waterline
If there's anything to know about liquid eyeliner, it's that it doesn't really do well on your waterline and it might be uncomfortable. The product most likely won't stay on your lid (I've tried myself), and it may instead spread all over your eyeball because of its consistency. I'd personally stick with gel or pencil when trying to put eyeliner on your waterline. You can also try using waterproof as well.
8. It's Most Ideal For Winged Eyeliner
But it's biggest strength? Attaining that perfect winged eye. And for that one reason, liquid eyeliner will always be my favorite type of product to use.
Just remember, don't be intimated, be confident, and know that using liquid eyeliner can definitely be a rewarding experience!
Images: Getty Images (3);Courtesy of Brands; Danelle Sandoval