9 Easy Nail Art Techniques To Master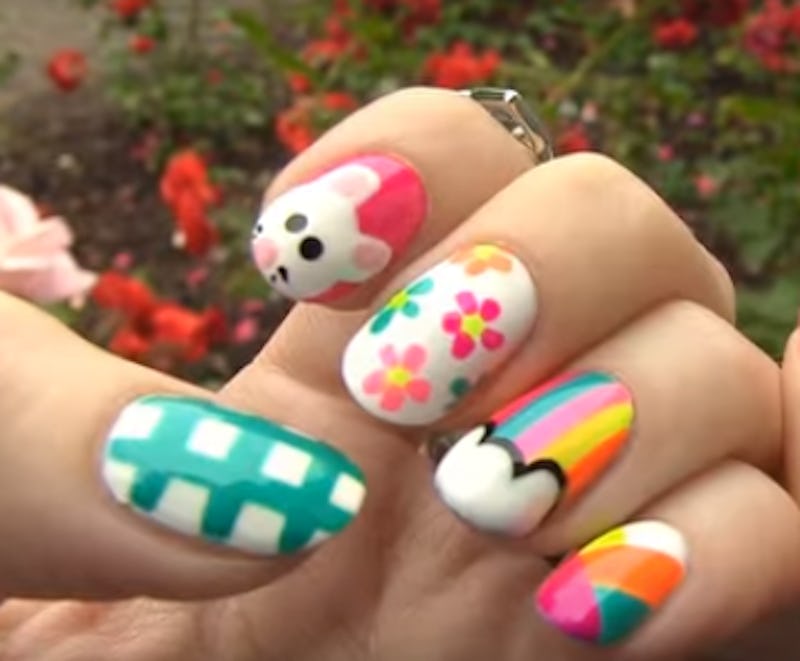 Nail art is my life. And before I mastered some of the more complicated looks, I leaned hard on a few easy nail art techniques that looked much more complicated to pull off than they actually were. When you have a bunch of these easy techniques in your back pocket, you'll never be more than a 10 minutes (OK, maybe a half hour while you learn) away from having nails that look like they're fresh from the fancy nail art boutique.
Keep in mind, as with everything, even basic nail art takes practice. I'm one of those people who gets super frustrated when I'm not instantly good at something, so I feel your pain. Dots are apparently one one of the most basic nail art techniques, and the foundation of a million manicures, and I can't make uniform dots to save my life. My point is, if you do these techniques a few times, you'll find a few that you're not good at, but also a few that make you want to pat yourself on the back. Keep at it! Think of it like learning to braid your hair, or mastering a contour. Unless I'm the only person in the world who can't do either of those things to save my life. Anyway, this collection of easy nail art techniques isn't exhaustive, but it's a great foundation. Go forth and be fabulous.
1. Gradients and Ombre Nails
If you can master the gradient, which is really pretty simply, albeit a tad messy, you will have opened up a whole new world of cute nails. You can do it with almost any colors. You can do two colors, or five. And gradients always look spectacular, even when they're not perfect. Once you master the gradient, try doing it on top of some nail vinyls.
Just don't forget to let your polish dry completely before you add the vinyls.
2. Glitter Gradients
This tutorial shows you how to add a glamorous glitter waterfall to your nails. You cam add the glitter to the top, or closer to your cuticles, for two different versions of the same look. These are great for fancy evenings out and special occasions, but you can wear them always, if you love them.
3. No-Tool Cuteness
If you don't have dotting tools or sponges or vinyls, you can still do easy, cute nail art with just polish. Here are a couple of tutorials that are bright, fun, and tool-free. You will learn a floral, a stripe/rainbow, a braid, a checked design, and a bunny.
4. Fancy Dotticures
If you have a dotting tool (and if not, use a toothpick, old pen, bobby pin, or chopstick) you can create complicated geometric, even lace-like designs with very little skill or effort. I'm talking specifically about the second tutorial in this video, but the other two are simple and cute, too.
Here's another video in the series that showcases another simple but complex-looking dotticure.
5. Splatter Nails
This video uses a fan brush to make hip looking splatter nails, but I use an old toothbrush for the same effect. You get a cool, colorful nail graffiti look when all you did was make a hot sloppy mess with paint. Doesn't get much easier than that!
6. V-Gaps
Having V-Gaps in your arsenal will make you feel like a rock star. They're part tulip, part color blocking, part vagina, and all cuteness. If you don't have striping tape, you can skip it, but you have to be more careful. You can also cut some regular tape into thin stripes. You can also skip the dehydrator. I usually do. But it will help your mani last longer.
7. Sharpie Nails
Sharpie nails look like watercolor paintings, and I love them. You can also use sharpies to make really precise designs.
If you don't have a dappen dish, just scribble on some waxed paper or plastic sandwich bag. Do make sure the design is really dry before you add topcoat, or you'll smear everything everywhere.
Really any marker works, but Sharpies seem to last longest and look brightest.
8. Stickers And Decals
When I want something cute and flawless that takes little effort, I always go for nail stickers or decals. They work just like they sound. You stick them on your nails, and you're done. And you can get them in literally any color or design under the sun. Easy breezy.
9. Water Marble
I saved watermarble for last because even though it's super popular, and so many people make it look so easy, I just can't do it. It's me nemesis, But in fairness, you will probably rock it. And if you do, please teach me your ways.
Here's a trick that's less messy. Love this.
And here's the easy cheater's way. Because, options.
So now you have, basically, the Bustle School of Nail Art at your fingertips. If by Bustle, you mean Popular Nail Bloggers Who Are Also My Heroes. I can't think of a better way to spend a Sunday morning, than Netflix and nails. Enjoy!
Images: SaraBeautyCorner/YouTube