Carrie Hammer is Redefining Fashion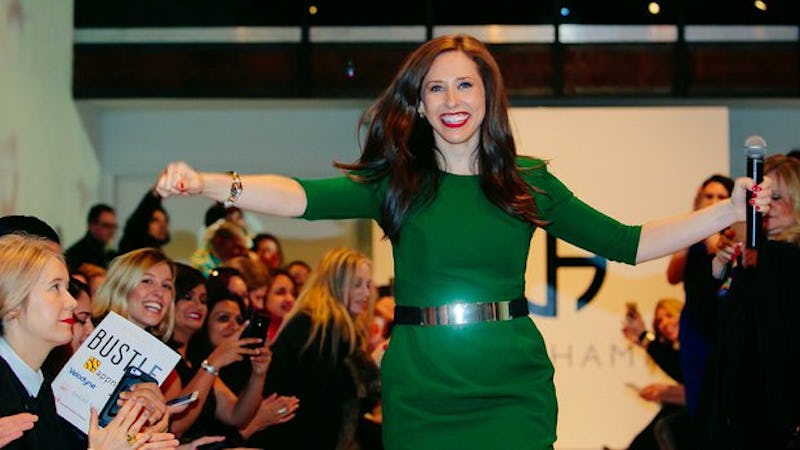 Carrie Hammer may embody of the next generation of fashion designers, and her latest Fall 2014 collection is proof positive of her vision. Formerly an advertising sales executive, Hammer switched gears in 2012 and began a Kickstarter campaign to raise funds for her namesake brand of women's workwear. After reaching her goal, Hammer began to design a line fit for a successful business mogul with refined taste and a modern twist.
This year, the designer was presented with the opportunity to show her looks at Fashion Week, and on a time budget of little more than three weeks, created an exhibition that was not only sartorially stunning, but empowering for women, as well. Throughout a short opening video, Hammer introduced the motto behind the collection as "Role models, not runway models," focusing on successful women who also happen to have a discerning taste in fashion. The theme was reflected throughout her presentation.
A selection of girl power-infused music including Beyoncé's hit "Run the World (Girls)" and Alicia Keys' "Girl on Fire" set the tone for the show, reinforcing the positive, laid-back vibe. Based on Hammer's vision, the models wearing each look were a carefully selected group of successful and influential women ranging from CEOs to comedians and philanthropists. Hammer's role models included Miss USA 2012 Nana Meriwether, NY Tech Meetup Executive Director Jessica Lawrence, CEO of HelloFlo Naama Bloom, and Ms. Wheelchair New York Danielle Sheypuk. Each woman brought a distinct perspective and look to the collection, highlighted further by the styling of their cosmetics, hair, and ensemble.
The collection itself was a union of luxe tweed sheath dresses, silk tops in streamlined silhouettes, and voluminous skirts punctuated by playful pieces like a newspaper print skirt and an emerald peplum dress. Hammer exhibited talent in the tailoring of each piece, whether accentuating a waist with a flared skirt or adding an unexpected ruffle to the sleeves of a dress.
Regarding her motivation for creating a body image-friendly line, Hammer explained, "Since the beginning of my fashion line, it's always been fighting body dysmorphia, and all about having the dress fit you rather than you getting your body to fit in the dress". The designer's attitude is refreshing for an industry that places increasingly skeletal models on a pedestal, and expects consumers to diet their way into couture ensembles. When asked about her inspiration, Hammer said, "My customers inspire me."
Image: Hiokit Lao/Courtesy Carrie Hammer