9 Tricks To Combat Irritated Skin After Shaving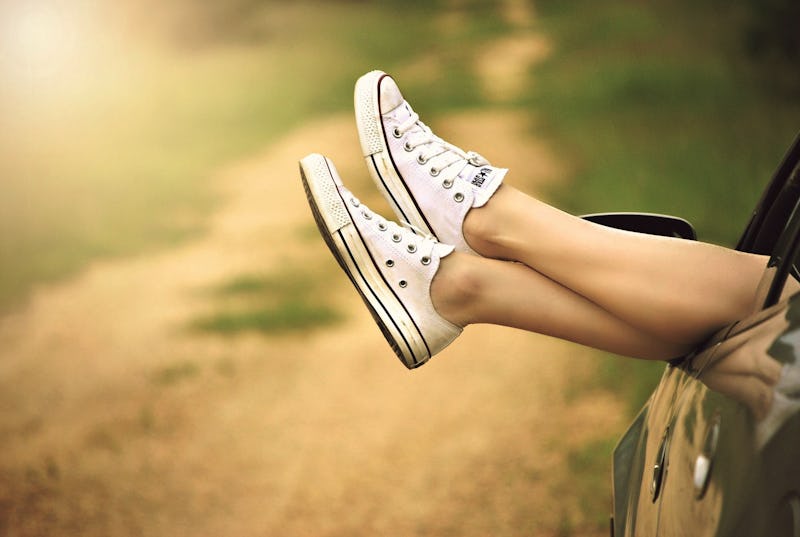 Razor burn sucks — there's no way around it. There's nothing worse than getting to the gym and hitting the mat to stretch, only to look down and see red, irritated streaks running down your legs. In another scenario, you've jumped in the pool and suddenly felt the painful sting of chlorine against your razor burn. But these situations are avoidable, and it's easier to keep your skin from getting itchy and irritated after shaving than it may seem.
For you, it could be as easy as taking your razor game up a notch and switching to an electric razor with hypoallergenic blades that you don't store in the shower (the humidity can cause bacterial growth — eek!). There are also many mess-free products, such as repairing roll-on treatments, that will protect you from painful ingrown hairs.
After figuring out how to avoid ingrown hairs, red bumps, or dry skin caused by your usual shaving routine, you'll finally be in the mood to rock your new LBD and denim minis. So, before you head out to the beach or spend a day at the mall trying on new shorts, follow these tricks. These products will give you smooth, touchable legs that will have you saying, "who needs pants, anyway?"
Heal Ingrown Bikini Hairs With Roll-On Willow Bark Treatment
Forget the days of sitting poolside, fresh after grooming your bikini area, and seeing angry red bumps peeking out. Instead, this roll-on skin treatment uses willow bark extract and camphor leaf oil to eliminate razor burn, ingrown hairs, and other bumps on your sensitive bikini lines. It also works to reduce dark spots on the skin caused by all of that painful irritation, too. The easily applied product's results are so strong, that one user calls this product "a miracle worker."
Remove Ingrown Hairs With Exfoliating Pads
Bliss Ingrown Eliminating Pads, $33, Amazon
If you always find yourself sneaking in a quick shave in the gym locker room, keep these ingrown hair removal pads on hand to keep yourself protected from unwanted bumps. The pads will exfoliate gently but thoroughly with salicylic acid, then continue to soothe and smooth sensitive skin with green tea and oat extracts. Pro tip: Using just one pad over incoming stubble after showering does the trick.
Invest In An Electric Shaver With Hypoallergenic Blades
Leaving throwaway drugstore razors in your shower can cause bacterial growth, which seriously bothers (and ultimately damages) your skin. Store a cordless electric razor with sharp, hypoallergenic blades outside of the shower to stay safe. This razor will reduce irritation on sensitive skin and closely trim tricky areas, like your bikini line, with a pop-up trimmer. This gadget works wet or dry, and one user said, "Exactly what I was wanting. I have not had bikini area bumps in weeks."
Prevent Dry Skin Shaving Irritation With Jojoba Oil
Shaving over the top of dry, flaking skin can cause serious redness and really ouch-inducing irritation. To prevent this type of dry skin, stay moisturized with this mega-hydrating body lotion. The moisturizing formula is infused with two replenishing ingredients: sweet almond oil and jojoba oil. Your legs will be soft, supple, and prepped for a smooth shave. One pleased fan even said, "nothing feels better on my skin after getting out of the shower than putting this moisturizer on my skin."
Lather Up For A Sharper Shave With Antioxidant-Rich Cream
If you want shiny-smooth legs (sans irritation), not just any shaving cream will do. Your best bet is to choose an ultra-moisturizing shaving cream that's loaded with natural aloe, oat and shea butter to soothe your skin, as well as antioxidant vitamins E and C to keep skin looking radiant and healthy. Users praise this product for its amazing smell and totally-touchable smoothing results.
Exfoliate With A Bump-Free Topical Solution
Gigi No Bump Topical Solution, $7, Amazon
This skin-smoothing topical solution goes on after you shave to unclog pores, preventing painful and irritating ingrown hairs and red bumps from killing your vibe. One user praised this product for being the only one that could give her a smooth, bump-free bikini area, which I know is a major feat. Bonus: This product is made to be used by both men and women, so feel free to share it with your roomies or partner.
Deodorize Underarms With Sunflower Seed Oil For Hydration
This aluminum-free, 24-hour, odor-protecting deodorant contains sunflower seed oil and soothing aloe, which work to moisturize under your arms — preventing the painful irritation and razor burn caused by shaving. That sensitive area of skin will stay happy and hydrated, and you won't experience itchy irritation the next time you perspire.
Protect Bikini Area From Chafing With Lavender Mist
Luxxx Beauty Refresh After Shave, $8, Amazon
This refreshing, lavender extract cooling mist contains natural ingredients that prevent chafing by shielding your skin from your clothes. With lavender, cucumber, sage, licorice root, and sage extract, your skin will be moisturized and pain-free days after you shave. Bonus: this mist tightens your pores, which can prevent ingrown hairs from popping up.
Prep Legs With Natural Exfoliating Loofah Pads
Kiloline Exfoliating Loofah Pads (2), $7, Amazon
All-natural loofah and terrycloth pads are an absolute must when adding new products to your shaving routine. Use them to apply soap or shaving cream even before you pick up your razor, in order to whisk away dry skin and make hair removal simple. These deep scrubbing pads come with a stretchy grip that slips right over your hand for easy exfoliating. You'll want to replace these pads about every three months to get the best smooth skin results.
Bustle may receive a portion of sales from products purchased from this article, which was created independently from Bustle's editorial and sales departments.
Images: Pexels (1); Amazon (9)