New York Fashion Week Fall 2014: The 10 Most Standout Looks from Day 1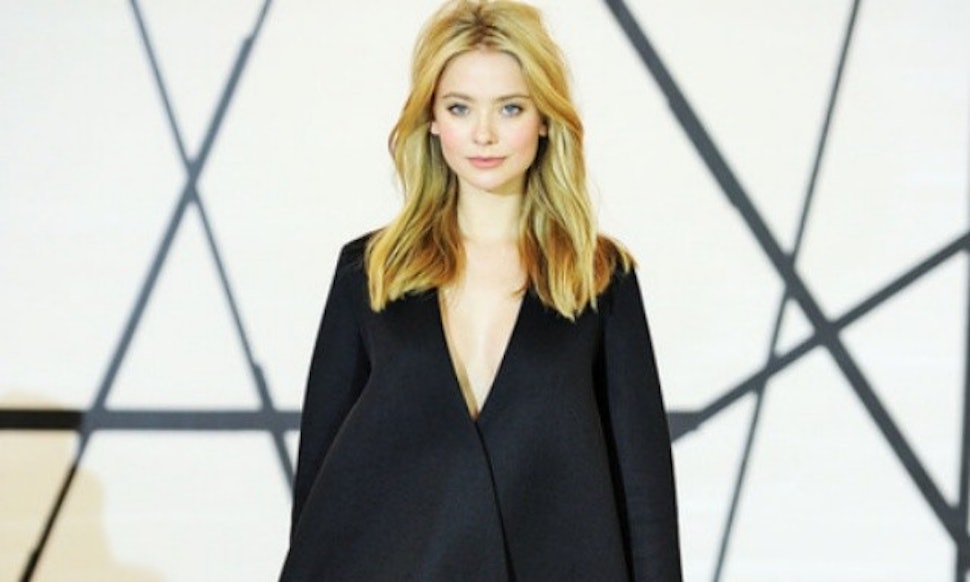 Just like that, day 1 of New York Fashion Week Fall 2014 is history and, so far, I like what I'm seeing. Designers did not disappoint, bringing us gorgeous garments that have us wishing it were September. As expected, fur will be back in full force this Fall, as will bold prints and neutral tones. Additionally, there were some, well, more unexpected looks that we're not sure we'll be donning later this year. Here are the 10 most standout looks — mostly good and some bad — from today's shows.
Image: VoltMag/Instagram
Nicholas K
In case you're feeling extra badass later this year, Nicholas K's Fall collection is filled with Lara Croft-inspired looks. Or at least that's what I think they were going for.
KYE
Wet hair and crop tops are not just trending for Spring — they will continue to take over Fall, too, according to KYE. I don't know where I plan on going (Miami, maybe?), but I'll find any excuse to wear this hot (hot, hot!) co-ord.
BCBGMAXAZRIA
Rachel Comey
This downtown chic piece from Indie designer Rachel Comey had me swooning. The lace detailing adds the right amount of feminine flair to the flannel body of this jumpsuit.
Image: SilverWears/Instagram
Creatures of the Wind
So, fur baseball caps — totally trendy, according to Creatures of the Wind. I love the 1940s feel of this ensemble, especially the metallic fabric of her midi skirt.
Desigual
Speaking of metallics, Desigual did what Desigual does best — kept things playful with prints aplenty. They took the sporty trend to an entirely new level with this embellished gold and navy varsity jacket.
Veronica Beard
Veronica Beard's entire Fall collection was an amalgamation of rocker chick meets boho girl meets '70s chic. And it was amazing, particularly this fur-trimmed coat layered over a top and skirt. So many textures and patterns — it completely blew my mind.
Image: esthetictheory/Instagram
TOME
This stunning two piece red gown belongs on the red carpet. Celebrities: contact your stylists immediately and get this to wear to the Oscars.
Lisa Perry
Perhaps my favorite collection of the day was that of Lisa Perry's. I envisioned myself wearing each and every piece, especially this triangle-shaped LBD.
Image: VoltMag/Instagram
Aron Rose
There were a lot of monochromatic tones, fur snoods, and boxy coats happening in Aron Rose's Fall collection. I'm anticipating needing this entire ensemble come September.