'DWTS' Brings Wanya Morris To The Stage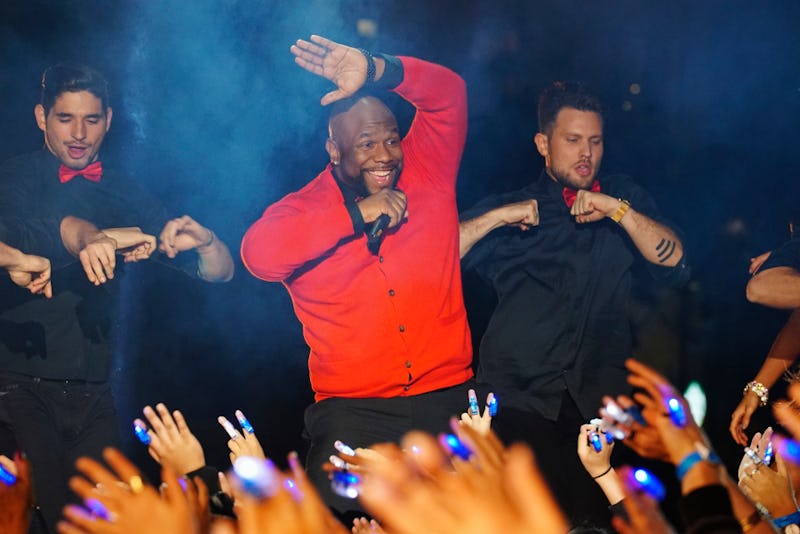 The 22nd season of Dancing with the Stars is still anybody's game — but who will be the celebrity that manages to snag the mirrored trophy? You might not recognize Dancing with the Stars cast member Wanya Morris by name, but I bet your memory will be jogged by looking at a picture — and, if not, then certainly by his voice. As a member of R&B group Boyz II Men, Morris has leant his voice to countless classic '90s slow jams, from "I'll Make Love To You" to "It's So Hard To Say Goodbye To Yesterday." The group is a lot less active now, but in their heyday, they had record-setting hits. Morris will fulfill the "star" in Dancing with the Stars, though it might have gotten harder for him to learn new steps in comparison to some of the younger contestants.
Morris won't be able to rely on either his talented pipes or the backup of his fellow Boyz in order to make his way through week to week. No, he'll have to become a successful solo artist — in a brand new art form. The Boyz II Men were never known for their complicated choreography, so Morris will have to learn how to dance pretty quickly. But, he does have a few factors on his side, and if Morris hopes to win DWTS Season 22, he'll need to exploit them all.
He's Used To Performing Onstage
Having stage presence is a big help on DWTS — the judges and the voters will forgive a few missed steps if the performer has style. And, Boyz II Men always had a lot of style.
He's Hoping To Reap Some Added Benefits
Morris told ABC News that he's hoping to use DWTS in order to exercise more. Approaching the competition as an athletic challenge is a good way to ensure that Morris will be totally devoted to practicing every day, and that he won't shy away from the more difficult, strenuous dances. He'll be doing flips and lifting his dance partner over his head in no time.
He's Paired With A Great Pro
And, speaking of which, Morris' partner is Lindsay Arnold, who's never won a season of the show before, and has only competed on two other seasons. No one's hungrier for the title than a rookie, especially one as talented as Arnold. And she's been keeping her skills sharp on the DWTS tour.
They're Not Taking It Too Seriously
Morris also told ABC that he wants to have "fun" while on the show. I think taking DWTS too seriously can be as wrongheaded as the celebs who try to coast through the competition. You need to be willing to have fun with the performances to get the fan vote.
He Was Just In Grease: Live!
Boyz II Men played Teen Angel in FOX's recent live adaptation of the musical Grease. And, in that performance, he may not have done much complicated dancing, but he did have to sing perfectly, remember every step, and play to the cameras while live. That's pretty impressive.
He's Unique Among The Cast
He's the only singer, and standing out is important in this crowd. The Dancing with the Stars audience will have an easier job remembering who Wanya Morris is with their fond memories of his many R&B hits with Boyz II Men, and if his dance moves with Lindsay Arnold stand out, then I predict Morris could do well in Season 22 — and maybe even grab the trophy.
Image: Byron Cohen, Aaron Poole/ABC