7 'Fresh Prince' Actors Who Played Two Characters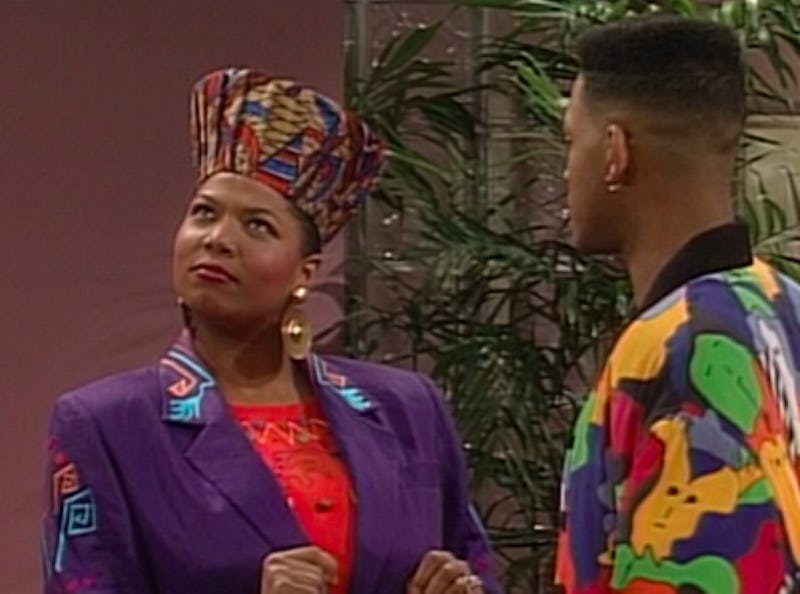 The Fresh Prince of Bel-Air dominated '90s television with its hysterical cast, quick humor, and hilarious scenarios. However, if you were an avid viewer of the show, you may have also noticed one other thing: There were tons of familiar faces who stopped by throughout the show's six-season run. No, I'm not talking about celebrity guest spots including everyone from Tyra Banks to Donald Trump. Instead, I'm talking about the actors who came back to The Fresh Prince more than once... and not as the same character. In fact, some of the show's most memorable repeat guest stars appeared on the show twice, as two different characters, without us even realizing it.
Perhaps the casting directors were just eager to work with these actors again. Or maybe it was just hard to ignore that these actors were just too perfect for their second Fresh Prince roles. Whatever the reason, it's apparent that being on Fresh Prince once didn't mean that you couldn't come back as another character in later seasons. And, honestly, I didn't ever notice most of these double appearances when I was watching the show back in the '90s, which is all the more reason to go watch Fresh Prince episodes on repeat immediately. But, in case you don't believe me, here are nine actors who each played two different characters on The Fresh Prince of Bel-Air. Seriously, they were right under your nose.
1. Nia Long As Lisa Wilkes & Claudia
You may remember actress Nia Long best as Will's long-time girlfriend, Lisa Wilkes in Season 5. However, before she became Lisa, Long acted on Fresh Prince in the Season 2 episode "She Ain't Heavy," in the role of Claudia — the shallow date who Will took to a dance instead of Dee Dee because he was uncomfortable with Dee-Dee's weight. The role of Claudia was then taken over by actress Raven-Symone for Episode 21 of Season 2, "Vying For Attention," and Long ended up returning as Lisa in Season 5 for 15 more episodes.
2. Queen Latifah As Dee Dee & Marissa Redman
The two characters that Queen Latifah played on the show were nothing less than polar opposites. In the Season 1 episode, "Working It Out," she played Hilary's boss Marissa Redman, who was desperate to get a date with Will. And then, in the very next season, Queen Latifah returned to play Dee Dee in the episode "She Ain't Heavy," where the tables were turned and Will was crushing on her.
3. Sherman Hemsley As Judge Carl Robertson & George Jefferson
Sherman Hemsley was known for his role as George Jefferson on the popular '70s show, The Jeffersons, so it was really no surprise when he reprised the character of George in both Season 5 and Season 6 of The Fresh Prince. However, before he appeared as his most famous character, he also ended up playing Judge Carl Robertson, Uncle Phil's opponent in the election for a local judgeship. Judge Carl Robertson appeared in three episodes of Season 3: "P.S. I Love You," "Here Comes The Judge," and "Asses To Ashes." In his final appearance, the character passed away.
4. Valerie Jones As Young Hilary & A Christmas Caroler Named Lisa
You may recognize child actress Valerie Jones from her guest star role of Judy Winslow in the popular show, Family Matters, but it was on Fresh Prince of Bel-Air that the young actress appeared twice. You can catch her in the 1990 episode, "Deck The Halls," as Lisa — a neighborhood Christmas caroler — and again as a Young Hilary Banks in a flashback sequence from the 1992 episode, "Will Gets Committed."
5. Michole Briana White As Lindsey Simon & Hilary's Community Service Assistant Named Lisa
Valerie Jones wasn't the only actor to appear on both Family Matters and Fresh Prince. Michole Briana White took on the role of Lisa — a young girl who assists Hilary during community service — in Fresh Prince's Season 2 episode, "Community Action." White then returned in Season 3, Episode 8, "P.S. I Love You," as Lindsey Simon — as a new girl crushing on Will. After those two roles, White then guest-starred in an episode of Family Matters.
6. Richard Roundtree As Reverend Gordon Sims & Dr. Mumford
Richard Roundtree only appeared on Fresh Prince twice, but his appearances on the popular '90s show just so happened to be six years apart. He first appeared in the third episode of Season 1, "Clubba Hubba," as Dr. Mumford — the father of a girl Will is trying to impress — and then again in the 18th episode of Season 6, "Hare Today..." as Gordon Sims, the Reverend for Easter mass. And, with a six year separation between his minor roles, it's no wonder that people didn't notice.
7. Jim Meskimen As Werner & Professor Jeremy Mansfield
When you see Jim Meskimen, you may think of his character Werner — Hilary's assistant from her talk show, Hilary — who appeared over the course of five different episodes. But it was way before he came on the show as Werner that Jim made his first appearance in Bel-Air. In fact, two years earlier, the same actor appeared as Will's philosophy professor, Jeremy Mansfield, in the 1993 episode, "All Guts No Glory."
Thanks to double castings like these, now I'll never be able to watch Fresh Prince the same way again. I also have the strong urge to go watch the whole show again just to see all of these doubles in action. Let the '90s throwback marathon begin.
Images: Giphy (3); Warner Bros. Television (2); swayzone/YouTube; Ace Wilcox/YouTube