10 Ways To Be Sexually Satisfied In A Relationship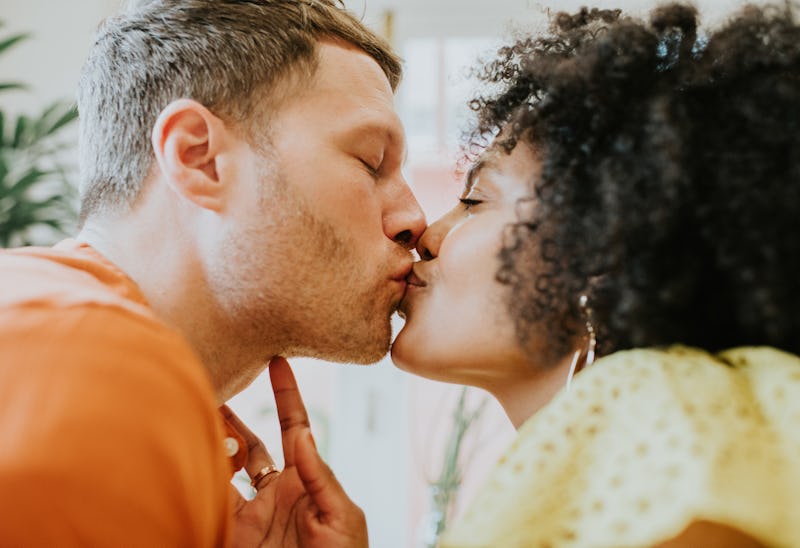 Catherine Falls Commercial/Moment/Getty Images
Long-term relationships are awesome — am I right? It's one of the best feelings in the world when someone knows everything about you, and yet they're still invested. That being said, the initial sexual spark does fade. While the two-year mark typically translates to finishing each other's sentences, getting a Corgi together (if you've got your priorities straight), and feeling comfortable enough to use the toilet while your S.O. is in the shower, people do find themselves missing all of those "new relationship" sensations: the butterflies, the unfaltering optimism, and the head-up-your-butt blindness about your partner's faults.
Since this is an issue for many people, loads of specialists are trying to figure out the source of this diminishing interest, whether it matters, and how to fix it. Though the specific tips often differ, the consensus seems pretty solid: what happens outside of the bedroom is just as important (if not more so) than what happens inside of it. A little romantic effort goes a long way, and if you think about and treat your partner the way you did when you first started dating, things will naturally gravitate toward that same sexual satisfaction that you felt at that Facebook-official mark.
Take Things Out Of The Bedroom to Spur Libido
Crave Vibrator Necklace, $69, Amazon
Sex therapist Louanne Weston points out in an AARP article that new and different surroundings "spur the libido." This Crave Vibrator Necklace assures that you're ready to go no matter where you are. It's a sleek and subtle way to prompt some sexual play outside of the bedroom, and because of its silver-colored pendant and stainless-steel chain, no one will ever think your statement piece is anything other than just that. It vibrates in four different patterns and is body-safe and fully USB-rechargeable, so you and your partner can experiment in new and exciting places.
Learn The Art Of Foreplay
14 Days Of Foreplay , $11, Amazon
Ava Cadell, Ph.D., suggested in Self that couples should make out like teenagers — but not allow it to go any further. Foreplay is like flint to the steel that is your sex life, and it goes so much deeper than a little touching. 14 Days Of Foreplay is a top-rated book that teaches you how to turn everyday gestures and interactions into something that reignites your time in the bedroom. (As many experts point out, sex is just as much about emotion as it is about physical intimacy.) This book is written by two smart and witty sex therapists who help you discover your emotional needs; reviewers say that it's an imperative tool for any relationship that needs a little fine-tuning.
Put Your Partner's Needs First
Considerate Coupons, $8, Amazon
University of Toronto psychologist Amy Muise performed a study in which she tried to find out what keeps the spark alive in long-term relationships. The answer? Putting your partner first. That's where Considerate Coupons come in. This awesome book of tear-out favors makes it easy to dole out beautifully illustrated courtesies — things like, "one late-night trip to the drug store," or "one mediocre back rub." They're a wonderful way to remind your partner that you always care, and that their needs and wants are still some of your highest priorities. If you give without the expectation of receiving, both partners end up in a more generous and loving mindset.
Allow Your Senses To Heighten The Mood
Solavae Massage Rollers, $20, Amazon
Gary Brown, Ph.D, said in Self that "sensate focus" exercises are a great way to increase passion because they force you to fully give into the current moment. These massage rollers are an awesome way to engage the senses, even if you're not a licensed masseuse. Have your partner lie down, close their eyes (or put on a blindfold), and focus on the deeply relaxing muscle-easing sensations for the ultimate foreplay experience. These rollers have a small hole in the bottom for your favorite massage lotions or essential oils, which will amp up the sensate-focus thing even more.
Share Something New With Each Other Every Day
Our Daily Q&A , $12, Amazon
According to divorce lawyers at Galbraith Family Law (a tad bleak, I know, but preventative is always good), a huge percentage of relationships fizzle out because partners stop communicating and start taking each other for granted. That's why it's important to prompt conversation that explores things you don't yet know, and the Daily Q&A Book is a creative and fun way to learn new things, even if you thought you knew it all. Each day, you and your partner fill out a new question — things like "What does your partner's laugh sound like?" and "Where would you like to travel?" The book has enough pages to grow and explore together for three full years, and its beautiful design, durable cover, and intriguing questions are a great excuse to build something side by side each morning.
Communicate Differently In Fun, Unexpected Ways
Chalk Talk Mugs (Set of 4), $30, Amazon; Chalk Markers, $12, Amazon
Communication is essential, but the usual topics of work and friends get a little stale, as do your typical methods of discussing them (poop emoticon, anyone?). These chalkboard mugs and chalk markers allow you guys to switch it up a bit, communicating in a way that's both adorable and innovative. The mugs are made of durable porcelain that's microwavable and dishwasher-safe, and the markers come in a set of eight vibrant, non-toxic, and mess-free colors that make a great replacement for your Post-It notes. You can't fill Post-It notes with coffee, after all.
Treat Date Night Like It's Your First
Heloise A-Line Cocktail Dress (Sizes S-XL), $37, Amazon
In the aforementioned interview with Self, marriage therapist Gary Brown said that it's extremely helpful to revive the activities you did in the very beginning. Remember that first date dress? Take it out again (or treat yourself to a new one). Wear a look you feel confident in, make reservations at a nice restaurant, and slip into this party dress that's oh-so-reminiscent of your first night out together. Because it's made of a lightweight fabric that flows easily into an A-line frame, you'll be comfy all night, and a zipper detail in back ensures no annoying over-your-head pulling. One fan said the fabric is soft, thick, and has a subtle shine, while another said this dress still looks great after multiple washes.
Introduce A Daring Game To Break Up Monotony
Sexy Truth Or Dare, $11, Amazon
Dr. Rachel Needle is a licensed psychologist and a certified sex therapist, and she suggests on Today to break the predictable pattern and try something new. This daring game features 100 seductions that are written on cute and convenient sticks — with a "dare" on one side and a "truth" on the other. Simply take turns picking to break out of your comfort zone as well as learn a thing or two about your partner. Because they come in a compact cylindrical box, they're easy to clean up and even easier to store.
Encourage Each Other To Travel More
Scratch Map World, $45, Amazon
Travel strengthens relationships because you're compromising, learning to solve problems together, and reigniting your passion for life. Also, for some reason, hotel rooms just call for doing it. This scratch-off world map allows you to mark off where you've been and plan out where you're going, inspiring the two of you to really start your adventures together. Its gold-top foil and vibrant colors will fuel your wanderlust like never before, so you can really motivate yourselves to find some time off from work and pack those suitcases.
Let Your Adrenaline Be A Natural Aphrodisiac
Slackers Zipline Falcon, $58, Amazon
Cindy Meston, Ph.D, explained on CNN that adrenaline-pumping situations are a natural aphrodisiac, so the person you're sharing the experience with becomes instantly more attractive to you, and vice versa. This 40-foot zipline set is one of the easiest and most exciting ways to get the adrenaline flowing in your own backyard. It's made with reliable steel, gradual-stop technology, and a seat, and because it's strong, durable, and easy to set up, you and your partner can be zip-lining across the yard in 30 minutes flat.
Bustle may receive a portion of sales from products purchased from this article, which was created independently from Bustle's editorial and sales departments.
Images: Catherine Falls Commercial/Moment/Getty Images; Amazon (11)