8 Common Shower Mistakes That Irritate Your Skin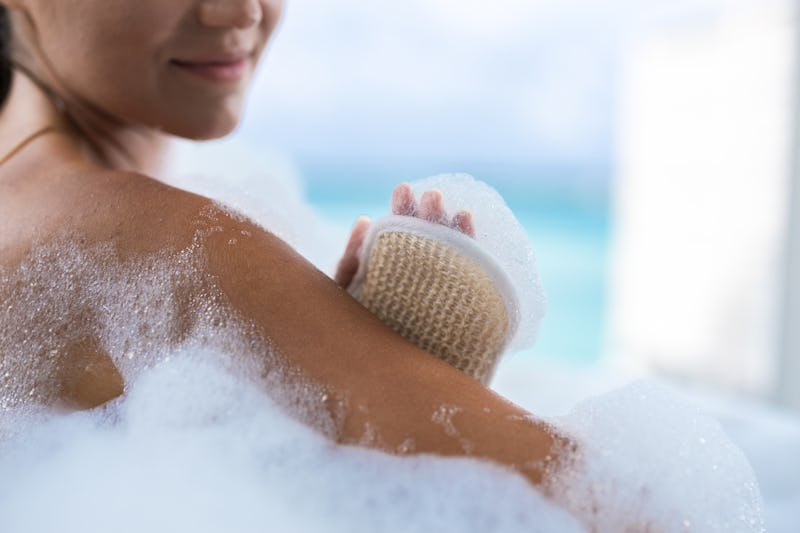 skynesher/E+/Getty Images
A shower is meant to be one of the most relaxing parts of your day, especially if you spend most of it belting out your favorite Justin Bieber tunes. While you're distracted by your private concert, however, you may be making shower mistakes that are irritating your skin. Even if you're engaging in seemingly normal habits, you may be surprised to find that your shower routine is the direct cause of dry, flaky, and irritated skin.
So, what are you doing wrong? You might rubbing your skin with terrycloth towels as soon as you step out of the shower. I know what you're thinking: But everyone does that, right? Sure, but the friction causes serious damage to your skin over time, making it way dryer than it needs to be. To solve this, you'll want to pat yourself dry with a bamboo towel, then get smooth-to-the-touch skin by applying all-natural body lotion immediately afterward. This is the best time to seal in hydration because your skin's pores are still open and ready to pick up every bit of moisture that you're laying down.
Want more tips? Read ahead so you can keep calm and shower on — with your most touchable skin, ever.
If Synthetic Soaps Dry Out Your Skin: Cleanse With Natural Almond Wash
Nourish Organic Body Wash, $10, Amazon
Dr. Debra Jaliman, M.D. warns in Redbook against overly fragrant soaps that can easily strip your skin of essential moisture. Instead, this USDA-certified organic wash moisturizes skin with an all-natural blend of aloe, coconut milk, vitamin E, and essential oils. Plus, it has a naturally delicious smell of almond and vanilla, and users say the creamy formula doesn't leave filmy residue behind.
If Over-Shampooing Causes Flakes: Space Out Washing With Clarifying Formula
If you're spending more time outside because of a change in weather, you may find yourself shampooing more than usual, too. To avoid flakes caused by over-shampooing, try washing your hair just a few times per week, if possible, with a pH-balanced shampoo that provides a deeper clean. This one hydrates with botanical extracts, making hair softer and more manageable over time. One user praises this product for making her coarse, frizzy hair shiny and smooth.
If Steamy Showers Dehydrate Skin: An LED Shower Head Keeps Heat In Check
To avoid taking showers that are too hot, which can dry out and irritate your skin, use a shower head that changes colors based on the temperature level. The blue, green, and red lights on this attachable shower head indicate your temperature range, so you'll know to turn things down if it gets too steamy. One user praised this product for its unique features, calling it "totally genius."
If You Don't Moisturize Post-Shower: Cocoa & Olive Oil Seals In Hydration
Lexi Nisita of Refinery29 swears by the simple rule of applying moisturizer immediately after she showers to reverse the drying effects of hot water on skin. This ultra-hydrating vegan body lotion contains a mix of organic olive oil, cocoa butter, and evening primrose to nourish and restore cells, keeping your skin looking and feeling smooth. Why does this work? Right after you step out from your wash session, your pores are still opened, making it the best time to seal in hydration.
If Your Razors Are Contaminated: Store An All-In-One Groomer In A Dry Area
Constantly replacing your razors can be costly, and most of the time, this is at the bottom of your to-do list. Sanford Vieder, M.D., suggested on Health.com to replace blades once a week because dull blades can cut skin and allow for bacterial infection. To protect your skin, find an electronic razor with a charging storage stand. This keeps your razor out of the danger zone of the wet shower, where germs can easily attach to your blades. Bonus: This razor is equipped to groom everything from your bikini line to your eyebrows, and it comes with cleaning oil and a brush for easy washing.
If You're Rubbing Skin With Terrycloth: Pat Dry With Bamboo, Instead
When you hop out of the shower, avoid the urge to rub your skin with a terrycloth towel to get dry ASAP. This bad habit causes friction that results in dryness and irritation. Instead, pat dry with a plush bamboo towel, which will minimize damage to your skin. This antibacterial, anti-fungal, and anti-static towel is soft and eco-friendly. One user even compares these towels to a "soft baby blanket," pointing out that the 70 percent bamboo composition is considerably higher than others on the market.
If You Don't Exfoliate: Scrub Away Dead Skin With A Restorative Sugar Scrub
Tree Hut Shea Sugar Scrub , $6, Amazon
You may think exfoliating scrubs are only for special events or spa days, but Holly Sherrard, education manager for Dermalogica Canada, says that exfoliating weekly reveals newer, healthier skin cells and helps with hydration. Use this gentle shea sugar scrub to slough away old skin cells and leave the shower with healthy, glowing skin. Bonus: The Amazon pequi extract smells amazing, and its natural oils (including avocado, macadamia seed, and orange oil) will soften skin's texture.
If Your Loofah Breeds Bacteria: Replace It With Hypoallergenic Cloths
Brooklyn Bamboo Washcloths (Set of 6), $16, Amazon
These organic bamboo washcloths are soft, durable, and absorbent — one user even raves about their texture being "soft as butter." Using a washcloth to scrub instead of a loofah means that it's easier to switch out germy materials between washes. If you don't replace your loofah every four weeks, Debra Jaliman, M.D. warns that moisture can cause bacterial growth, which is not a chance you want to take.
Bustle may receive a portion of sales from products purchased from this article, which was created independently from Bustle's editorial and sales departments.
Images: skynesher/E+/Getty Images; Amazon (8)