9 Shower Mistakes That Can Cause Acne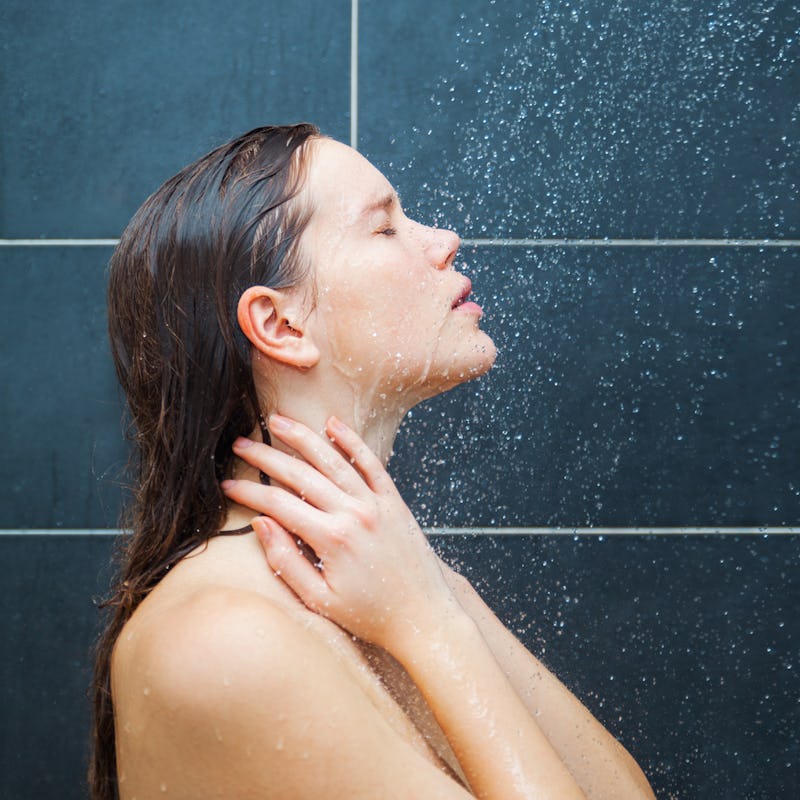 After a long and sweaty workout or particularly trying day at work, few things feel better than hopping into the shower. But while your steamy shower is great at washing away dirt and relieving tension, what if I told you that your shower could be causing you skin problems?
Showers, while seemingly pretty standard (turn on water, apply a bunch of goop to your body, stand there, get out) are actually full of potential pitfalls. Your skin is one huge sponge of an organ, absorbing anything and everything you put on it, and it's also equipped with its own army of good bacteria (called flora) that helps your skin replenish and protect itself. If more people thought about that, they'd probably be a lot more careful about their showering routine.
Consequently, I invite you to take a long, hard look at your daily washing session; you might find that the facial and body acne that you try so hard to prevent is actually caused by the very thing you most associate with cleanliness. Everything from your hair products to your germ-filled sponge to the quality of your water could be the root of your breakouts, but thankfully, specialists and dermatologists have pinpointed these sources, and now it's up to you to prevent them.
If Your Sponge Is Covered In Germs: Switch to Antibacterial Konjac
PureSOL Konjac Sponge, $11, Amazon
Sponges hang in your wet, dark shower all day and night, collecting mold and bacteria, and that's why dermatologist Jessica Wu suggests investing in a konjac sponge. This one by PureSOL is made for both your face and your body, and it stimulates circulation while pulling impurities right out of your skin. It also comes with a convenient hook, so you can hang up your sponge in a well-ventilated area (away from the allergens and mildew — a total dream for acne-free shower sessions). Because konjac sponges made with natural konjac fibers and are infused with activated bamboo charcoal, they're antibacterial and hypoallergenic.
If Your Soap Messes With You pH Levels: Mineral Mud Purifies Without Without Upsetting The Balance
Dead Sea Mineral Soap, $9, Amazon
Many soaps contain sodium hydroxide, which is an alkaline, inorganic compound that disrupts the pH balance of your skin. While this Dead Sea mineral soap utilizes it as a key step for the soap-making process, the compound doesn't remain in the finished product. Instead, this soap uses ingredients like dead sea mineral mud, shea butter, coconut oil, and activated charcoal to purify the skin without damaging it or disrupting its natural balance. Because it's made without chemicals or the usual irritants, it's incredible for sensitive skin and those prone to breakouts — one reviewer even calls it her "$9 Cure-All."
If Your Exfoliator Is Irritating: A Gentle Coffee Scrub Won't Damage Pores
Arabica Coffee Scrub, $15, Amazon
Dermatologist Zoe D. Draelos warns against exfoliants with abrasive agents, as they loosen the bonds that keep skin firm and protected. This organic coffee scrub has gentle and moisturizing ingredients like dead sea salt, Kona coffee, and olive oil to softly buff away old skin that's blocking pores, but they support the rejuvenation of new skin at the same time. Even those with sensitive, acne-prone faces have no problem with it, and because it smells like delicious, miraculous, life-giving coffee (I'm not obsessed or anything), it's the perfect thing to kick-start your day.
If You're Not Moisturizing Wet Skin: Gently Hydrate With Jojoba Oil
Jojoba & Olive Body Oil, $14, Amazon
Seppo Puusa, an advocate of natural acne treatments, talks about the importance of moisturizing while your skin's wet. However, because skin is even more absorbent during a hot, pore-opening shower, it can be healthy to keep your products all-natural. This jojoba and olive oil body moisturizer contains no alcohol, parabens, or artificial detergents. Instead, it has natural fruit oils and vitamin E that supports skin, goes on smooth, and won't leave a greasy residue that clogs pores. Reviewers say it leaves them glowing, and the fresh, subtle scent is a wonderful way to finish off their showers.
If You're Not Reaching Your Back: Gently Wash Bacne With Antibacterial Bamboo Fibers
Bamboo Body Brush With Boar Bristles, $15, Amazon
It's important to get rid of excess oil and sweat on your back if you want to prevent breakouts there. However, it's kind of necessary that you're able to reach it first. This bamboo brush allows you to cleanse all of those hard-to-reach places, but it does so without the synthetic bristles that (over time) start to disintegrate and clog your pores. It's made with antibacterial bamboo and natural boar bristles, so you can softly and hygienically cleanse your back without spreading germs or growing a mold farm in your shower.
If Unfiltered Water Clogs Pores: A Shower Head Filter Removes Pollutants
AquaCare Filtered Showerhead, $30, Amazon
Eighty-five percent of water is considered "hard," which means that there are tons of chemicals and metals in your tap water that are really tough on your skin. This AquaCare filtered shower head removes chlorine, pesticides, heavy metals, and bacteria from your water, so pores stay unclogged, and skin won't dry out. (Aka, you can ease up on the greasy moisturizer.) It has six different pressure options, as well as a tools-free installation and a sleek chrome finish. Reviewers also praise the strong water pressure the shower head provides.
If Your Shampoo's Too Heavy: Condition & Cleanse With Organic Argan Oil
Art Naturals Organic Moroccan Argan Oil Shampoo & Conditioner, $26, Amazon
Dermatologist Doris J. Day says that a heavy formula (like a two-in-one shampoo and conditioner) could be clogging the pores around your scalp. Switching to a chemical-free, natural cleansing shampoo and conditioner is an awesome alternative, and this set's currently the No. 1 best-selling duo. It's great for your hair because it's sulfate- and detergent-free, but it still cleans build-up, while leaving your natural sheen intact. Plus, both formulas are 100 percent natural, so you won't have to worry about unwanted skin irritation down the line.
If Your Shower Doesn't Remove Pore-Clogging Makeup: Microfiber Works Harder
Living Chem Free Facial Cleansing Cloth , $14, Amazon
NYC-based dermatologist Dr. Eric Schweiger told Huffington Post that sleeping in makeup can definitely clog pores and contribute to acne. Instead of letting your usual cotton towels do a lackluster job of removing your makeup, level up to microfiber. These towels can completely (and gently) remove your makeup with just a little water, and they're entirely machine washable, too.
If You're Not Moisturizing Immediately After: Hydrate With Aloe Vera
Natural Face Moisturizer Cream, $24, Amazon
Your skin is most receptive to hydration when you're just out of the shower — so take advantage. If dried out skin sends your pores into oil hyperdrive, be sure to keep you skin free from breakouts by moisturizing with soothing aloe vera, coconut oil, and honey. This organic cream mixture is filled with vitamins A, B, C, and E, and it even encourages collagen stimulation and cell growth.
Bustle may receive a portion of sales from products purchased from this article, which was created independently from Bustle's editorial and sales departments.
Images: Fotolia (1); Amazon (9)