This Breast Cancer Assessment Tool Just Got Better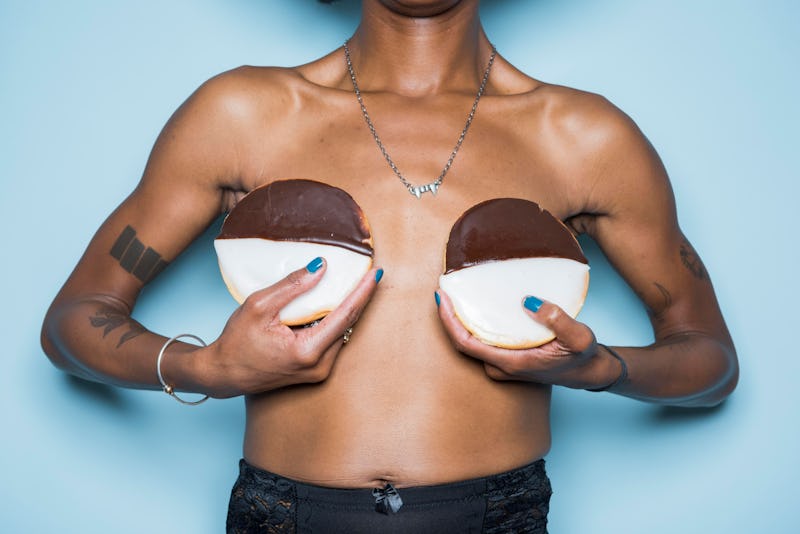 Real talk: I love my breasts. Despite all the perceived flaws I tend to pick apart about myself (even though I know that I'm just doing all the nitpicking because I've been conditioned to), my breasts aren't one of them — I legitimately think they're fantastic. So it's kind of surprising I don't invest a bit more of my time seriously considering whether I'm at risk for breast cancer. But here's some stellar news on that front: the non-profit organization Bright Pink has updated their online assessment tool that helps people determine their level of risk for both breast and ovarian cancer and come up with a personalized risk management plan with their doctors.
Bright Pink, which was created by Lindsay Avner in 2007, has been committed since its inception to educating women and medical professionals about the myriad factors that play a role in a woman's risk for breast and ovarian cancer. The launch of their online assessment tool last spring contributed to that objective in a major way — in 2015, over 130,000 people used the tool to assess their risk. In the year since, the non-profit has continued to improve the innovative tool to ensure people have the information they need to remain vigilant.
"Breast cancer is the leading cancer diagnosis in women and ovarian cancer is the deadliest gynecologic disease. At Bright Pink, we have made it our mission to educate and empower the 52 million young women in the United States to be proactive with their breast and ovarian health," the organization's Amy Wecker tells Bustle in an interview. "We have a responsibility to provide these women with accurate, actionable information so they can be proactive advocates for their health and hopefully prevent these diseases or detect them early, when they are most treatable. Getting women to complete our risk assessment quiz is a critical first step." In fact, it's a critical first step for all people with breasts and/or ovaries, no matter how they identify.
So what do the updates to the online assessment tool entail? Using my results, let's walk through the changes together.
1. Breast vs. Ovarian Cancer
Previously, the tool just gave you your risk level, ranging from average to high. With the update, the quiz now differentiates between breast and ovarian cancer risk and separately identifies someone's risk for each disease. As you can see from my results above, I am at average risk for breast cancer but increased risk for ovarian cancer — the latter of which I didn't realize. "Many women don't know that there is a hereditary component to these diseases. The fact is, having just one first-degree relative with breast cancer puts a woman at double the average risk of developing the disease," Wecker says. Which makes sense for me, given my sister had ovarian cancer.
2. Explanation of Results
I'm definitely the type of person who takes a test and then wants to know each individual answer I got right or wrong (and why), so this particular change pleases me greatly — the results now reference the individual's specific quiz answers, providing a more personalized experience. For example, I was clueless about the fact that polycystic ovarian syndrome has been linked to ovarian cancer, and I was diagnosed over a decade ago. I was also surprised that my exercise habits had anything to do with, well, anything regarding my breasts or ovaries. Wecker says this is a common issue among women when it comes to risk awareness: "The choices you make today can impact your risk for these diseases in the future. A lot of women don't know that the amount of alcohol you consume and the frequency with which you exercise can actually impact your risk of developing breast and ovarian cancer," she tells Bustle.
Other responses I provided that contributed to my risk level are elaborated upon as well, such as the fact that I am a mother who has breastfed or that I started my period at a young age. "This added level of transparency helps women understand why their baseline risk of developing these cancers is what it is," explained Wecker.
3. Customized Risk Management Plan
Once all the answers are tabulated and you've scrolled through the explanations associated with your responses, the tool churns out a customized, action-oriented breast and ovarian cancer risk management plan that can inform a powerful doctor-patient conversation. Some of the recommendations in my plan include genetic testing (because more than one member of my family has been diagnosed with cancer) and knowing my "normal" — that is, what's standard for me (because I have dense breast tissue, for one).
Of course, it's important to note that there's no way to predict with absolute certainty who will or won't be afflicted by these diseases. As Wecker emphasizes, "No woman is exempt from this conversation. Seventy-five percent of breast and ovarian cancers occur in women at average risk, meaning they have no family history of these diseases and no genetic mutation. Being proactive is critical for all women." And all people, too.
So do yourself a solid and head over to Bright Pink to take the test yourself — it's a great place to start.
Images: Andrew Zaeh for Bustle; Julie Sprankles/Bright Pink (5)