Liam Will Recycle Your Old iPhone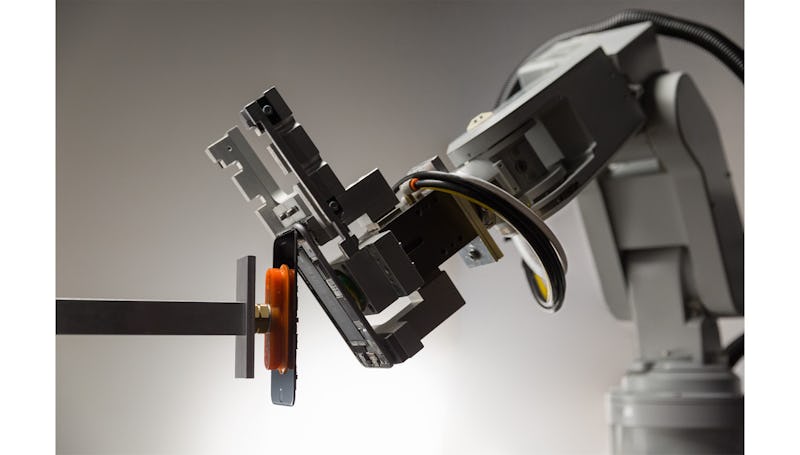 On Monday, Apple laid out its new initiatives in the tech giant's first major press event of the year. Before revealing a new CareKit app to help with the treatment of Parkinson's disease and the smaller iPhone SE, the company talked in length about its commitment to sustainable environmental practices, including how it's ramping up efforts to recycle retired iPhones. If you're wondering how to recycle your old iPhone, Apple (and Liam) have actually made it pretty easy.
Lisa Jackson, Apple's SVP of Environment, Policy, and Social Initiatives discussed the company's goal of operating with 100 percent sustainability during the keynote that was live streamed across the nation. So far, Apple's U.S. operations and global data centers run completely on renewable energy, and 87 percent of its global operations do as well. The Silicon Valley institution also partnered with The Conservation Fund to "create and protect the types of of sustainably managed forests that produce virgin fiber for paper and packaging," according to its website.
In the name of environmental sustainability, Jackson revealed Liam, Apple's new robot designed to dismantle old iPhones so the materials can be reused. (Though not as attractive of Liam Hemsworth, bot Liam is pretty sleek.) Liam specifically focuses on extracting cobalt and lithium from iPhone batteries, gold and copper from cameras, silver and platinum from logic boards, and the aluminum enclosures, all to be sent to recycling plants. He works fast, and can rip apart more than 1.2 million phones in a year.
The Apple Recycling Program allows you to recycle your old iPhone for free when you upgrade, or if you happen to have unused phones lying around. For people who live near an Apple store, you can take your iPhone into any location and they will help you recycle it. If you prefer to do it from home, Apple will send you a prepaid mailing label so you can mail your old device in to be taken apart by Liam and then recycled. First, go to Apple.com/Recycling and choose what type of iPhone you're recycling, its memory capacity, color, your phone carrier, and answer a few questions about how well it works (i.e. does it turn on?). The website will then tell you how much money you can receive on an Apple gift card for responsibly disposing of the phone, and after entering the serial number, you'll get a mailing label. Recycling electronics has never been so simple.
It's not just iPhones either — you can recycle any old Apple device through the company's website, but Liam is only equipped to handle iPhones. There's really no reason not to help sustain the environment and make a little extra Apple dough.
Images: Courtesy of Apple