Is Sea Water Good For Your Hair?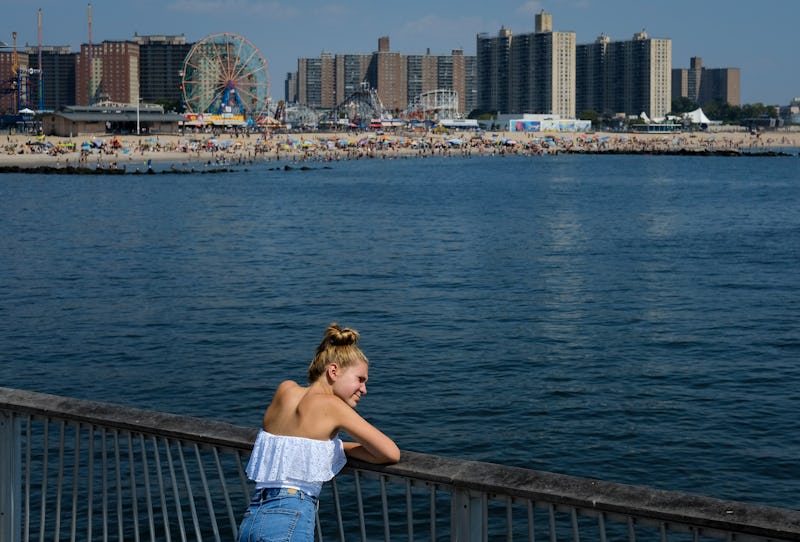 Drew Angerer/Getty Images News/Getty Images
With summer around the corner, chances are high your hair is about to get some serious salt water action. But if you're feeling a little nervous about the waves and wondering, "Is sea water good for your hair?" I'm about to quell those nerves. The answer is a little bit of both "yes" and "no," and ProRituals Creation Director, Terrence Michael Renk, explained why.
In certain instances, sea water can totally be a good thing. Renk tells me, "[Sea water is] rich in vitamins and minerals, [and can have] an antibiotic effect on the skin." He adds, "Seawater can be used to treat eczema and psoriasis, both of which can impact the scalp and cause hair loss. So if you have an itchy scalp or overly oily hair, a quick dip into the ocean might be a simple cure." It's almost too easy!
But, he warns, "For those of you who are beach worshippers and color your hair, sea water may have a negative result. Sea salt will roughen up the surface of your hair, leaving the cuticle open, dull, and porous, which could lead to color fade. The combination of sea salt and sun will make color fade very quickly." Not exactly awesome, huh?
Luckily, there are still ways you can enjoy the waves and keep your hair safe if it's colored. Below are Renk's tips.
Hair and Scalp Therapy Oil Treatment, $8, Amazon
"I recommend putting a coating of oil on hair before going into the water," says Renk. "This coating will help to reduce the affects of the salt on the hair." Above is his top product pick, but I've included a few more below.
Ouai Hair Oil, $44, Amazon
With African Galanga, Ama, and Asian Borage, your hair will feel nice and sleek.
Josie Maran Pure Argan Oil, $36, Amazon
Argan oil is ultra-nourishing to stands, thanks to all of the vitamin E!
Aphogee Pro-Vitamin Leave-In Conditioner, $11, Amazon
After you're out of the water, rinse the sea water out and apply a low pH leave-in conditioner to close the cuticle, he advises." Here's a few more leave-in conditioners for soft, silky, and protected hair!
Terax Shine Color-Locking Leave-In Conditioner, $12, Amazon
Keratin proteins work to strengthen and protect.
Briogeo Reparative Leave-In Conditioning Spray, $18, Amazon
This super lightweight spray conditioner is infused with rosehip, argan, and coconut oil.
Want more fashion and beauty tips? Check out the video below and subscribe to Bustle on YouTube!
Images: Drew Angerer/Getty Images; Courtesy of Brands