9 Delicious Vegan Nacho Recipes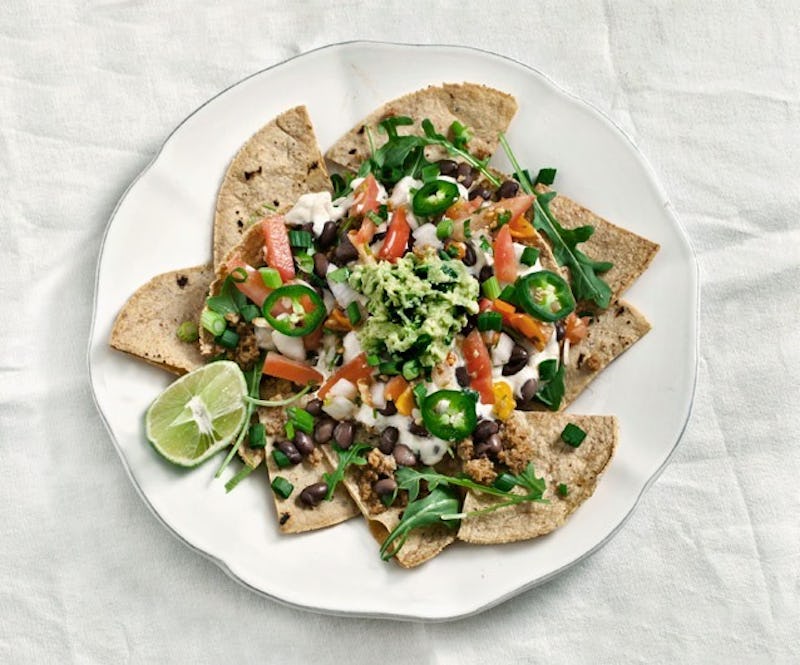 When you're on any kind of special diet, it can be hard to find recipes that work with your restrictions, aren't difficult to make, and actually taste good. When you're abstaining from eating any kind of animal product, accomplishing all that becomes even more difficult — unless you have these delicious vegan nacho recipes, that is. That's right, everyone's favorite snack can be made vegan-friendly, so get ready to try each and every one of these addicting recipes.
When it comes to snacking, there is nothing better than nachos. They're crunchy, salty, spicy, and loaded with vegetables, making them great to munch on for a midday snack, and hearty enough to qualify for dinner. Whether you're eating for one or sharing with the whole gang, nachos can be made into the perfect portion. It's the kind of food that tastes like junk food, but feels like healthy eating, and what can be better than that? The answer is nothing — nothing is better than nachos.
But what do you do if you're a vegan? The main ingredients in nachos include meat and dairy products, so if you eat a diet that excludes animal products, you might think these delicious snacks are off-limits. Think again.
The next time you're trying to make a snack for movie night or making yourself dinner, try one of these nine mouth-watering vegan nacho recipes that are just as crunchy, just as cheesy, and just as delicious as the real thing.
1. Black Bean And Potato Nacho Plate
Instead of tortilla chips, Oh She Glows uses potatoes in this fully loaded black bean nacho plate. Crispy and crunchy, these vegan nachos have everything you need to make it a meal.
2. Vegan Chipotle Carrot Queso
As Cookie and Kate points out, it's only natural to be a little suspicious of cheese-less queso, considering the word literally translates into cheese. Once you use this delicious chipotle carrot dip, all your doubts will go flying out the window, and you'll wonder how you could have ever doubted its deliciousness.
3. Vegan Cashew Cheese Sauce
Perfect for dipping vegetables, spreading on a sandwich, or dumping on top of a plate of vegan-friendly tortilla chips, this vegan cashew cheese sauce from The Kitchn would make a wonderful cheese substitute for any plate of homemade nachos. Rich and creamy, it might not taste like traditional "cheese," but it does the trick.
4. Vegan Nachos With Cashew Cheese
Love & Lemons gives you guidance on the cashew cheese, but leaves the rest up to you with this delicious and adaptable vegan nacho recipe. Complete with substitute meat, you'll want to add these into your regular recipe rotation.
5. Vegan Seven-Layer Dip
For a twist on the traditional nacho platter, try the completely vegan-friendly seven-layer dip from Oh She Glows. A delicious heap of "sour cream," nacho "cheese," and tons of veggies, this is an addicting dip you'll want at every tailgate or pot luck.
6. Creamy Vegan Queso Dip
When you're too lazy to make full-blown nachos, try The Kitchn's creamy vegan queso dip and some chips, instead. A blend of carrots, squash, chiles, cashews, among many other delicious ingredients, this is a rich substitute for traditional nacho cheese.
7. Healthy Loaded Vegan Nachos
You're gonna want to dive into these healthy vegan nachos from Love & Lemons. Loaded with mushroom and walnut "meat," cashew cheese, and guacamole, they have everything real nachos do. You'll be asking yourself how they're even vegan. (Don't worry, they are.)
8. Five-Ingredient Vegan Cheese Sauce
Everyone knows the best part of nachos is the gooey, melty cheese, and with this "quick and dirty" sauce from Oh She Glows, you have the key to creating your own perfect nacho plate. With only five ingredients, this sauce is not only delicious but also super simple to make.
9. Nut-Free Vegan Cheese Sauce
It's nearly impossible to find a vegan cheese sauce that doesn't have nuts in it, but Healthful Pursuit finally offers a worthy alternative for those who have allergies. Great for noodles, dipping sauce, and, yes, nachos, this vegan "cheese" sauce is what you've been waiting for.
For more ideas, check out Bustle on YouTube.
Images: Love & Lemons (2); Oh She Glows (3); Cookie and Kate; The Kitchn (2); Healthful Pursuit