You're Not Going to Like This Handsome Dude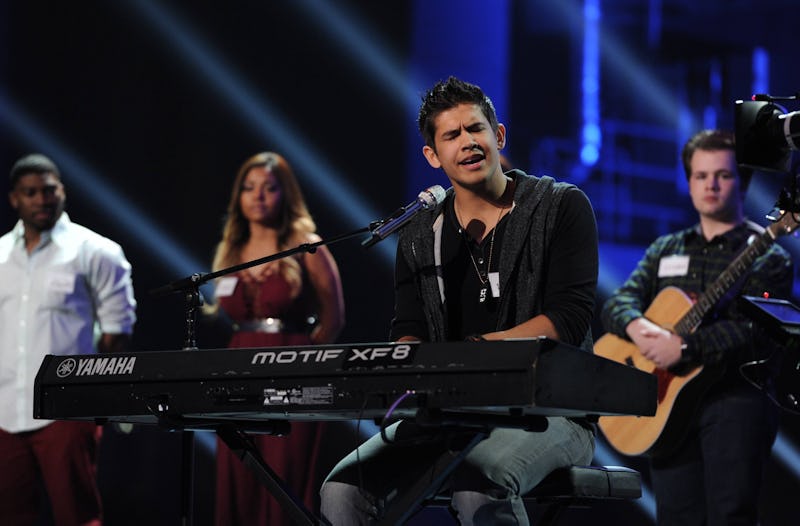 While American Idol's infamous group night is often meant to separate the weak singers from the powerhouses, it also often serves up a side of character development that the live shows simply can't offer. It's during group week when we find out who's not only talented, but completely self-absorbed, selfish, or just plain rude. Enter youth minister Spencer Lloyd.
Yes, the guy who helps spread the good word to young folks is the one with a mark on his back from here on out. Like so many selfish group night players before him — last year, top 12 singer Curtis Finch, Jr. angered fans when he left an ill Charlie Askew to fend for himself while telling the cameras "I'm here to send him home in the first place" — Lloyd left his group in a tough spot when the going got tough.
While Lloyd was confident in the lyrics of the song he sang with his group — Gavin DeGraw's "Best I Ever Had" — his partners in crime Megan Miller and Alyssa Siebken were less prepared. Rather than helping his group-mates through this tough time challenge, Lloyd says confidently to the cameras that he already knows the song, so he's going to take a mental break. I'm sorry — a mental break from what? Being a good person?
When it comes time to perform, Lloyd's vocals are spot on while Miller forgets a few words (but manages to belt out a few choice notes) and Siebken, who knew nothing of the song before group night, choked altogether. After a brief lecture from Keith Urban about how weak their group was, the judges send Lloyd and Miller through, while Siebken, the girl who needed their help was sent home in tears.
Clearly, Lloyd doesn't come across looking to swell here — even if Ryan Seacrest did call him one of Idol's "most eligible bachelors" thanks to his sparkling blue eyes and boy band-ready good looks. But unlike Finch last season, Lloyd appeals to the all-powerful young girl population. The big question with Lloyd this season — since despite his knack for self-importance, he's actually rather talented (as evidenced in the video below) — is whether or not the audience will look past his physical charms and fine him for his sins against his group come voting time.
The bad guys don't usually go far on Idol, but then again, they're also not usually quite as handsome as this one.
Image: Fox