The One Type Of Nail Polish You Need For Summer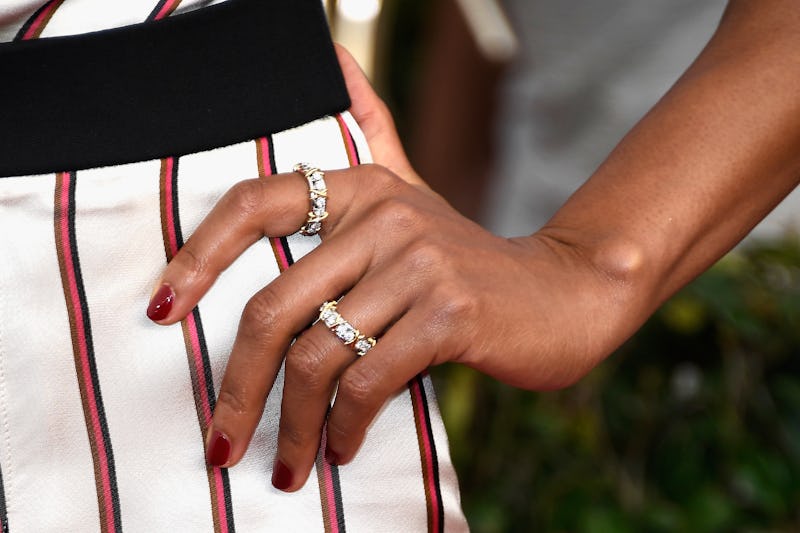 Frazer Harrison/Getty Images Entertainment/Getty Images
We tend to switch up our nail polish colors with the seasons just like anything else we wear — clothes, makeup, even our hair color. But when the beach-going seasons roll around, there's one summertime nail polish we need. I'm not talking our favorite corals and lime greens (though those are always winners in my book). I'm talking about a nail polish that will switch colors on its own. There's just something about the warmer months that calls for more vibrant colors. And two nail colors for the price (and appearance) of one is basically a necessity.
I mean, think about it: A nail polish that looks one color inside and another color when exposed to heat or UV rays is like having one manicure for when you're chilling on the couch, and a totally different manicure for when you're playing on the beach (or whatever outdoorsy space gives you your summertime thrills). And all without putting in any extra effort. No need to repaint or spend time on tricky nail art. Plus, it's seriously entertaining to watch your tips switch from one color to another. Seriously. If you're ready to get your double-duty mani on, here are seven color shifting polishes you have to try this summer:
Del Sol Trippin' Out Polish, $10, Amazon
Wear this confetti glitter that changes color with sun exposure alone or over white polish for an extra pop of color shift.
Secret Mood Color Changing Nail Polish , $18, Amazon
Move over mood rings. How about a nail polish changes color according your mood (or temperature, whatever) instead?
3. Cream
Ruby Wing Electric Firefly, $10, Amazon
It doesn't get more summer-appropriate than a chartreuse that shifts to a sunset-orange with a little UV exposure.
BMC Color Changing Nail Lacquer Gel Polish , $20, Amazon
This glitter gel polish reacts with heat to change from a bright fuchsia to a pale pink.
Just Add Sun in Pinky Toes, $9, Just Add Sun
Sunlight will change your tips from a pretty, shimmery pink to a pale orange with this polish.
Pretty & Polished Stocking Stuffer, $9, S hopprettyandpolished
All you need is a little thermal activation for this funfetti crelly to change from a pink to white base. But seriously, who's feeling cupcakes?
DIY Hard Nails in Pink Galaxy, $15, Amazon
If you prefer a long-lasting gel polish, this one will give you 14 chip-free days of glittery color-shifting.
Because yes, two manis are better than one.
Images: Frazer Harrison/Getty Images; Courtesy of Brands