9 Warm Weather Makeup Mistakes To Avoid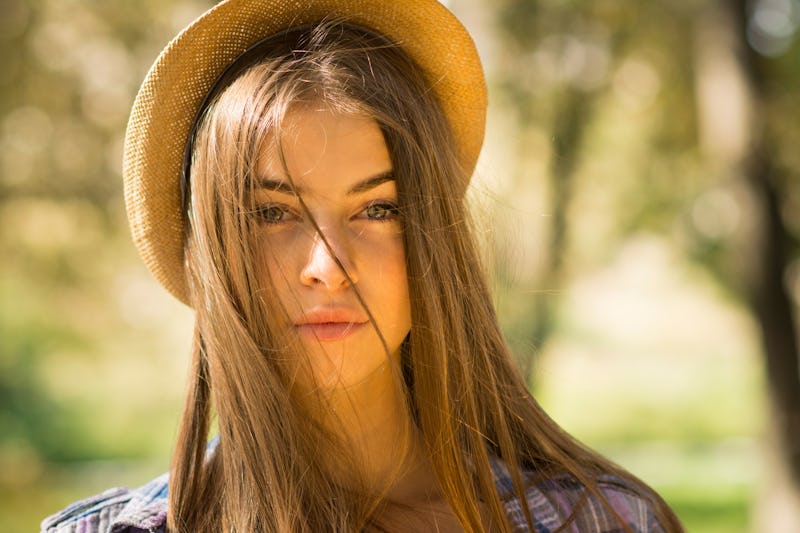 The heat causes all kinds of issues for makeup lovers, especially when climbing temperatures cause products to melt right off your face. But turns out, there are easy ways to prevent said-makeup from melting. For one, get yourself familiar with the most common hot weather makeup mistakes to avoid, which make an already challenging hot weather beauty routine even harder.
By looking for products with a few key ingredients, you can make sure your makeup stays in place all day and feels comfortable — because heavy layers of foundation never feel good under the hot sun. Tricks like swapping full-coverage foundation for something lighter with SPF let your natural skin shine through (with proper protection). Then on days when you want to add a little something extra to your look, a lightweight lip stain can give you kissable color without feeling dry.
Even if you're a regular swimmer or sweater (hey — everyone's been there), you can keep mascara from running down your face with a waterproof mascara that gives lashes length and volume without drying them out (yes, that's actually possible). So go ahead, outfit your favorite beauty routine with makeup that's sweat-proof, sun-proof, and heat-proof, and no matter what the temperature is, you'll stay feeling (and looking) totally cool.
Not Mattifying Your Base: Oil-Free Primer Means Long-Lasting Makeup
LORAC POREfection Mattifying Face Primer, $32, Amazon
If you skip the primer on a hot day, your makeup is that much less fortified from melting off your face. Instead, give your look a solid base with Lorac's matte face primer. It's infused with salicylic acid and vitamins A, C, and E to help treat blemish-prone skin and hydrate it, all while keeping your products in place. Plus, it's oil-free, so you won't have to worry about it settling into your pores.
Layering Heavy Foundation: Instead, Go For Two-in-One Coverage
Vincent Longo Tinted Moisturizer with Concealer, $52, Amazon
When the sun is beating down and you're out all day long, the last thing you need is to feel a heavy layer of foundation sitting on your skin. The Vincent Longo formula combines a lightweight tinted moisture with SPF to give your skin coverage, in addition to protecting it from UVA/UVB damage. There's a cream concealer in the cap for additional extra coverage, too, so you can streamline your products. The formula has jojoba and sunflower to replenish skin and prevent dryness, so you'll look naturally radiant.
Letting Eyeshadow Crease: Tint With Nylon-12 Helps Pigment Last
BECCA Eye Tint, $18, Amazon
Wearing a lot of eye makeup in the heat can be risky, as you never know when it could start to crease. Instead, apply the BECCA eye tint all over your lid, rubbing in with your fingers for a wash of color. The formula has Nylon-12, so it lasts all day, while its vitamin E soothes your skin. Layer it up for more intensity or keep it light for a natural look.
Not Setting Makeup, So It Melts: Powder With Aloe Seals In Look
Juice Beauty Refining Finishing Powder, $22, Amazon
Creamy products can tend to crease and move around, if you're out in the heat. If you use creamy concealers or foundations, set thwm with the Juice Beauty finishing powder. It has aloe to soothe and hydrate your skin, so the powder doesn't dry up and settle in weird places. It also has natural ingredients like açai, goji berries, and pomegranate seed oil to boost your skin's antioxidants and keep it healthy.
Allowing Humidity To Wilt Lashes: Waterproof Mascara Holds 10 Hours
Smashbox Full Exposure Waterproof Mascara, $22, Amazon
Smashbox's best-selling mascara is available in a sweat- and humidity-resistant formula. Smashbox's waterproof mascara is inspired by a technique used on photoshoot sets — layering mascara that lengthens over another formula focused on volume, in order to get the most dramatic lashes possible. It has olive oil and natural waxes for soft, flexible coverage so your lashes won't feel brittle.
Reapplying Faded Lipstick: Stain Lips With Fruit Extract Tint
Peripera Peri's Tint Water Lip Balm, $6, Amazon
When you're outside enjoying the warmth, how annoying is it when your hair gets stuck in sticky lipgloss? Or when liquid lipstick is so drying, that by the afternoon your lips feel parched? Keep things comfy, instead, and go for a lip stain like Peripera Peri's tinted balm. It's formulated with nourishing fruit extracts to hydrate your lips all day long. Users like the weightless, watery texture because it doesn't feel like a normal, heavy lip product.
Cover-Up Gets Shiny: Oil-Free Mineral Concealer Lasts 15 Hours
Estee Lauder Double Wear Concealer, $23, Amazon
This Estee Lauder concealer will keep you free from shine and excess glare, thanks to its oil-free formula. The mineral concealer is water-, perspiration-, and humidity-resistant, so it it'll stay on your skin — no matter what you're doing. It's also infused with emollients to condition your skin, which makes blending for a line-free finish easy for anyone.
Your Brows Are Blurring: Waterproof Brow Pen Stands Up to Sweat
stila Stay All Day Waterproof Brow Color, $26, Amazon
If you've got a few sparse places in your brows (probably thanks to the '90s), you'll love filling them in with the Stila's waterproof brow color. Non-waterproof pencils and pwders might smudge throughout the day if you're sweating, so this formula is great if you're going to be spending time outside. Plus, the super-thin tip draws natural looking strokes, so it looks like actual brow hairs.
Mid-Day Shine Smudges Your Makeup: Blotting Paper Absorbs Oil
Momoup Oil Absorbing Paper Sheet Roll, $10, Amazon
Throughout the day, it can seem impossible to keep oil away — but Momoup makeup blotting papers are a quick fix. The paper is made with super-fine pulp fibers, so you won't smudge makeup when you pat your T-zone or other oily areas. Users love how adorable and convenient the packaging is, especially because it lets you tear off as much or as little as you need.
Bustle may receive a portion of sales from products purchased from this article, which was created independently from Bustle's editorial and sales departments.
Images: Fotolia (1); Amazon (9)