The One Tailoring Hack You Need To Know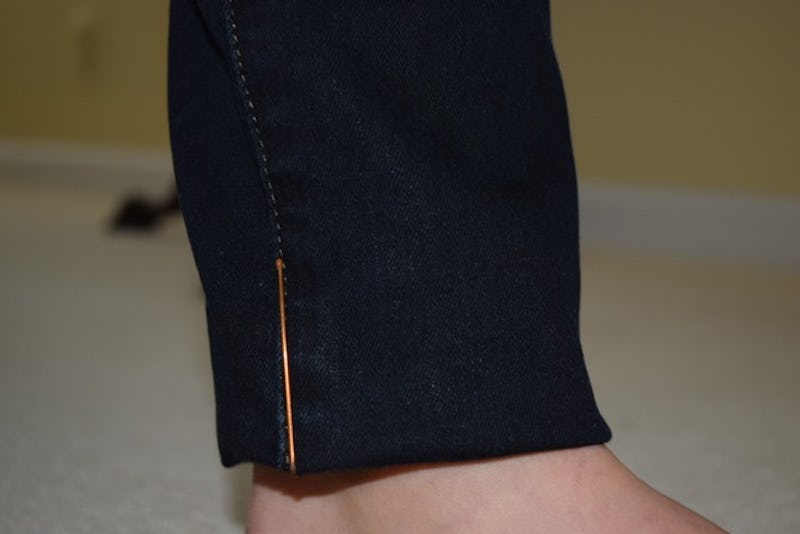 You just got home after shopping for jeans and you're so excited to wear that new pair, but there's one problem — they're too long and the bunching is not cute at all. If this sounds familiar, then you need to know the tailoring hack that takes under one minute.
If you have a brand new pair of beautiful jeans sitting in your closet because you just can't bring yourself to take them to the tailors, you are not alone. Sometimes, a Netflix date with the couch is way more important than making a trip to the get your pants hemmed. That shouldn't stop you from wearing your new denim, though! This trick is not only inexpensive, but it's also easy as pie. Plus, every petite girl knows that all of those trips to the tailor can add up!
For a quick DIY hem, all you'll need is a pack of bobby pins. If you're wearing a dark wash, you'll want to use black bobby pins. But if you only have lighter ones at home, you could also color them in with Sharpie markers. Just make sure to let them dry completely before you do this — after all, you don't want ink stains on those new jeans!
In the photos below, I'm going to show you how to put those old bobby pins to good use in just a few easy steps. Here's how to temporarily tailor your jeans in less than a minute:
1. Put Your Jeans On
To get the length just right, it's best you start with your jeans on. As you can see, the very bottom of my jeans are bunching, so I'm going to get rid of that extra inch of material.
2. Fold The Excess Material Under
Instead of rolling your jeans up, take the extra material and fold it under. As you can see in the photo above, the right side is folded to the length I want.
3. Fasten One Bobby Pin On The Inside Seam
To make sure my bobby pin isn't showing, I prefer to only secure the inside seem. You want to make sure the completely straight side of the bobby pin showing on the outside. The wavy portion should be on the inside near your skin. As you can see, my jeans have brown stitching, so I placed the bobby pin right on top of the seam. If the pin is too visible for your liking, color it with a Sharpie. If you're wearing wider leg jeans, you can add a second bobby pin to the outside seam.
4. Wear Your New Pair Of "Hemmed" Jeans
I went with a nice ankle-length hem for spring!
This is by far one of my favorite fashion hacks. It's so easy and so practical! You can even use this trick on a rainy day to save the bottoms of your pants from getting soaked — I have and it's so handy. And of course, you can do this with trousers and other types of pants as well.
Happy hemming!
Want more fashion and beauty tips? Check out the video below and subscribe to Bustle on YouTube!
Images: Alexa Dragoumis