25 YA Novels With A POC On The Cover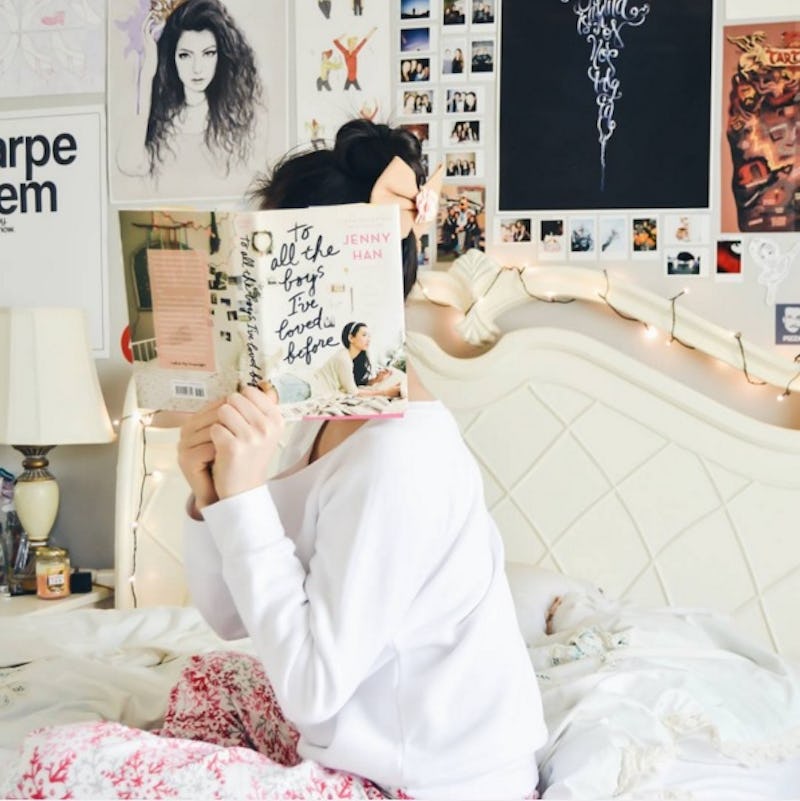 Unfortunately, whitewashing book covers is still a rampant problem in the publishing industry — but there are authors, designers, and publishers working to change that. By supporting YA novels with a POC on the cover, readers can show that yes, we will buy a book with a non-white person on the jacket. In fact, if it's true to the story, we would far prefer it.
Young adult author Malinda Lo has been tracking diversity on YA book covers for years. In 2012, she found that of 109 individual YA titles on the Publishers Weekly list of bestselling children's books of 2012, 17 included diverse main characters (and notably she counted each Pretty Little Liars book separately). Of those 17, only two clearly portrayed a character of color on the cover of the book. Two. They are Clockwork Prince by Cassandra Clare and The Absolutely True Diary of a Part-Time Indian by Sherman Alexie, and the latter's POC on the cover? It's a toy, not even a real human of Native American descent. In 2011, Jezebel reported that 90 percent of YA book covers featured white characters/actors.
Covers matter. Representation matters. So to celebrate young adult books that feature people of color on the cover, here are 25 contemporary books you can support. All focus on women of color, and all make that woman the focus of the cover, not hidden in the background. Thankfully, this list isn't comprehensive, but it's a start.
One hot Brooklyn summer falls into Caribbean legend when Sierra Santiago notices that graffiti murals start to cry real tears. She discovers a supernatural order called Shadowshapers, who connect with spirits in artwork, music, and stories.
2. Mare's War by Tanita S. Davis
Not one but three POC women on the cover! On a family road trip, one these two teenage girls are dreading, grandmother Mare starts spinning a yarn about her time in the Women's Army Corps during World War II.
What if your diary entries about all your crushes were sent to those crushes? That's pretty much what happens to Lara Jean. Lara Jean writes letters to all the boys she's had feelings for, and then (cringe) one day, all of those letters are mailed out, and she has to deal with the aftermath. (Bonus: the sequel also features POC Lara Jean on the cover.)
Moon at Nine is based off a true story of two young women in Tehran who fall in love. But under the deeply conservative and religious government, Farrin and Sadira's relationship is punishable by death if they are caught.
5. Huntress by Malinda Lo
Huntress is Malinda Lo's (who champions putting POC on the cover of YA novels) prequel to her incredible Ash, an LGBTQ retelling of Cinderella where Ash falls for the King's Huntress Kaisa. Huntress meets these characters before they are pitted against each other by the king.
Identical twins Nikki and Maya have been incredibly close and always on the same page. But when a white family moves into their historically black neighborhood and family-run stores are replaced by Starbucks and chain stores, the twins learn that they differ on how they feel about ethnic and cultural identity.
7. Flawed by Cecelia Ahern
P.S. I Love You's Cecelia Ahern makes her YA debut with Flawed, a dystopian story where being morally or criminally "flawed" means that you are branded with an F. But when Celestine North rebels and aids a branded man, she becomes "Flawed" herself, and fights against the society rule.
Lauren "Panda" Daniels is an anonymous photoblogger who calls out her classmates by catching them in compromising positions. But Panda becomes the target herself when she is blackmailed and threatened with having her identity revealed.
Renee Ahdieh's innovative One Thousand and One Nights retelling The Wrath and the Dawn is followed up with The Rose and the Dagger, where we see Sharzi struggling to make to opposing forces — her feelings for her murderous husband Khalid and her dedication to her family, opposed to the ruling family — fit together.
A futuristic Brazil comes alive in Alaya Dawn Johnson's The Summer Prince. Palmares Tres is thriving with artists, many who stage dramatic stage pieces to rebel against the government (Pussy Riot style) and its tradition of sacrificing a Summer King.
A powerful tech mega-company Aether Corporation is building a team of "special" teenagers to go into the future and bring back data. Elena Martinez, who has kept her eidetic memory hidden, is one of those team members. But once in the future, the team makes what could be a fatal mistake by finding their own future selves. Now they have to race against the clock to return to the past before the future as laid out is destroyed.
Biracial, adopted Alex Kittridge has always been "Little Kittridge," the baseball playing star that is following in her father's footsteps. When she finds a letter from her biological mother, however, Alex digs into her own identity and heritage, learning where she came from aside from her adoptive family.
Ellia Dawson suffered an accident when she was running with her boyfriend, the love of her life, Liam McPherson. Now she's in the hospital and cannot recognize Liam, who is watching over her to ensure his love is safe. It's a heartbreaking love story told in alternate perspectives.
Soledad Reyes' life is dance. So when she gets an intriguing proposition to ditch her plans and star in a vibrant production of Carmen, she can't help but be swept away. However, real life starts to echo the production she is in, when Soledad is torn between two compelling young men, one of whom may be hiding a toxic side.
This adventure survival story is based on real-life events. Inuit Billy Bah lives in Greenland, where ships full of white men are met with trepidation. However, when one of the men, who is making an expedition to the North Pole, gets stuck in the ice on his ship, Billy Bah sets out on a journey to save his life.
This imaginative retelling of The Phantom of the Opera places 16-year-old Wen in a slaughterhouse where her father works as a medical clinician. In the slaughterhouse, foreign workers are brought in for cheap labor and everyone believes in a ghost that can grant wishes. Wen, on impulse after one of the Noor workers offends her, is granted a brutal wish and the worker is injured in an accident. Her guilt-ridden mind causes her to spend more time with the Noors, and she begins to fall for their charismatic leader.
Tobago-born Elyse d'Abreau was a singer destined for stardom, until an accident took her voice. Now she has settled in a small seaside town in Oregon named after a mythical mermaid, Atargatis Cove, where she falls for seemingly the complete opposite boy she would have imagined. The only hiccup? His little sibling Sebastian thinks that Elyse is that mythical mermaid.
Adopted Lily becomes a target in the fear-mongering U.S. during the Korean War because of her Asian heritage. And when her white family can't understand what she's going through, Lily delves into the secrets of her past, who she is and why her birth mother put her up for adoption in the first place.
Muslim-American Scarlett is the Veronica Mars of her high school — if in addition to spoiled little rich kids, Veronica also had to deal with evil genies and ancient curses. That's exactly what this teenage private eye finds herself embroiled in when she takes on her latest case.
Michelle and Leah can't be more different on the surface. Michelle is black and lives below the poverty line in Baltimore while her mom is in jail; Leah is middle-class and white living in suburban Maryland. However, the two girls share a biological father, and when they find out he is dying they join together for a roadtrip to see the man who abandoned them one last time.
Padma Venkatraman is a dance prodigy who has to recover her passion when an accident leaves her a below-knee amputee. Told in verse, A Time to Dance is about reconnecting with something you love, something that has changed because of how you have changed.
22. Soundless by Richelle Mead
Richelle Mead turns to Chinese folklore to tell the story of a remote village that exists without sound. However, one night when Fei is awoken by a screaming noise, she is thrust into a journey to save her home.
Ballet dancer Etta feels like she just can't fit in. She dated a guy, so she's not "gay enough" for the popular clique of lesbians she used to hang out with. She doesn't fit with the tiny, white ballerinas with whom she shares a passion. But things change when she meets Bianca, who seems like her opposite but who makes her feel at home.
24. Liar by Justine Larbalestier
Everyone knows that Micah is a compulsive liar — even she freely admits it. But things catch up with her when her boyfriend is found dead, because how can the police (and we readers) trust her when she says she didn't do it?
The Steep and Thorny Way (and you Shakespeare nerds are already ahead of me, here) is Hamlet, but transposed to Oregon 1923 as Hanalee Denney, a teen born to an African-American man and a white woman, counters the KKK and learns that perhaps her father's death wasn't an accident at all.
Image: twirlingpages/Instagram