Mejuri's New Collab Is Boho Bridal Perfection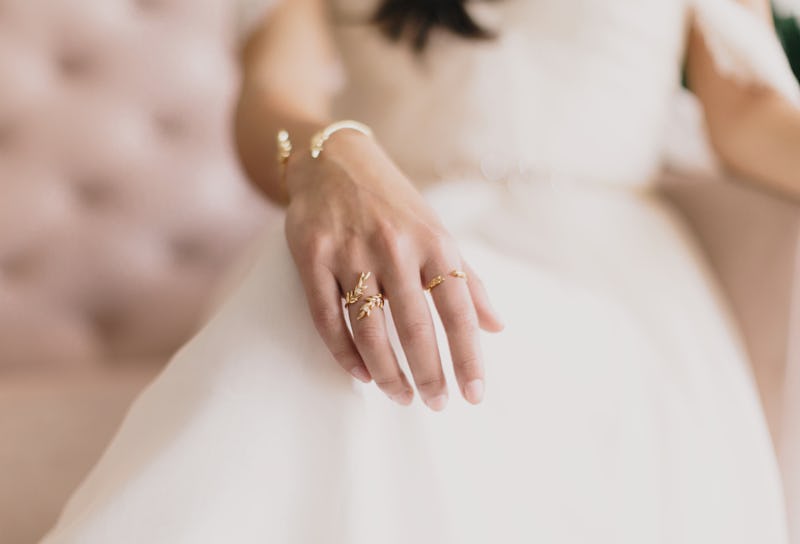 Bridal jewelry can sometimes lend itself to the more glamorous side of things. With many evening weddings, some bridal stylists and brides err on the side of bling. However, with the increase in boho and more casual wedding, jewelry trends are changing. The new Green Wedding Shoes x Mejuri bridal collaboration is a dream come true for boho and nontraditional brides. The delicate, golden, and nature-inspired collection is sure to be on brides radars. Mejuri has always had stunning pieces, but these, gorgeous pieces are totally next level, especially when it comes to bridal style.
Mejuri paired up with Green Wedding Shoes creator Jen Campbell to create the nature-inspired collection of jewels, and the pair couldn't be more perfect. Campbell's website is all about finding truly unique and personal details for couples to bring to their weddings. It's this attention to each couple's special spark that makes the site so different from other. While grand, luxe weddings or traditional church weddings are wonderful, the site and Campbell's work with Mejuri show that alternative styles are equally as beautiful as those that have come to be seen as more traditional.
The Mejuri x Green Wedding Shoes collection focuses on an olive leaf design that, "symbolize[s] beauty, peace and prosperity." The golden leaf designs are incredibly delicate, but despite the delicacy, the pieces are "reflect[s] the softness in female nature as much as its strength."
With necklaces, rings, and earrings, the collection features all the staples for a gorgeous boho or modern bridal look. While the jewelry is beautiful for a big day, one of it's most attractive attributes is its ability to carry over into every day life.
With alternative wedding gowns and unique engagement rings and bands on the rise, it makes sense that the wedding jewelry world is changing. Many modern or boho brides used to have to seek jewelry that wasn't specifically "bridal," but the tides seem to be turning now.
If you're thinking the collection is beautiful, you're going to be even more excited because it's incredibly affordable. While bridal jewelry can sometimes ring in with a massive price tag, Green Wedding Shoes x Mejuri comes in between $59 and $124.
Olive-inspired jewelry is no doubt beautiful, but it's not the only jewelry out there perfect for the boho or modern bride. Tons of gorgeous retailers and designers create pieces ideal for a big day.
Delicacy
Pearls of Love, $36, Dogeared
This perfect, delicate pearl necklace is ideal for the modern bride who love simplicity.
Floral-Inspired Earrings
Delectably Delicate Earrings, $12.99, ModCloth
The beautiful gold and pearl earring give a sublte floral vibe.
Modern Gems
Cami Necklace in Ivory Pearl, $60, Kendra Scott
This gorgeous gem necklace from Kendra Scott is perfect for the more modern bride.
Simple and Sexy
Shelton Necklace in Rose Gold, $75, Kendra Scott
This beautiful, plunging necklace is stunning and perfect for a bride looking for a more sexy look.
Boho Gold
Lili Claspe x Free People Handpiece, $88, Free People
I mean, it's boho as hell and perfectly delicate for your bridal style.
Beachy Body Jewelry
Paradise Ankle Set, $28, Free People
Having a boho beach wedding? This gorgeous body jewelry is your new best friend.
Eternity Band Beauty
Communion by Joy Eternity Love Sapphire Band, $858, Free People
Still seeking that perfect, boho wedding band? See above.
Modern + Simple
Wavy Posts, $28, Anthropolgie
Simple, modern, and elegant. What's not to love?Want more fashion and beauty tips? Check out the video below and subscribe to Bustle on YouTube!
Images: Logan Cole Photography/Green Wedding Shoes (4); Courtesy of brands