7 Books To Read If You Love 'Veronica Mars'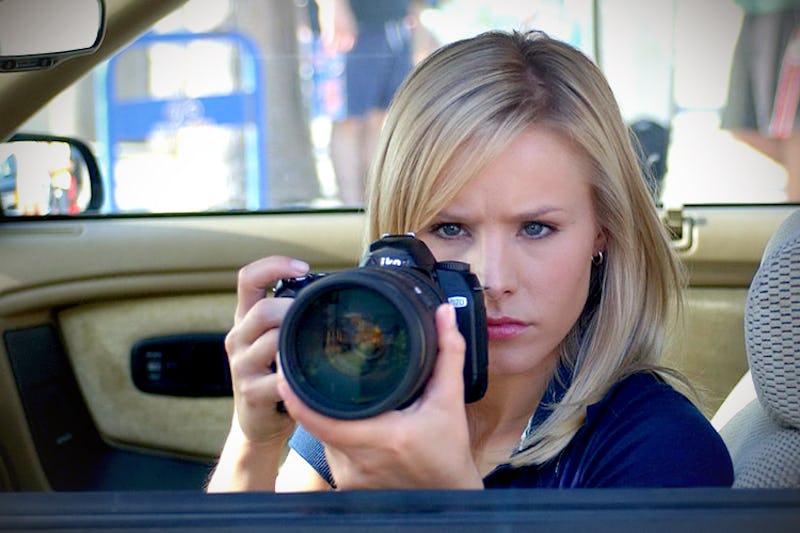 Marshmallows, I feel you: The ache of missing Veronica Mars is real. Hopefully some of that pain can be quelled with a list of books to read if you love Veronica Mars . At the very least, the books will keep you company between binges and chain-watching the movie.
Veronica Mars, the woman, is one of the greatest pop culture characters that have come into our lives in the last 20 years. She's whip smart, sarcastic, and she doesn't mind bending a law or seven to get to the bottom of the truth. But it's not just Veronica we miss. Wouldn't we all do anything for a scene of Logan and Veronica banter followed by a steamy make-out? Do we have to YouTube LoVe clips to get the fix? And sure, maybe we still dream that one day some guy or girl will tell us that our story was epic, spanning years and continents, lives ruined, blood shed...
(Sorry, Piz, you were nice and all, but you had no chance. Either time.)
That's not to mention Veronica's relationship with her dad, her BFF trio with Mac and Wallace, her support system with Weevil, and sure, even the rude cameos from Dick Casablanca (best. character. name. ever.) and Vinnie Van Lowe. I can't promise you that hot cop Leo will pop up in any of these books, but I do hope that they'll satisfy those Veronica Mars fixes that you just can't shake. Veronica herself would know a thing or two about those cravings for the good stuff.
This one is a no-brainer. Rob Thomas himself revived the Veronica Mars franchise in a book series starting with The Thousand Dollar Tan Line . The books start 10 years after Veronica graduated from high school, right after the end of the movie, when Veronica ditches her law degree and returns to Neptune to work as a private investigator. Don't worry, not only is Logan her love interest, Wallace, Mac, and the rest of the gang are part of the story, too. And if you're a true Marshmallow "LoVe" fan, the second book in the series, Mr. Kiss-and-Tell has an extra bonus of Logan Echolls.
I feel like Frankie Landau Banks could be best pals with Veronica, and I don't say that lightly because Veronica is one of my favorite pop culture characters ever. But Frankie has the sharp tongue, the unrelenting attitude, and the serious smarts that put her in Veronica territory, and I'd love to see them solve crimes and get into their own trouble together. In E. Lockhart's novel, Frankie is tired of her boyfriend and his pals acting like they're smarter than her, so she infiltrates their secret society at school and starts pulling off pranks.
If you thought Veronica had it tough dealing with the rich, smug 09ers, you're in for something else with Scarlett Undercover 's private investigator Scarlett. Yes, she's a high school PI, and yes she's also a bit of a smart-ass, but this woman also has to deal with crimes that delve into the paranormal, supernatural realm. One of her recent investigations uncovers a secret war of the jinni, and her own father's murder is connected.
Much like Veronica Mars, Lauren Beukes' Broken Monsters fuses together all kinds of genres to tell one totally unique tale. Detective Gabriella Versado finds a horrific and confounding dead body: a half-boy, half-deer. Meanwhile her 15-year-old daughter Layla makes her way through high school and flirts with a potential predator online. This dark mystery will remind you of the dark Veronica episodes, if those also had a supernatural bent, but we get to see the story from perspectives of people connected to the crime in all different ways.
If Veronica's life took a slightly different turn, she could have ended up like 28-year-old PI Izzy Spellman, who drinks excessively, has a line of romantic mistakes, and is hooked on old episodes of Get Smart. But both Izzy and Veronica have a knack for entering people's houses during an investigation in, let's say, "creative," not-so-legal ways. And they're both killer at their job, which you'll be able to see through Lutz's entire series following Spellman.
Flash back to Veronica Mars season one and you'll understand some of the vibes in Saving Zoe . A year ago, Echo's older sister Zoe was murdered, and she looked up to her as the pretty popular girl like Veronica looked up to her friend Lilly. But when her older sister's ex-boyfriend (Logan much?) comes to her with Zoe's diary and wants her help looking into Zoe's death, she can't help but get sucked into what really happened.
One look at the cover and you know that Trouble Is a Friend of Mine 's heroine Zoe has the Veronica Mars spirit. Except Zoe doesn't expect to be the private investigator; she's pulled into it by the annoying guy Digby who wants to figure out what happened to a wealthy (09er style) teenage girl who disappears from a slumber party. Zoe has the sass and sarcasm of Veronica, and the two characters embark on a crazy mystery-solving quest. And though she thinks she despises him, Zoe pulls a Veronica with Logan and starts to fall for Digby.