Where 'Scandal' & 6 More of Your Favorite Shows Left Off (and When They'll Return, Too)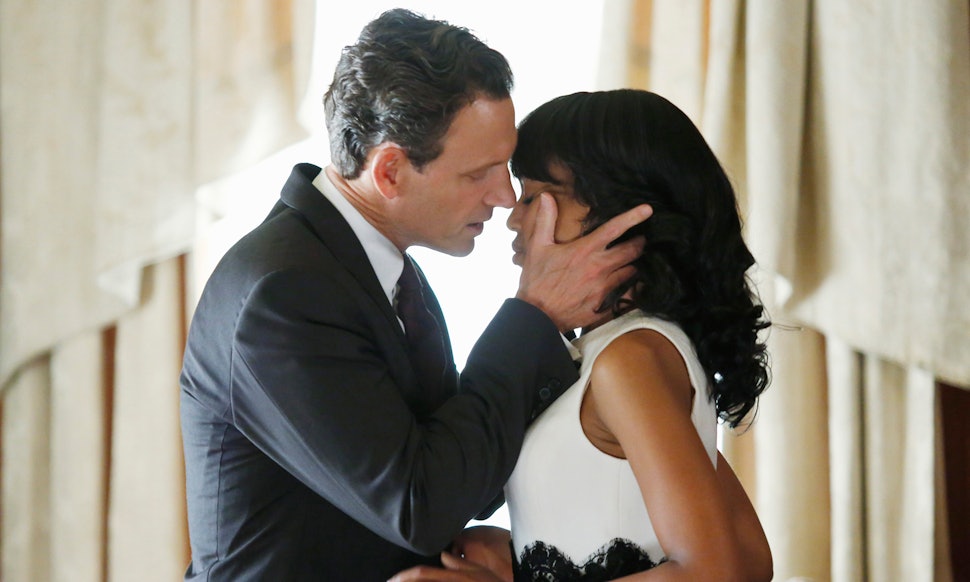 It's a known fact that the beginning of the year is a slow time for movies. Oscar contenders have come and gone, there's an influx of Valentine's Day-themed flicks, and the weather's bad enough for most people to stay in instead of heading out to the theater. So typically, that's where TV's come in, acting as a nice replacement during those long few months before decent movies make their debuts. Yet this year, thanks to some networks' questionable scheduling decisions, many of our favorite shows have taken early 2014 off, going on a crazy-long hiatus that doesn't end until the final days of February.
Depriving us of new episodes of Scandal and The Mindy Project is cruel and unusual punishment, and unfortunately, there's not anything we can do about it, except watch repeats online and count down the days until our favorite long-lost shows finally return. When they do finally come back, you'll want to be prepared — so take a look back at where some of TV's best shows left off back in December. Obviously, spoilers.
Image: ABC
'Scandal'
Last Seen: Dec. 12.
Where We Left Off: Sally murdered Daniel Douglas and Cyrus tried to cover it up; Huck tortured Quinn, who's secretly begun a romance with Charlie; Fitz interrogated Eli, who Olivia discovered is innocent; Jake broke up with Olivia, but got hired to head B613; James forgave Cyrus, but blackmailed him into making him Press Secretary; Maya left on a plane, but then returned to D.C. So just another day at Pope & Associates.
Returning: Feb. 27.
Image: ABC
'Glee'
Last Seen: Dec. 5.
Where We Left Off: Kurt made out with Santa, Rachel and Santana played elves, Tina won an angel figurine and gave it to Becky, Kitty played Mary in a living nativity, and several students paid tribute to the Supremes in an, um, untraditional way.
Returning: Feb. 25.
Image: Fox
'Grey's Anatomy'
Last Seen: Dec. 12.
Where We Left Off: Alex made amends with his father, Shane went crazy with guilt over Brooks' death, Derek got a call from the President, Arizona cried over Callie, Mer and Cristina made up, and April (almost) got married but was interrupted by Jackson's confession of love.
Returning: Feb. 27.
Image: ABC
'The Mindy Project'
Last Seen: Jan. 21.
Where We Left Off: Mindy and Danny made out! On a plane! Other stuff happened too, but that's all you really need to know.
Returning: Apr. 1.
Image: Fox
'The Walking Dead'
'Once Upon a Time'
Last Seen: Dec. 15.
Where We Left Off: Hook and Tinkerbell met; Mary Margaret gave Henry a Once Upon a Time storybook; Blue was revived; Rumple killed himself and Pan; Storybrooke disappeared; Emma and Henry ended up in New York City, and Hook made a surprise visit.
Returning: Mar. 9.
Image: Fox
'Revenge'
Last Seen: Jan. 19.
Where We Left Off: Daniel's ex Sara moved into Grayson Manor; Patrick found his father; Conrad helped out his son; Emily woke up in Conrad's bed; Niko got sent to Moscow to find her father's killer.
Returning: Mar. 9.
Image: Fox