'Agents of S.H.I.E.L.D.' Bid Adieu To Two Heroes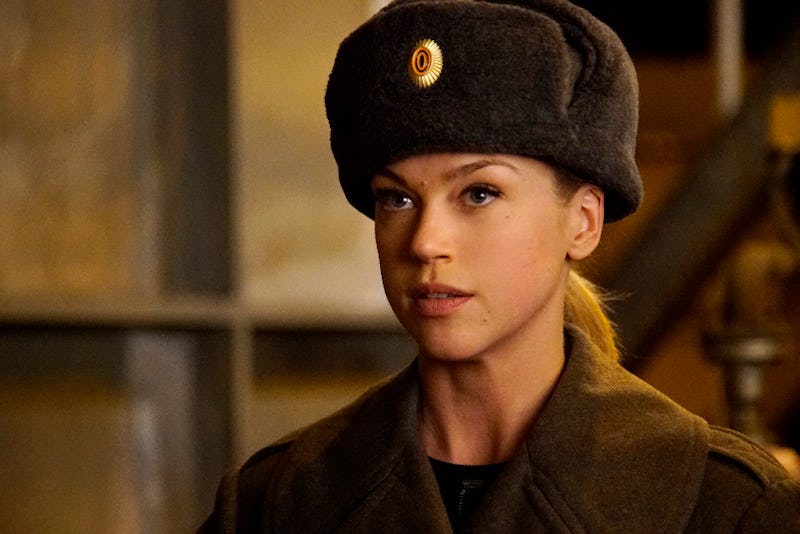 I don't think I've ever cared so much about mushroom soup. Are Bobbi Morse and Lance Hunter leaving Agents of S.H.I.E.L.D. for good? Their sendoff at the end of Tuesday's episode felt pretty final. It's not often that television characters get an emotional goodbye that's not death-related, especially on shows with stakes as high as Agents of S.H.I.E.L.D. As much as I'm going to miss Bobbi and "Amadeus Ravenclaw Hunter" on this show, I have to say that I enjoyed their final bow — until their upcoming spinoff, Marvel's Most Wanted, that is.
After being trapped behind enemy lines, Bobbi and Hunter got wrapped up in a plot to assassinate the Russian Prime Minister. Their only way to survive and keep their coworkers from any further danger was to deny all involvement in government organizations, even secret ones. Coulson debriefed his agents, and they all met up at a bar and silently toasted Bobbi and Hunter with the saddest round of shots in the world. They all sat at separate tables and raised their glasses in secrets. Bobbi called it a "Spy's Goodbye." The team member most upset, however, was Mack. It was almost too much to handle. While potential new Inhuman agents like Yo-Yo and Joey are an exciting prospect, I'm gonna miss these two dorks. Even May, who still isn't Hunter's biggest fan after the way he mishandled their Ward mission, was sad to see them go.
I really think they're gone, guys. But they aren't gone from our television sets. The two characters are set to be featured in the third Marvel series on ABC, Marvel's Most Wanted. Honestly, I'm not mad. I would love a show that's entirely about their chemistry and banter. Let's give these two the proper vacation they deserve. Plus, if something crazy happens and Marvel's Most Wanted doesn't work out, they can always come back to S.H.I.E.L.D. That door isn't closed forever. If Phil Coulson can survive being dead, Bobbi and Hunter can survive being excommunicated.
Images: Kelsey McNeal/ABC