Here's How To Plan Your Ultimate Island Vacation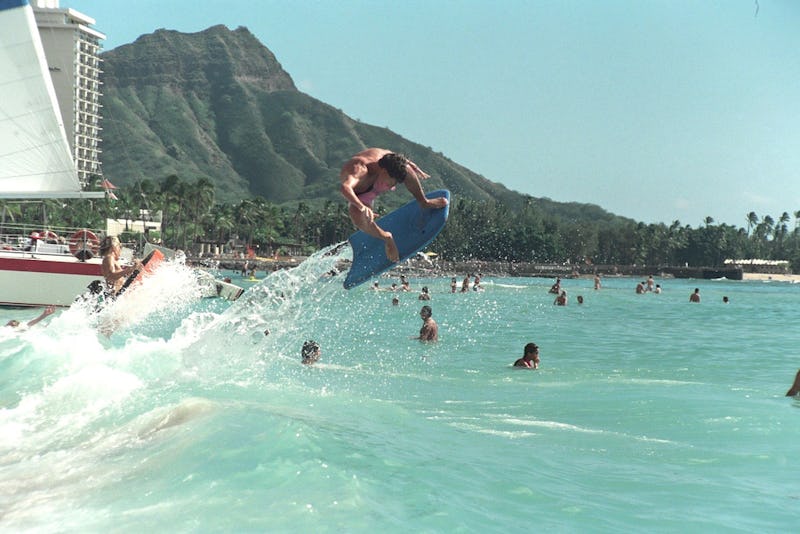 If you're planning a trip to Honolulu, it probably feels like your agenda is set out for you: plenty of beach time and fun in the sun, occasionally interrupted by necessary meals and sleep. Beyond that, all you have left to consider during your Hawaiian stay is exactly where to go. Honolulu is home to a host of beaches as well as other natural attractions that make for incredible hiking and adventuring. The city also boasts an endless array of food options, destination shopping, and a rich history that begs to be explored. With so much to consider, what better way to figure out just where to go than by asking a local?
We asked one Hawaiian native to share some of her favorite spots and must-sees in the city she calls home. Born and raised in Hawaii, Tiffiny recently returned to the islands after a 10 year hiatus, moving back two years ago to settle in as a financial professional in Honolulu. She meets new people while making some extra money as a Lyft driver on the side, making her a perfect guide for planning your trip. Like most islanders, Tiffiny spends a lot of her time outdoors, making it to the beach as much as she can. Just as she has her favorite spots in the sand, she has her go-tos for brunches and bars, doing a little shopping, as well as recommendations for taking in the history of the island. Read on to see her favorites to plan a trip with local flavor.
1. Hit the beach
It comes as no surprise that Tiffiny's top recommendation for visitors is to put on their swimwear and hit the beach. She suggests avoiding popular beaches like Waikiki that easily become overcrowded. Instead, explore some of the other less known beaches the island has to offer, like Kailua or Lanikai. These beaches promise a "more laid back experience" and are both just a half an hour drive ("or Lyft ride!") from Honolulu.
2. Take a hike
Another activity Tiffiny recommends is hiking to explore some of the island's gorgeous sites. She says, "Diamond Head and Koko Head are the hottest tourist trails" but she personally recommends Makapu'u. Another one of her favorites is Manoa Falls, "perfect if you want to see gorgeous waterfalls."
3. Be king for a day
While tourist spots are often worth skipping, Tiffini argues that in Honolulu it's a different story. If you're interested in the history of the island beyond Pearl Harbor, it's worth checking out 'Iolani Palace. The national historic landmark was the royal residence of the rulers of the Kingdom of Hawaii and is the only royal palace on U.S. soil. As she puts it, the palace is "gorgeously Hawaiian, rich with history."
4. Cool off with a cold brew
For your morning cup of joe, Tiffiny says she loves Brue Bar. It has three locations in Honolulu. Tiffiny's driven the owner of the coffee shop a couple of times, and says she loves "their whole vibe."
5. Try authentic Hawaiian food
If brunching in Waikiki, Tiffiny says Goofy Cafe & Dine is "a must." She recommends getting the eggs Benedict "and your life will never be the same." Globally accented Vietnamese restaurant, The Pig and The Lady is another one of her favorites. If you're looking for authentic Hawaiian food, "Highway Inn is your best bet!" The menu offers up traditional Hawaiian dishes like Kalua pig, chicken long rice, and ahi poke bowls.
6. Grab a drink in Chinatown
For a chiller nightlife scene than Waikiki's popular clubs, Tiffiny says to check out Chinatown. "It's an up-and-coming area" which she promises is "great for grabbing a casual drink and hanging out at the bar."
7. Do some shopping
Whether you're looking to do some serious shopping or just want a scenic locale for a casual stroll, Ala Moana Center is an ideal destination. Tiffiny considers it "the best place for shopping" as the sprawling complex combines shaded walkways with spacious outdoor terraces and has "a bit of everything" from high-end shops to affordable finds and everything in between.
8. Avoid the crowds
Although Waikiki beach has earned its reputation as nearly synonymous with Honolulu vacation, Tiffiny stresses that other stretches of sand offer a much more authentic experience. She urges visitors to explore other areas to get a better sense for the island, warning that the famous Waikiki is "touristy" and locals spend more time elsewhere.
Images: AlanLight, EdmundGarman, EricTessmer, PeterWebb, Yoppy, Photoskate, Danny Luong, Daniel Ramirez/Flickr