Makeup You Can Wear To The Pool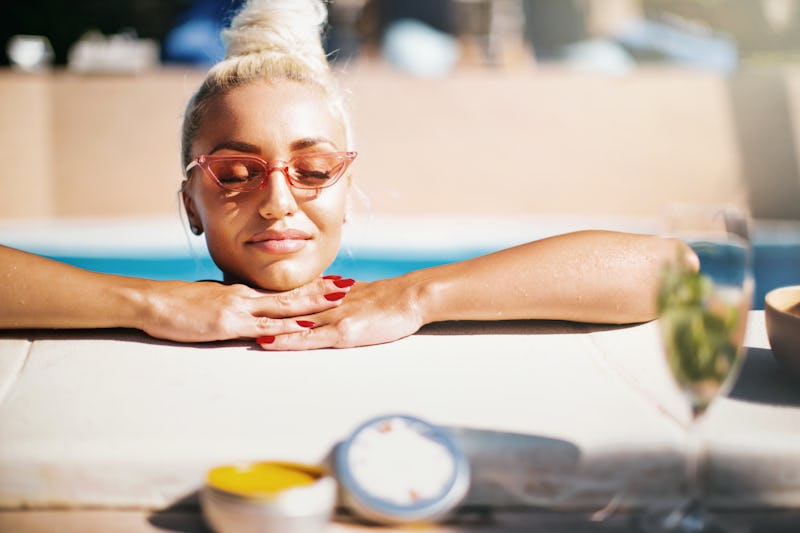 Aja Koska/E+/Getty Images
Spoiler alert: You don't always have to follow the rules of makeup. While every beauty blogger on the planet will tell you not to wear makeup to the pool, sometimes you may just want to. Even if it's just covering a zit or sliding on some tinted lip balm, there's no shame in wanting to wear a bit of makeup by the pool. And why shouldn't you? It's a total confidence booster!
However, before slathering on your makeup, be sure that you're choosing the right products. Laying by the pool often involves a lot of moisture AKA chlorinated water and sweat. Avoid any potential makeup meltdowns by reaching for products that are long-lasting or even water resistant. This is will help to ensure that your makeup stays on your face, and not all over your towel.
It's also helpful to reach for products that offer sun protection. Seeing as you'll be fooling around in the sun, you need to be sure to protect your delicate skin from the sun's harsh rays. Besides that, go enjoy yourself. The pool awaits!
Green Screen Organic Sunscreen SPF 31 Tinted Nude, $38, Amazon
Even out your base before you head to the pool by using a tinted sunscreen. This way you can have both effective sun protection, while covering any imperfections.
Estée Lauder Double Wear Waterproof All Day Extreme Wear Concealer, $25, Sephora
No matter where you are, you don't have to let your imperfections show if you don't want them too. If you're hanging by the pool, then choose a concealer that won't fade away due to sweat or water. Waterproof formulas are the only way to go.
Catrice Prime & Fine Waterproof Mattifying Powder, $15, Ulta
If you want to wear a powder by the pool, then go for it! However, be sure to reach for a powder that won't look too caked on. Choose a finely milled powder to keep yourself looking matte all day long.
Cargo Swimmables Water Resistant Blush, $26, Amazon
Get blushing at your next pool party by using a water resistant blush. Not only is this blush budge-proof, but it also will give your cheeks the natural looking flush.
Tarte Amazonian Clay Matte Waterproof Bronzer, $30, Sephora
Fake your way to a sunny glow by using a bronzer before you head out the door. The Tarte bronzer is even waterproof, so it will hold up against any unexpected splashes.
Sephora Retractable Brow Pencil, $12, Sephora
Brows that are #onfleek shouldn't wash away due to a dip in the pool. Seal your brows in place by reaching for a waterproof brow pencil.
Stila Stay All Day Waterproof Liquid Eye Liner, $22, Amazon
In order to avoid any makeup meltdowns by the pool, reach for a liquid eyeliner if you're looking to line your rims. Typically, liquid formulas don't smudge around the eyes, so it's perfect for a day in the sun.
Urban Decay Cannonball Ultra Waterproof Mascara, $20, Sephora
While mascara and water don't typically mix, there are ways to make coexist. Apply for a few coats of water resistant mascara to your lashes, and let thoroughly dry before diving into the pool. This way you can have gorgeous lashes without a mascara meltdown.
Sonia Kashuk Moisture Luxe Tinted Lip Balm, $9, Target
Keep your pout looking pristine by choosing a tinted lip balm that offers hydration, sun protection, and even pigmentation. What more could you want out of your lip balm?
Who cares if you wear makeup to the pool? It's your face – do what you want with it!
Images: Aja Koska/E+/Getty Images; Courtesy Brands