7 Ways To Prevent Thigh Chafing In Dresses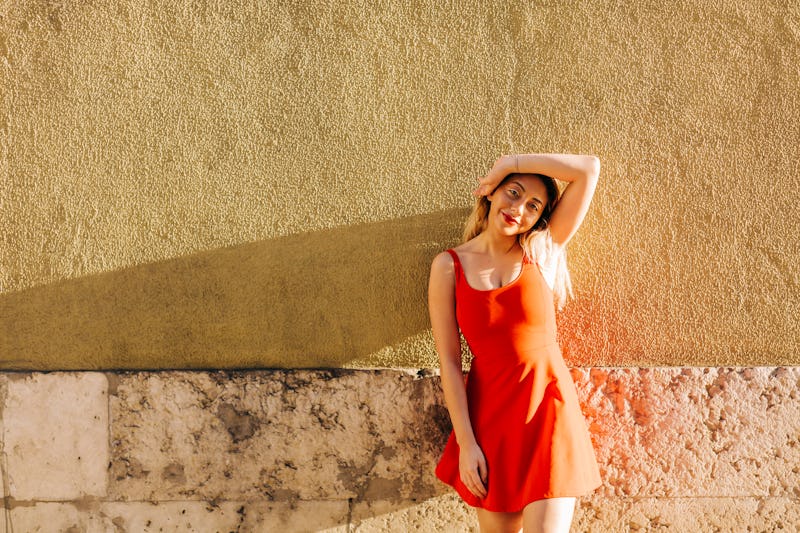 Westend61/Westend61/Getty Images
As our hemlines start to get shorter, it's time to talk about an uncomfortable issue that faces many woman. Thigh chafing, also known as "chub rub", can be the absolute worst during for those who love to wear dresses or skirts. Basically, there's no fabric or material to fight off friction or unwanted rubbing. This factor coupled with springtime sweating can leave many women feeling pained and annoyed. However, fighting off chafing doesn't mean putting back on your pants. In fact, there are several ways to prevent thigh chafing while still wearing your favorite dresses and skirts. You just have to find the best solution that fits your lifestyle.
When it comes to preventing unwanted friction, you have a few options. The first being specialized gels or lotions that can help to soothe and smooth the skin. Next, there are undershorts. These garments provide coverage of your thighs, while streamlining your figure and warding off panty lines. Lastly, you can choose to use certain powders to soothe the area. Think of baby powder as your new lifesaver this summer. In fact, here are seven other handy products that will help to prevent thigh chafing no matter what outfit you choose to wear.
Lush Silky Underwear Dusting Powder, $10, LUSH USA
Absorb sweat and fight off chafing with a light dusting of this dreamy powder. It's infused with grated cocoa butter, kaolin clay, and jasmine to keep your thighs feeling silky smooth.
Try: Ora's Amazing Herbal Natural Body Powder in Lavender, $14, Amazon
Bandelette Elastic Anti-Chafing Thigh Bands, $18, Amazon
Who said preventing chub rub had to be boring? Look sexy and feel great by using these gorgeous elastic lace bands. Not only are they super chic, but their banded material keeps them in place all day long.
Monistat Soothing Care Chafing Relief Powder Gel, $9, Amazon
Keep unwanted friction at bay by using these handy chafing relief gel. Simply use a small dollop between your thighs to keep things feel smooth.
Maybelline Baby Skin Instant Pore Eraser Primer (2-pack), $13, Amazon
If you're in a pinch, prevent possible rubbing by using your face primer. Silicone-based primers work similarly to the Monistat gel, according to Cosmopolitan, as they help to smooth the skin without feeling gloopy or greasy.
Mid-Rise Anti-Chafing Panty Short, $34, Thigh Society
Think of these sleek shorts as a body shaper, but without the painful cinching or clinging. Basically, they're a preventative measure to ward off any rubbing or friction during the day. Not only are they made from a super soft fabric, but the shorts also contain moisture-wicking properties to keep your legs and backside feeling fresh all day long.
Try: Maidenform Pure Genius Boyshort Panty, $8, Amazon
Jockey Skimmies Slipshorts, $20, Jockey
If you don't have time (or money) to splurge on specialty apparel, reach for a pair of tight gym shorts, instead.
For Her Anti-Chafe and Moisturizing Balm , $8-13, Amazon
Here's where your deodorant stick meets a moisturizing balm. With just a few swipes, you can ward off any friction, while moisturizing your skin.
You don't have to suffer from chafing thighs. Keep your legs feeling great all summer long by warding off unwanted friction.
Images: Westend61/Westend61/Getty Images; Courtesy Brands