Here's How To Make Your Own Peeps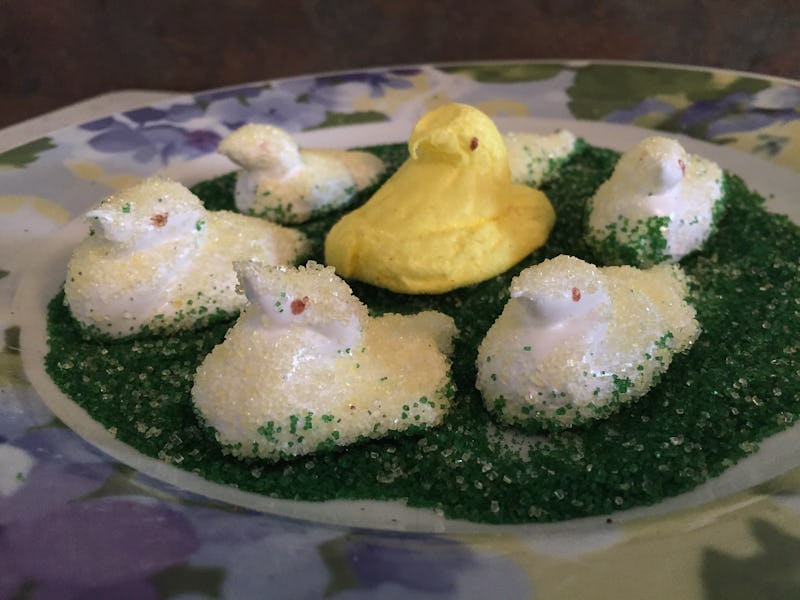 Whether you celebrate Easter or not, it's impossible to go to the store and not to notice (or break down and buy) the chocolate bunnies, creme and caramel-filled eggs, and jellybeans that line the store shelves. But everyone knows the best Easter candy is Peeps, and although this delicious, gooey, sugar-coated treat may only be a seasonal offering, you can learn how to make Peeps on your own with this DIY recipe Now, you can enjoy biting the cute little heads off of marshmallow chicks all year long.
Marshmallow Peeps have been around since the 1950s, and over the last half century, they have become a staple Easter candy. Although they're now marketed and offered year-round, Peeps are never more in season than they are near Easter. You know when those cellophane wrapped boxes of brightly colored chicks and bunnies hit the shelves, spring is right around the corner — but the only problem is, they seem to disappear too quickly. Luckily, there's a way to solve that problem and satisfy your mini marshmallow creature craving long after the Easter sun has set: learn how to make them on your own.
Thanks to the fantastic cooks at The Kitchn and Martha Stewart, I was able to do just that. Though the ingredients are simple — sugar, gelatin, and water — you will need a little bit of equipment. As long as you have a piping bag and tip, a candy thermometer, and some patience, you can have your own DIY chick-shaped Peeps in no time, any time. Here's how:
Ingredients
1 packet unflavored gelatin
1/3 cold water, for gelatin
1/4 cold water, for sugar
1 cup granulated sugar
Colored sugar for decorating
Cocoa powder, for eyes (optional)
Directions
1. In a large mixing bowl or the bowl for your stand mixer, sprinkle gelatin over 1/3 cup of cold water. Let it soften for five to 10 minutes.
2. Cover the bottom of a large rimmed baking sheet with colored sugar of your choice, and set aside.
3. In a medium sauce pan, pour in 1/4 cup water and begin to heat on medium-high. Add sugar, stirring constantly until sugar is completely dissolved. Place a candy thermometer into the mixture. Boil until the mixture has reached the soft-ball candy stage, about between 235-240 degrees.
4. Once proper temperature is reached, immediately remove from heat and add to the gelatin bowl. Hand whisk together until slightly cooled. Switch to an electric mixer, and beat on medium-high with a whisk attachment until mixture becomes marshmallow and forms soft peaks (about 10 minutes).
5. Transfer marshmallow mixture into a large piping bag with a half inch tip. On the sugar-lined baking sheet, begin piping your chick shape. Start by piping a one inch-wide oval with one end pulled up to look like a tail. To make the head, pipe a rounded mound on the opposite side of the oval base from the tail. Use the same pulling technique you did for the tail to create a beak. Immediately cover completely with sugar, and let set.
6. To complete the Peep's look, dab a wet toothpick in cocoa powder and make two dots on the head for eyes. Serve immediately, or store in an air tight container for up to two weeks.
The Verdict
It may be simple and cheap to get store-bought Peeps, but I promise it won't be nearly as fun. True to taste and texture, these DIY Peeps taste just like the packaged ones. They can be tricky to make, and finding the right shape is very trial and error (I had some.... interesting results at first), but once you get the hang of it, it's easier than you'd think. Things will get a little sticky, but you won't mind licking your fingers clean when you're done with these amazingly cute and delicious DIY Peeps.
For more ideas, check out Bustle on YouTube.
Images: Sadie Trombetta