This 'BvS' Cameo Will Freak DC Fans Out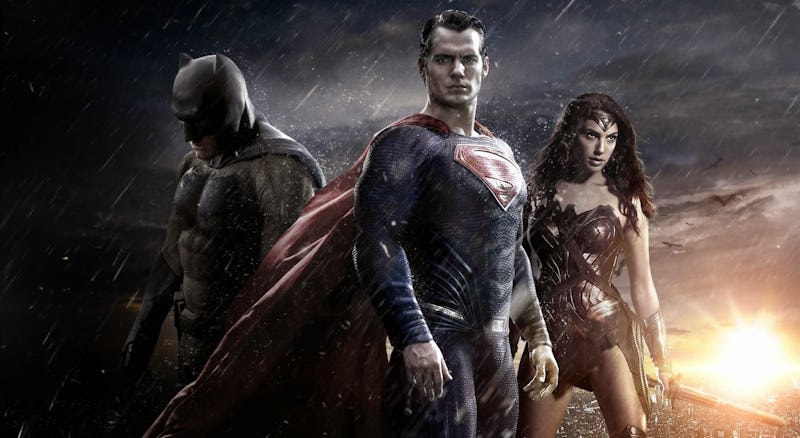 Batman v Superman: Dawn of Justice is already making waves for featuring two of the most famous superheroes in comic book history. The movie also gives cameos to many other characters from the land of DC Comics, including Wonder Woman, the Flash, and Cyborg, and BvS sets up several upcoming movies featuring those superheroes. Yet while many people know about (and are already freaking out over) the Wonder Woman feature film coming in 2017 and The Flash movie scheduled for 2018, less is known about the Cyborg movie — when it comes out, what'll happen in it, and even what to be excited about.
It may seem like a long time from now, but Cyborg is currently set for a 2020 release. The film was announced in October 2014, when Warner Bros revealed that there would be a whole slew of upcoming movies based on DC Comics characters. The announcement was a pleasant surprise to many, including Ray Fisher, the actor who plays Cyborg in BvS. Fisher told Entertainment Weekly that he had no idea of Warner Bros' plans for the character when he was originally hired for BvS. Said the actor, "I didn't know the extent to which DC and WB had planned on taking my character. When I signed on, I just wanted to be part of this world. But that specific information, I found out then and there. I didn't think I'd be getting my own stand-alone film."
Now that Cyborg is confirmed to get his own movie, you may want to spruce up on your knowledge about the character. Here are the major points to know about this superhero.
His Name Is Victor Stone
Cyborg was born as a human named Victor Stone. His parents were scientists at STAR labs and used him for intelligent enhancement experiments, which turned Stone into a genius.
He Is Half Man, Half Machine
A catastrophe at his parents' lab nearly killed Stone, but his father saved him by replacing most of Stone's face and body with advanced metal prosthetics. These prosthetics turned Stone into Cyborg and gave him superhuman strength, but they also gave him some severe self-esteem issues.
He Was Part Of The Teen Titans
Cyborg originated as a member of the Teen Titans, a group of teenage superheroes which also included Robin, Wonder Girl, and Kid Flash, among others.
He Becomes A Member of The Justice League
At the point in time that Batman v Superman takes place, Cyborg is now a member of the Justice League. The other Justice League members — apart from Batman and Superman — include Aquaman, Wonder Woman, the Flash, and the Green Lantern, although the latter doesn't appear in BvS.
Even though Cyborg doesn't come out until 2020, you can start to look forward to seeing the character in his own film. And now that Batman v Superman is hitting theaters, you can enjoy getting an introduction to Ray Fisher's Cyborg on the big screen.
Images: Warner Bros, Heroic Hollywood/Twitter, SuperheroesInColor /Twitter, Comic Vine/Twitter