13 Children's Novels That Tell Immigrant Stories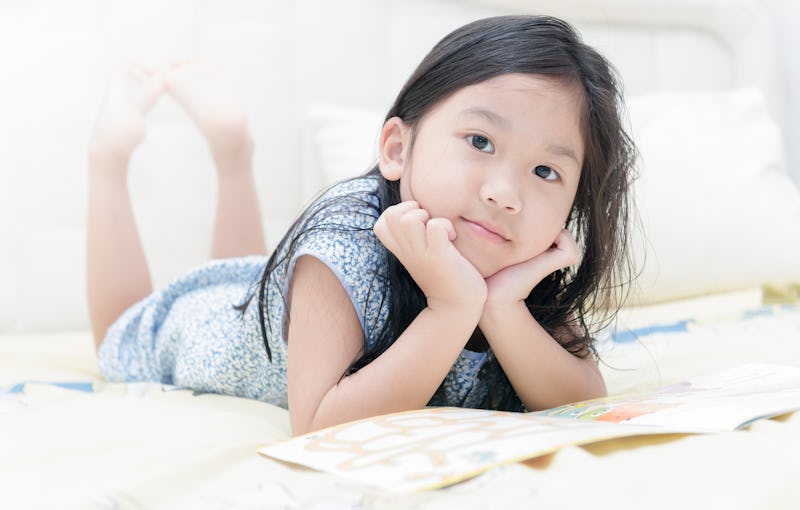 Growing up, my mother always taught me the importance of traveling — to learn about cultures outside my own by immersing myself in unfamiliar places and experiencing unfamiliar things. And while I loved exploring the world beyond my own day-to-day perspective, I didn't always think as much about what it must be like to experience America from the perspective of an immigrant. Which is why I'm absolutely loving these children's novels about the immigrant experience, and wishing I'd had them on my own shelves as a kid.
Growing up is hard enough (as I'm sure you all remember just as vividly as I do) without the added experience of growing up in an unfamiliar culture — and for immigrant children, everything from encountering strange weather, to learning a new language, to finding familiar foods in the grocery store, to fitting in with neighbors and classmates, can be a challenge. These children's novels about the immigrant experience put just a few faces to the millions of immigrants living in the United States and around the world today; and they should definitely be added to the required reading list of any book-loving kid in your life (and of course, feel free to dive into these stories yourself, as well.)
Here are 13 children's novels about the immigrant experience — and their important, eye-opening stories are definitely worthy of adult readers too.
1. Inside Out & Back Again by Thanhha Lai
Based on a true story (the author's own,) and told from the perspective of ten-year-old Hà, Inside Out & Back Again follows one Vietnam War-era family as they are forced to flee the violence of their hometown, Saigon, Vietnam, and immigrate to the United States. Landing in Alabama — a place that couldn't be more different from the Hà's homeland — Hà and her family are forced to rebuild their lives, re-imagine their dreams, and discover a new home in America.
2. Honeysuckle House by Andrea Cheng
Sarah and Tina are ten-year-old fourth graders living in Cincinnati. Sarah, who was born in the United States to Chinese immigrant parents, and Tina, who recently immigrated from her home in Shanghai, China, couldn't seem more different from one another. But as the only Asian students in their class, they're assigned to be each other's partner in school. Honeysuckle House is the story of their growing friendship, told against a backdrop of challenges faced by their immigrant parents, as well as the girl's own struggles to fit in.
3. Under the Mesquite by Guadalupe Garcia McCall
Lupita has seven younger brothers and sisters — and when her mother, the matriarch of her Mexican-American immigrant family, is diagnosed with cancer, Lupita is responsible for caring for each of her siblings on her own. Her only refuge is the spare moments she finds to write, sitting under a mesquite tree to compose the poetry that helps her make sense of her life. Under the Mesquite is a tender and empowering story about one girl's commitment to stay strong for her family, even if it means having to grow up too soon.
4. Lowji Discovers America by Candace Fleming
Before moving to the United States, nine-year-old Lowji and his best friend Jamshed dreamed about what Lowji's new home might be like — but neither boy knew just how different suburban Illinois would turn out to be from their home in East India. Told, in part, through letters from Lowji to Jamshed, Lowji Discovers America is the story of one young boy's journey to make sense of his new home and find a place where he might fit into it, without sacrificing too much of the culture he loves.
5. Ask Me No Questions by Marina Budhos
For years Nadira and her family have lived as undocumented immigrants in New York, while working to become legal U.S. citizens after leaving their home in Bangladesh. But after September 11, 2001, the Muslim family no longer feels safe in New York. Ask Me No Questions follows Nadira and her family as they journey from Bangladesh to New York, and later from New York to Canada, as they struggle to find somewhere to call home, free of the fears they've carried with them their whole lives.
6. Children of the River by Linda Crew
At 13, Sundara fled her homeland of Cambodia, and the violence of the Khmer Rouge army, by moving to Oregon with her aunt's family, and leaving behind her parents, siblings, and friends. Four years later, still struggling to fit into her new American home, Sundara is learning how to balance her culture of origin with the culture that surrounds her — and it isn't always easy. Children of the River tells the story of Sundara as she navigates both the hope and excitement of her adopted country, and the heartbreaking loss of everything she left behind.
7. Behind the Mountains by Edwidge Danticat
Behind the Mountains tells the story of 13-year-old Celiane, who has been living in her homeland of Haiti with her mother and brother, while her father tries to build a new home for them in Brooklyn, New York. But after a bombing nearly kills Celiane and her mother, the family decides they cannot wait much longer before reuniting in the United States. But adjusting to life in a new country — with its freezing weather, strange culture, and fast-paced everything — is more difficult than Celiane and her brother expected.
8. A Step from Heaven by An Na
When four-year-old Young Ju learns her family will be moving from their small, Korean fishing village to a new home, she is certain that she and her family are moving to heaven. But where they end up, the United States, isn't exactly the idyllic paradise Young Ju imagined. Thinking it will help her fit in, Young Ju's family forces her to curl her hair and drink Coke, even though she hates both. While her father and brother simultaneously maintain the outdated, sexist traditions of their heritage, she transforms from hopeful child to world-weary teen. A Step from Heaven follows Young Ju from childhood through high school, and depicts some harsh realities that face many immigrant families.
9. No Laughter Here by Rita Williams-Garcia
Ten-year-olds Akilah and Victoria have always been best friends, but when Victoria returns from a trip to her homeland, Nigeria, she no longer seems to be the girl Akilah knew. Determined to find out why her friend's spirit seems broken, Akilah becomes the outspoken, strong-willed girl her parents taught her to be. Parallel to Akilah's story is Victoria's; Victoria's mother took her to Nigeria to undergo the coming-of-age practice of female genital mutilation. No Laughter Here is an eye-opening, perspective-altering story of two girls of similar heritage, but who seem to be growing up worlds apart from one another.
10. Blue Jasmine by Kashmira Sheth
12-year-old Seema Trivedi adores her life in India — from the noisy markets, to the unforgettable smell of jasmine, to her best friend Raju — and she can't imagine herself happier anywhere on earth. Then she learns she and her family are moving to the United States. Iowa City, to be exact. Saying goodbye to everything she loves, Seema moves to a land completely different from her home. But, unexpectedly, she begins to fit in, grow in confidence, and learn how to bridge the two cultures she has come to call her own. Blue Jasmine speaks to the spirit of endurance and resilience that so many young immigrants have.
11. Kimchi & Calamari by Rose Kent
Adopted from Korea when he was just a baby, Joseph Calderaro has been raised by the most Italian-American of families. But when he's assigned to write an essay about his ancestors for a Social Studies class, Joseph must think about what his ethnic heritage means to him — and what ways he differs from the family who loves and raised him. With a little help from the new Korean family in the neighborhood, Joseph dives headfirst into a journey of growth and self-discovery. The result is Kimchi & Calamari — a cultural fusion as unique and wonderful as Joseph himself.
12. Project Mulberry by Linda Sue Park
When Korean-American student Julia Song and her friend Patrick team up on a project for their environmental club, they never expected the journey that would follow. Julia's mother suggests they grow silkworms, as she used to back in Korea. But the challenge of raising silkworms leads the two friends into uncharted terrain — at least in their friendship — bringing to the surface issues of racism, prejudice, tolerance, and the different cultures each friend comes from. Project Mulberry is the story of a young girl learning to balance her mother's Korean heritage with her own American upbringing, and the friendship that helps her learn to celebrate herself.
13. Call Me Maria by Judith Ortiz Cofer
When Maria leaves both her mother and her homeland of Puerto Rico to live with her father in New York City, she never imagined how torn she would feel between the two worlds she's learned to call home. Told through poetry, letters, and Maria's diary entries, Call Me Maria traces Maria's journey as she struggles to erase her island accent, adjusts to the vastly different languages spoken at home, in the neighborhood, and at school, and ultimately decides where she feels most herself.
Image: Fotolia