Why You Need To Add Brow Gel To Your Routine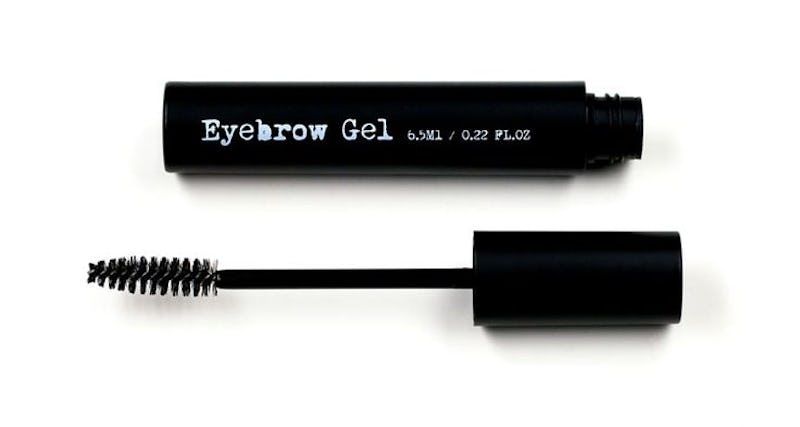 As beauty product-junkies know, there's nothing better than finding a product that steps up your game so much it becomes absolutely essential to your everyday routine. For me, that product is brow gel. With my sparse, light brows, having defined eyebrows transforms my face, and that's why I can't live without brow gel. So what is brow gel? I'm going to fill you in.
Brow gel comes in several forms, but it's essentially mascara for your brows. It comes in a mini tube with a brush (they come in all different shapes and sizes) that looks like a smaller mascara wand. Like mascara does for your eyes, brow gel gives your brows definition and makes them look fuller and more lush all day long. As much as I love the look of super defined eyebrows that you can get with products like Anastasia Brow Definer, there's something to be said for an easy-to-use product that you can use every day — even if you're running late.
Maybelline New York global brow expert Maribeth Madron told beautygeeks the best way to apply brow gel is by desaturating the brush of extra product, then brushing it in the opposite direction of hair growth to deposit the pigment on your brows. Finally, brush in the direction of hair growth to smooth your brows back down. Voila! You're done.
So, what type of gel should you be using?
If You Have Dark, Full Brows
The BrowGal Clear Eyebrow Gel, $20, Amazon
If you're lucky enough to have brows that are already dark and defined, brow gel can be a great finishing product for you. It's kind of like hairspray for your brows — it'll keep them in place all day, but it doesn't change the color or shape of your eyebrows. This one from BrowGal is the perfect pick.
If You Have Light, Full Brows
NYX Tinted Brow Mascara, $7, Walgreens
I will never stop singing the praises of NYX brow mascara. It's my favorite beauty product, and I actually stockpile it when I go home (Sephora, my choice NYC makeup store, doesn't carry it). I use the lightest color, which is the perfect shade for my blonde brows, and I've had so many people tell me that it doesn't look like I'm wearing any product — just that I have good brows. There's no higher makeup compliment in my book.
If Your Brows Are Thin Or Sparse
Benefit Gimme Brow Volumizing Fiber Gel, $24, Sephora
If your eyebrows are the victims of over-plucking (or if you just have some sparse patches), a brow gel with brow fibers will help build your brows in a really natural looking way. In my book, there's no better product for this than Benefit's Gimme Brow. It builds gradually, but it'll make your brows look much fuller with just one coat.
Now that you have the tools, go forth and build better brows. I promise — it'll change your makeup routine.
Want more fashion and beauty tips? Check out the video below and subscribe to Bustle on YouTube!
Images: Courtesy of Brands