21 Tips For Building Your Social Media Following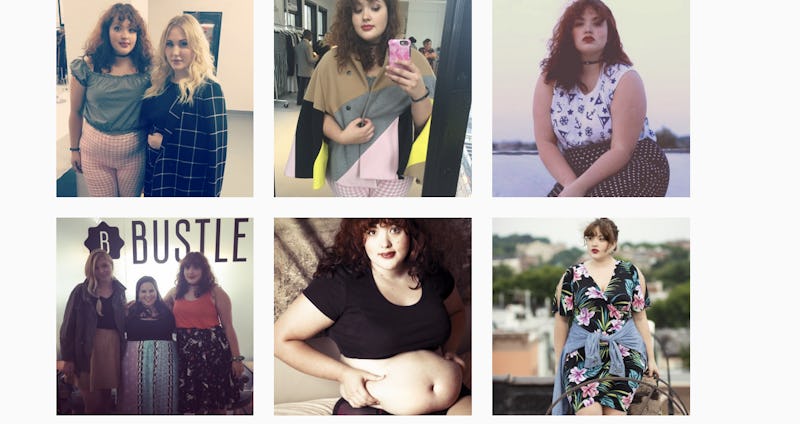 Full disclosure: I am pretty much the worst at using social media to promote myself. That's a problem, though, because whether I like it or not, personal branding for your career matters. How many followers you have on Twitter could impact your chances for getting a book deal, and a sweet Instagram could make you stand out from other applicants for media, advertising, or communications jobs. Those of us who don't naturally love social media don't have much of a choice: if you want to build your personal brand, you need to master social media platforms like Twitter and Instagram.
In an effort to learn how to increase my followers and generally get more social media savvy, I consulted some of the best ladies at Bustle I could think of: Associate Fashion & Beauty Editor Olivia Muenter and Associate Fashion & Beauty Editor Marie Southard Ospina, who are both masters of their personal brands on Twitter and Instagram. I also consulted our Senior Social Media Editor Hayley Saltzman (who built and runs Bustle's massive social media following) and Associate Branded Content Editor Jenna Wexler (who runs Bustle Studio's Instagram) for even more suggestions.
What follows is a list of what I hope will be useful suggestions for anyone trying to build a following and personal brand. Many of these rules still apply to other platforms like Snapchat and Tumblr, but I'll be focusing here on Twitter and Instagram, since they seem to have the most influence right now.
1. Be Authentic
Even though food pics and half-naked selfies rule on Instagram, to me, it usually doesn't feel authentic to take either. When I finally did post my first #foodporn photo above, it was because I was truly excited to eat that plate and tag the small, vegan restaurant. The post did better than most things I put I up do, and did gain me five followers. But it's not like I'm going to go around posting food pics every day now, because that would still just feel forced to me.
Apparently, that's OK. Saltzman says her top tip when it comes to building your brand is to "be authentic". She says that even when she looks at applicants for social media positions, she isn't really concerned with the number of followers they have, but rather the tone, style, and cohesiveness of the accounts themselves. It might seem like a good idea to post a bunch of food pictures and selfies — and it is — but if that really isn't you, and you're forcing it for followers, it's going to come across. She suggests only posting stuff you actually care about, (which seems obvious, but you'd be surprised).
2. Try To Make Your Posts Cohesive
A lot of people in the industry have their own "brand" that is reflected on their social accounts. Meunter says a good example of this is Cosmo writer Loni Venti's Instagram. "When you look at her account as a whole, you immediately notice the red/pink/blonde theme, and it makes her account particularly memorable," Muenter says. Wexler and Saltzman also mentioned YouTuber Maddi Bragg as someone with a very cohesive theme.
Of course, you don't need to be living a perfectly-curated life to be successful on Instagram, but it is good to have an authentic personal style that runs through your posts. Would people be able to pick out your post in a feed and say, "oh, that looks like a [insert your name here] post"? If not, you might want to see if there's a theme — visually or conceptually — that you can really own.
3. Don't Be Afraid To DM On Instagram
Saltzman and Wexler suggest that you can build relationships this way, and make it clear to certain accounts that they can always feel free to use and regram your photos. As always, authenticity, rather than spamming, is key here. You should only DM accounts if you have something worth sharing with them, and if you've looked at their account enough to know the kind of content they post.
4. Geotag
Geotaging is also a good way to get eyes to a post — if you're gramming a plate of food when you go out to eat, geotag the restaurant and also tag their account in the image — they might regram you, and either way, more people will see it.
5. Know The Apps That Make Your Photos Really, Really Appealing
Whether you're posting a picture of your face, your food, or something else, make sure that you're using good lighting, good editing practices, and high res images. Wexler adds you should "Brighten your photos, make whites white, use natural light, and straighten your horizons". Wexler and Saltzman recommend the apps FaceTune, Afterlight, and VSCO to help you do this. (Saltzman says she "never" uses Instagram filters.) Splitting images is also apparently "very 2014," and you want to make sure your image is a large square or rectangle, rather than a narrow rectangle, in case brands want to repost it.
6. Play To Your Own Strengths
Wexler says that if you're a writer who just isn't that into taking pictures, then maybe you should focus more of your energy on Twitter, where wit and ideas count most. Play to your strengths and community of followers, because if you don't take nice pictures, it's doubtful you'll be that successful on Instagram — no matter how interesting the concept behind the photos might be, she says.
7. Comment, Comment, Comment
"So many people scroll through Instagram without commenting on photos," Muenter says. "People remember you if you comment, and are more likely follow you and associate your personality with your account. But don't force saying anything — don't tag in your own comment section, either." This of course goes for engaging on Twitter as well, which brings us to...
8. Reply To Every Single Comment (Unless It's a Troll)
I've been doing this recently, and it definitely has made me accumulate followers more quickly. Ospina adds that you should try to "reply to every single Tweet and Instagram comment directly to the person (unless it's a troll, in which case feel free to ignore)."
9. Follow Instagram & Twitter's Suggestions For Who To Follow & Engage With Them
"I've done this with fashion/beauty editors, and it's how I've connected with so many people in the industry! I followed everyone I could. Look at who they're following as well, and follow them," Muenter says. "In general, you shouldn't worry too much about following more people than you have followers when you're just starting to build your brand. You should also look at who other people you admire are following, and follow whoever seems relevant. Start engaging and interacting with them by complementing their stories or work or engaging when they ask questions before you start tweeting links at them."
Ospina adds that you should "follow people with similar views to your own and then comment on their pics. Normally, if I see that the same person has commented a few times, I end up chatting with them/forming some kind of e-connection."
10. Consider Having Your Handle(s) In Your Email Signature
11. Don't Just Share Links Or Self-Promote
I was totally guilty of this before — tweeting out Bustle links with the auto-loaded headline without commentary, and basically just using the platform to promote or share articles I cared about. Obviously, this doesn't make for a particularly compelling account to follow.
Instead of just sharing the article link, input a personal opinion in there along with the link. Ask yourself: Why should people read the thing you're sharing? Is there an opinion, image, or funny comment you can make that would make the link more retweetable? Muenter and Ospina suggested to me that I tweet at least 10 times a day, and that at least three of those tweets just be random witty thoughts or images, rather than just links. It's also important, Ospina adds, to make sure you're sharing a diverse group of other writers' work, rather than just sharing your own, or articles from publications you write for.
12. Make Your Handle & Profile Pic On Instagram & Twitter The Same
You should also make both profile pictures match, and ideally, it should be a clear picture of your face, Muenter adds. It's also better (though perhaps, not always possible) to have the names be the same on your Instagram and Twitter so that people can find you more easily.
13. Ultilize Your Twitter Bio
Muenter and Ospina had me match my Instagram and Twitter pics, and then gave me these tips: If you write, put the handles of the publications you're most associated with in your bio, so people can find you more easily. If you're promoting a specific article on Instagram or Twitter, you can say "link in bio" and put it there for a week or so. Above, I also use hashtags for my beats, and link to my author page on Bustle and my Instagram.
14. Tag Other User Accounts & Brands On Instagram With Large Followings
"This [Instagram above] is a good one, because even though it didn't get that many likes, one of the brands I tagged in the photo regrammed it and I gained some followers," Muenter says. "Especially in fashion/beauty realm, tagging brands is a great way to get them to regram your image and get your handle out there. This is another good reason to make sure you're posting high-quality images."
When you post photos featuring certain products or places, you can tag other larger accounts and brands in the image, hoping that they regram you — one of the easiest ways to quickly gain followers. Saltzman cautions, however, that you should tag mindfully and sparingly: if you over-tag a brand or media company, they might get annoyed. If, however, you make your own memes and think one would be perfect to tag Bustle in, or have an awesome gram of your new sneakers, it doesn't hurt to tag the brand.
15. Use As Many Hashtags As Possible On Instagram
Figure out the main "niche" of the photo (feminism/bodypos/sex/fashion) and play around with hashtags. Chances are there are 10-20 for any topic, at least, and Ospina says you should use them all. If you're really worried about that seeming tacky, Saltzman suggests you can always add hashtags, get all the likes in the first hour when they appear on people's feeds, and delete them later.
16. Share Personal Photos
People like to feel like they're connecting to a person — rather than an idea. And those personal photos — yes, selfies, but also just images from your personal life that come off as genuine — definitely help. Again, it's up to you to determine what feels authentic.
17. Let Your Humor & Wit Shine
Being witty and funny goes a long way on Twitter — but that doesn't mean just being snarky or sarcastic, because there's already plenty of that online, Saltzman says. Ospina also adds that uploading a funny GIF or image with a good caption every once in a while can also go a long way. It goes back to making your followers feel like you're a real person they know, rather than just a spambot promoting their own articles or brand.
18. Know Regramming Etiquette
Saltzman says that if you are regramming an image, you should put the handle's credit in the tag and caption — but sparingly. "Try not to request or tag accounts for regrams every time you post, since social editors will notice your posts more if you tag their accounts sparingly!"
19. Live Tweet Major Events
Obviously, you don't have as many followers as Roxanne Gay. But the next time you're watching a presidential debate, watch her live tweeting of it, because she is the best. If you're more an entertainment or fashion person, live tweet award shows and provide funny, original, smart commentary. This is your chance to show your personality and wit, and Saltzman adds it's the most likely time you'll get retweeted by a major account if you say something especially clever and tag it with the correct trending hashtag.
20. Know What Will Happen If You Pay For Followers
Yes, you can pay a service to get you followers inorganically on Instagram and Twitter, but know that if you do that, one of the main ways you get them is by automatically liking posts with certain hashtags and making auto-comments (sometimes even on pornographic stuff). Wexler and Saltzman say it's apparent to them immediately through a person's activity feed whether they're paying for promotion or more followers, so if you're applying to a job in social media, you probably should avoid this shortcut and focus more on developing an authentic voice and organic following.
Muenter's article of 10 simple Instagram tips really delves into even more specifics than I have room to here, and is worth a close read to learn more about straightening photos, the importance of backdrops, filters, not stressing too much about all this, and more.
For more on what it's really like to be a woman on the Internet, listen here to Bustle's podcast, The Chat Room.
Images: Rachel Krantz, Olivia Muenter, Marie Southard Ospina, Loni Venti/Instagram, TwitterFollowersTrend; Rachel Krantz/Twitter