Get Jazzed For The 'Miles Ahead' Soundtrack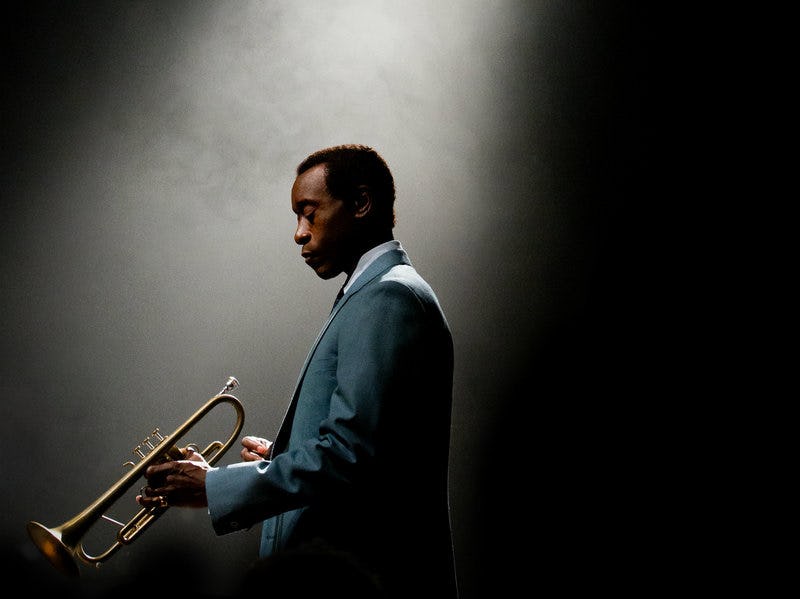 Fans of jazz icon Miles Davis might want to cancel their plans and grab a solid set of speakers — the lineup on the upcoming Miles Ahead soundtrack looks good. Like, really good. I know what I'll be doing when the film and album drop on April 1: eating Thai delivery, listening to the soundtrack in full, and ignoring anyone who dares to speak to me. If you're riding a similar brainwave and have a lot of feelings about the upcoming movie, you might've already dug through the playlist over on iTunes and picked out your favorite selections. While director and star Don Cheadle reportedly trained for six years in order to play some of the trumpet solos for this movie, according to the New York Times, yet interestingly, the soundtrack still relies heavily on Davis' recordings.
Miles Ahead takes place in a five-year silent period where Davis battled health and drug issues, and it's up to the soundtrack to speak volumes to the rest of the musician's influential career. In doing so, it features some of his best work. Other highlights on the tracklist include a few instrumental pieces by Grammy award-winning jazz musician Robert Glasper and a short number by pianist Taylor Eigisti — sounds like music to my ears. But it's Davis' work that stands out the most, and here are 11 songs by him from the Miles Ahead soundtrack nothing short of genius.
1. "Frelot Brun (Brown Hornet)"
Originally the first track on 1968's Filles de Kilimanjaro, the track marks Davis' shift into an "electric" period. Here, you can catch Herbie Hancock on keyboard and hear Davis' quintet charge their jazz sound with a bit of ambient noise.
2. "Seven Steps To Heaven"
Scattered and bouncy, Davis' improvisation on this track feels joyful and sly. Check out the rest of 1963's album of the same name if you're into this iteration of the jazz master's art.
3. "Go Ahead John (Part 2)"
This track from 1970 shows off Davis' full-blown commitment to electricity. It's loaded with screeching electric guitar, a mismatched drum sound, and a sneaky, rumbling bass line — completely wild and so moody.
4. "Back Seat Betty"
Davis named this song after his wife, funk singer Betty Davis. According to The New Yorker :
If you were to draw a diagram of funk music in the early seventies, Betty Davis would be dead center. Born Betty Mabry, she was married to Miles Davis long enough to turn him on to funk-rock, was acquainted with both Jimi Hendrix and Sly Stone, and was just as freaky as George Clinton.
Betty's rumored affair with Jimi Hendrix ended the marriage, but the two continued to influence each other and ushered in the era of jazz fusion.
5. "Black Satin"
From 1972's On The Corner, "Black Satin" illustrates another period of artistic transition. Wobbly, funky horn parts meet an undercurrent of whistling and loopy guitars. The Guardian writes that this album met critical disgust at the time of its release but founds its resurrection with the next generation of musicians.
6. "Solea"
The flamenco rhythms of this piece speak to the Sketches of Spain Davis tried to produce on this album.
7. "Nefertiti"
Davis switches up the sound on this 1968 track by repeating the horn melodies and allowing the rhythm section to improvise. Traditionally in jazz, the drums and other percussion instruments repeat themselves to allow for clean horn improv.
8. "Duran"
This is Davis at his raunchiest. Prepare yourself.
9. "Prelude, Pt. 2"
Follow up "Duran" with this one if you need to let loose.
10. "So What"
Classic, cool, and one of his best-know works, "So What" is the place to begin if you want to track the expansion of Davis' sound.
11. "Miles Ahead"
Davis' first collaboration with producer Gil Evans, "Miles Ahead" is a 1957 song from the album of the same name. If you're going to listen to any of the songs from this list, let it be this one.
Hopefully, you're feeling a lot less blue as you wait for the movie.
Image: Sony Pictures Classics