Sneakers That Are Cool Enough For The Office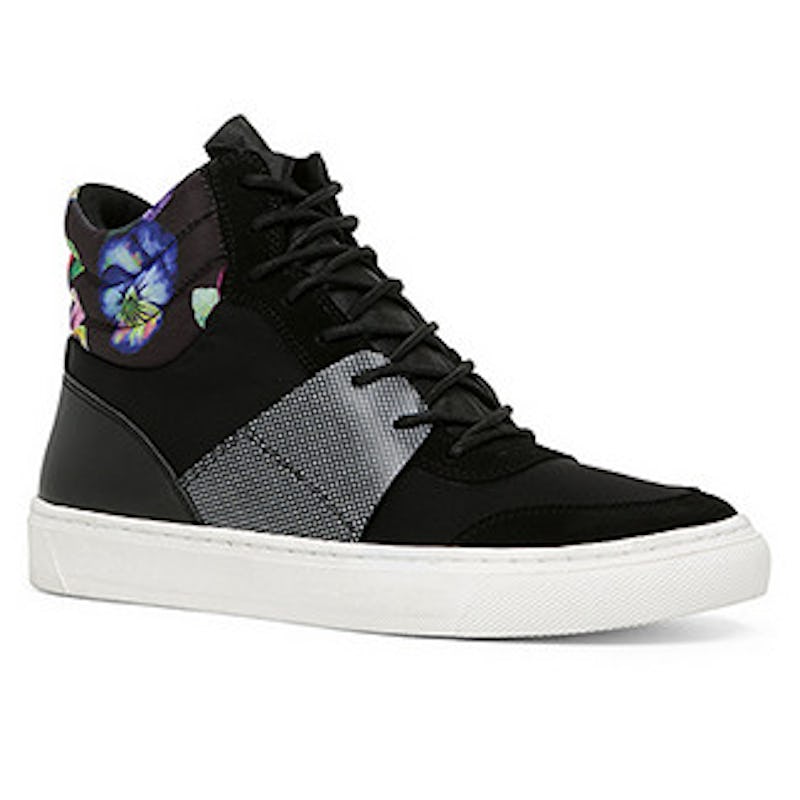 Forget what you've heard. Wearing sneakers to work isn't a total fashion faux pas. In fact, there are many stylish athletic shoes out there that can be appropriate for even the stuffiest of dress codes. And thank goodness, since these types of kicks are all the rage for 2016. To make sure your sneaks are solid for the workplace, pick pairs that offer a sleek design or interesting color palette that sets them apart from day-to-day gym wear. This way your shoes will look less like you're headed to spin class, and more like you're the budding professional that you are.
So, wearing sneakers to work doesn't mean donning your dingy old tennis shoes in the boardroom. In fact, if your shoes have stains, scuff marks, or torn fabric, it's best to leave those at home with your yoga mat. Sneakers that are appropriate for the office are ones that look both professional and cool, while still being comfortable. These shoes often offer intricate detailing or a polished design that elevates their style from the traditional gym shoe. So, go ahead, and ditch your heels tomorrow. You're feet will absolutely thank you for it. Wondering which pairs would be best for the office? Here are 13 pairs of sneakers that are perfect for wearing to work.
Aldo Secco Sneakers, $90, Aldo Shoes
From the mixed media prints to the matte black foundation, this shoe fits in with even the stuffiest of dress code policies.
Vans Leather SK8-HI Slim Zip, $80, Vans
Personally, I love how chic and crisp these shoes are. It's a very effortless style that screams, "I'm a professional adult" — while still be a sneaker.
Steve Madden Ecentrcqs, $60, Zappos
Upgrade your traditional slide-on sneakers to these fashionable quilted leather flats.
PUMA Eskiva Low, $45, Shoe Metro
These lightweight PUMA sneakers are exactly what you need after a long week in heels.
Vans Era 59, $55, Zappos
Even a tiny touch of leather elevates a sneaker to office-level stylishness.
Keds Champion Animal, $33, Shoe Metro
Because leopard print is always appropriate.
Converse Chuck Taylor All Star Studded, $100, YCMC
Be the baddest on the block (or in the cubicle) with these studded black sneakers.
Dr. Martens Aldgate 3-Eye Shoe, $30, 6 PM
Being quirky has never looked so chic.
Converse All Star Fulton Leather Sneakers, $56, Jet
Because white leather sneakers are rarely a bad idea.
Aldo Ogoki Sneakers, $36, Aldo Shoes
How cool are these shoes?! This design is unlike anything I've ever seen.
Vans Old Skool, $70, Overstock
Between their classic style and gorgeous color combination, these sneakers are sure to be your new work day BFF.
620 New Balance, $75, New Balance
Isn't this color just so chic?
Esplar Leather Sneaker, $120, Bandier
Literally no one could argue that marble isn't fancy enough for the office. Time to get your comfy on.
Images: Courtesy of Brands