9 Latino Poets You Should Be Reading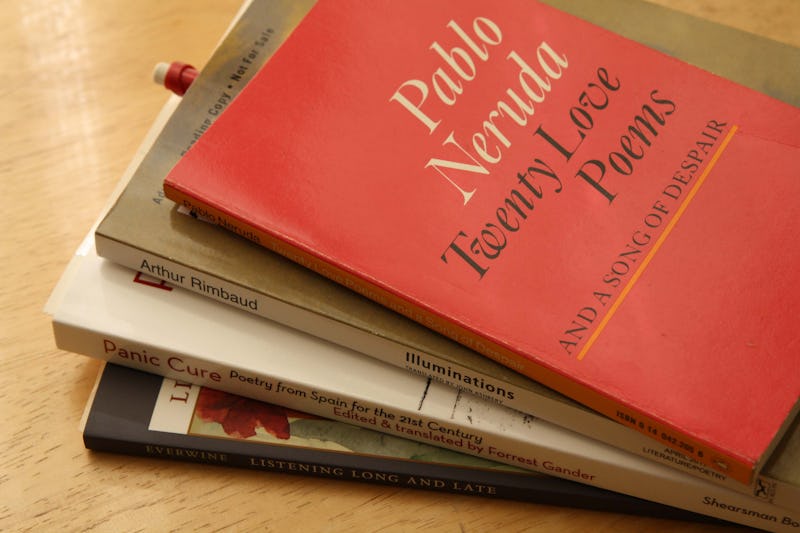 With National Poetry Month (aka: April) just around the corner, the time of year for adding a little more poetry to your bookshelves has arrived yet again. But this National Poetry Month, instead of diving right into your standard, go-to classics, consider stacking your TBR pile a little taller by including a few (or all) of these Latino poets you should be reading. I mean sure, I enjoy Emily Dickinson as much as the next poetry lover (probably more), but if there were ever a time to expand your poetic horizons, National Poetry Month is definitely it.
As far as great literary traditions go, Latin American poetry boasts an interesting history of styles and influences. Written primarily in Spanish and Portuguese (and increasingly translated into English, for the benefit of those of you who didn't study quite as hard as you'd have liked in that high school Spanish course,) and influenced by Spanish, Indigenous, African, and Caribbean island cultures, Latin American and Latino poetry is as vibrant, diverse, complex, and colorful as the varied landscapes from which it originates.
Here are 9 Latino poets you should be reading, just in time for that National Poetry Month reading binge you've been planning.
1. Gabriela Mistral
Hailing from Chile at the start of the 20th century, feminist poet (and once teacher to the famed Pablo Neruda) Lucila Godoy y Alcayaga, who wrote under the pseudonym Gabriela Mistral, was the first Latin American woman to receive the Nobel Prize in Literature. She is best known for her writing that advocated for the rights of women, explored the experience of motherhood and sexuality, and critiqued the homogenization of North America. Often recognized as the greatest female Chilean poet of all time, she was even featured on Chilean banknotes. Consider starting with the bilingual collection Madwomen: The "Locas mujeres" Poems of Gabriela Mistral , translated by Randall Couch.
2. Alfonsina Storni
Born in Switzerland, Alfonsina Storni grew up in Argentina, and spent her life writing from Coronda, and Buenos Aires, and later Uruguay. Considered one of the most important modernist poets of Latin America, Storni's writing featured both feminist and erotic themes that were largely considered progressive for the decades she wrote in (early 1900s.) Be sure to check out My Heart Flooded with Water , a selection of poems from seven of Storni's collections, translated by Orlando Ricardo Menes.
3. Pablo Neruda
Another winner of the Nobel Prize for Literature, Chilean poet Pablo Neruda has long been considered one of the most influential poets of the 20th century — although he remained largely unknown in the United States during his lifetime, due to his political activism in defense of Communism, and his poetic exploration of sexuality. Best known for poetry that celebrates both romantic love, and the natural environment, Neruda's Twenty Love Poems and a Song of Despair , translated by W.S. Merwin, is a great collection to start with.
4. Norah Lange
Associated with the 1920s and 1930s avant garde in Buenos Aires, poet Norah Lange wrote poetry during a time when Argentine critics considered the form a rightly male-dominated field; and she proved the critics wrong. Her books of poetry include: La Calle de la Tarde (The Street in the Evening) and Los Días y las Noches (Days and Nights). English-language translations of Lange's poetry aren't all that easy to come by, so make her your next excuse for brushing up on all that Spanish you took in college.
5. Julia de Burgos
Another poet who got her own postage stamp, Julia de Burgos was a Puerto Rican poet whose work focused primarily on feminism and social justice. Credited with being one of the only writers of her generation to weave together themes of romance and political activism in her work, in addition to being a poet, de Burgos was also an activist for both women and African/Afro-Caribbean writers. Be sure to grab a copy of Song of the Simple Truth: The Complete Poems of Julia de Burgos , translated by Jack Agüeros.
6. Excilia Saldaña
An Afro-Cuban writer and poet, Excilia Saldaña wrote from Havana, Cuba, and was known for composing experimental writing that muted the boundaries between poetry and prose and contained heavy elements of mythology and folklore. Above all, she was a poet who strove to write truths about the lives of Carribbean women: from domestic violence and female friendships to women's simultaneous roles as mothers and romantic partners. You've got to read In the Vortex of the Cyclone: Selected Poems by Excilia Saldaña .
7. Jimmy Santiago Baca
An American writer of Apache and Chicano descent, Jimmy Santiago Baca didn't learn to read and write poetry until his incarceration as a teen. Much of Baca's work resonates with the atmosphere of the American southwest. He tells stories of those living on the margins, and deals with themes of social justice, addiction, incarceration, at-risk communities, and immigration. Start with Baca's Healing Earthquakes , a novel told through poems, and possibly my favorite book of poetry of all time.
8. Carmen Boullosa
Mexican poet and novelist Carmen Boullosa's writing deals largely with feminism, the gender roles of Latin American women, social and political injustices, and sexuality. Both her poetry and her novels celebrate the tradition of magical realism. While she doesn't currently have a comprehensive collection of poetry in publication, her poetry has been anthologized in numerous other collections, and you definitely won't want to miss any of her prose. Start with Leaving Tabasco , the coming-of-age story of charming and imaginative Delmira Ullo, a girl who has grown up in a home filled with magical women.
9. Delmira Agustini
Credited with being one of the most significant female Latin American poets of the early 20th century, Delmira Agustini's work focused almost exclusively on themes of female sexuality and fantasy — many of her poems even included the character of Eros, the Greek God of love. Agustini's off-the-page romantic life wasn't all fantasy, however. After leaving her husband following only one month of marriage, he killed the young poet when she was only 27. Her complete poems, Poesias Completas , is available in its original Spanish.
Image: Jameson Fink/Flickr; Caitlin Doe/Flickr; Penarc, Dmitry Rozhkov, Alexan, DEDB, Larry D. Moore, Erna Pfeiffer, Digigalos~commonswiki/Wikimedia Commons; usps.gov(1)