Where Would 'The Nanny' Characters Be Now?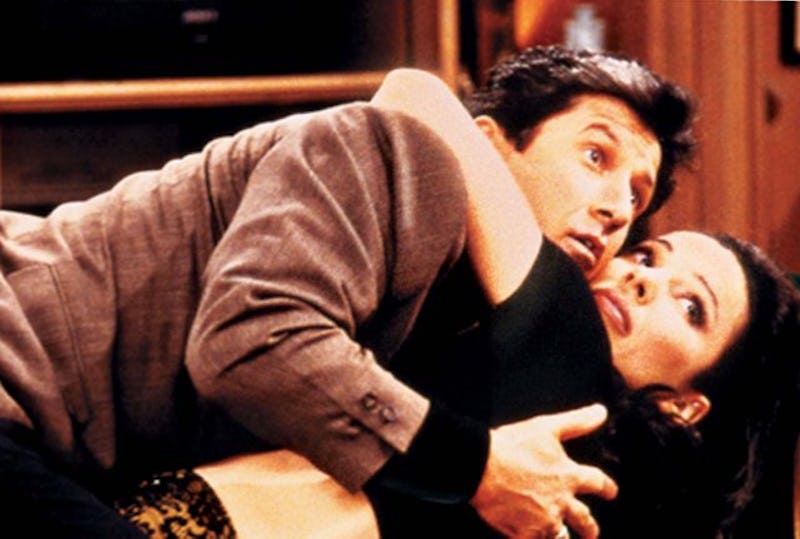 There are a lot of things about the '90s that I hold dear, but I think the television show The Nanny is perhaps one of the things I treasure the most. Not only is the theme song so expertly written and composed and catchy that I can recite it verbatim to this day, but the quality content of the show itself is still unmatchable. There is no one quite like Fran Fine or any of her equally as quirky family, friends, frenemies, and employers. If the show has taken root deep down in your heart, then you'll be happy to know that some of The Nanny cast recently reunited.
Charles Shaughnessy, aka Maxwell Sheffield, posted pictures with Fran Drescher and Renee Taylor, who played Sylvia, to his Facebook, explaining that they were celebrating Taylor's birthday. To further your Sheffield-Fine family feels, I should note the extremely endearing poses the co-stars were photographed in, and the fact that Shaughnessy referred to Taylor as his mother-in-law. But, this does sort of open up a can of worms. Seeing them together, blurring the line between fact and fiction, makes me wonder what The Nanny characters are up to these days.
Since I obviously can't let this cast or these characters go, here is what I think The Nanny characters are probably doing right now:
Fran And Maxwell (And Val)
With the twins almost off to college, Fran's channeled her sadness over her impending empty nest into starting a fashion and gossip blog with Val. Maxwell (with his major connections) secures celebrity contributors to the blog and helps moderate it, given his new, semi-retirement, and the site's wild popularity. That is, when he's not playing with his grandkids or just basically trying to keep Niles from corrupting their opinion of him.
Also, he and Fran are as PDA as ever. Which grosses the twins out to no end. So, they make out on the couch just to stick it to them.
Sylvia
Sylvia spends most, if not all, of her time obsessing over whether or not her grandchildren (both biological and not) are eating.
Also, she consistently critiques the style and content of Fran's blog even though she uses Internet Explorer to access it and types with one finger.
C.C. And Niles
C.C. is raising their son, N.J. (Niles Jr., obvs) to not fall in love with Fran and Maxwell's daughter, Eve, to no avail. She is also the PTA president at N.J.'s school and Niles serves as her moderator, so that the rest of the PTA committee doesn't incite a mutiny. On top of that, C.C. is in talks to produce a new TV musical starring Justin Bieber, whereas Niles has his own cooking show on the Food Network.
The Kids
Maggie And Brighton
Both sibs moved back to the states to be closer to their families. Maggie became Barbra Streisand's most trusted advisor and personal assistant, and Brighton is the nanny to Maggie and her husband's three kids, Maxine, Frank, and Sara.
Grace
Gracie is the novelist of four best-selling psychological thrillers. Her first book, The Nanny, was optioned, and is being made into a TV show which she will be screenwriting. And, it's being produced by none other than her dear, old dad.
Hey, it seems plausible to me.
Images: CBS; Giphy ; islabelle09, fyeahthenanny (2)/Tumblr