10 Effective Ways to Take Back Your Confidence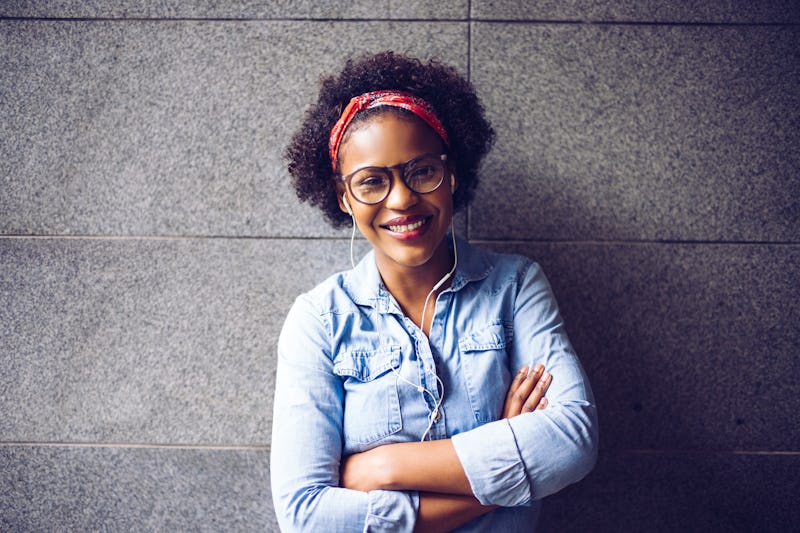 Facebook is a blessing and a curse. On one hand, I've got a quick and easy way to network and keep in touch with long-distance friends. On the other hand, a perpetual onslaught of everyone else's accomplishments is one of many things that can lower your self-esteem. When we're constantly bombarded with highlight reels and happy moments, our own lives can start to seem dull, or uneventful. This goes double for all those supposedly picture-perfect existences on Pinterest and Instagram.
I had a pretty solid job secured for after college, but soon after graduation, it fell through, and I found myself waitressing to pay loans. While I learned a lot during the experience, it ultimately wasn't what I wanted to be doing. Though I did genuinely give it my all, when I was let go, I spiraled into a pretty bad rut. I had zero confidence, no amount of reassurance from friends or family could pick me back up, and there was this reoccurring thought pattern that told me, "If you can't do that, you can't do anything." The fact that most of my friends had secured well-paying jobs at this point (and that Facebook kept reminding me of it) wasn't helping, either.
Thankfully, self-esteem is more of a choice than you might realize. If you're feeling insecure, a few basic habits and exercises can help pull you out of even the worst ruts. You just have to be willing to commit to changing your thoughts, so you can see yourself as you are: an original person who's got their own set of skills, characteristics, and assets that deserve all the appreciation in the world.
Keep Track Of How Often You're Saying "Sorry"
Tally Counter, $3, Amazon
This tally counter — or "Sorry Counter," as I like to call it — was one of my first steps to kicking the habit of constantly apologizing for other people's mistakes. It's lightweight, portable, and battery-free, so you can keep it in your pocket wherever you go. Any time you catch yourself apologizing for something that's not your fault, give this little guy a click, and at the end of the day, you might just be astounded by how often you take the blame for other people's mistakes. (It goes up to 9,999, but I'm seriously hoping you never get that high.) While I always saw my apologetic nature as polite, I learned last year (through a conversation with an ex-coworker) that other people saw it as a sign of weakness. Since then, I have vowed only to say sorry when something is genuinely my fault, and I truly feel remorse for it.
Learn To Embrace Your Imperfections
The Gifts Of Imperfection , $10, Amazon
This New York Times best-selling book, The Gifts Of Imperfection , is a spectacular read because it teaches you to embrace imperfections. Brené Brown, who's an expert on shame, authenticity, and belonging, leads you through a funny and smart narrative that teaches you to go to bed every day, regardless of achievements and progress, thinking, "I am always enough." Reviewers say it downright changed their lives, and anyone struggling with feelings of inadequacy absolutely needs to read this cover to cover.
Decorate With Reminders Of How Loved You Are
Instax Mini Film Camera, $57, Amazon
When everyone's busy with school or work, it can often feel like you don't have any friends left — but I promise you, there's always someone thinking about you. This mini film camera is an easy and convenient way to document the good times and put them up on your wall for when you need a quick reminder. It's slim and lightweight for easy travel, and its flash and automatic exposure setting creates a perfect photograph, every time. Best of all, no printing from a computer is required. Just snap a picture of you and your loved ones, and its instant print feature makes for a permanent keepsake right away.
Reflect On Your Successes And Blessings
Start Where You Are Journal, $9, Amazon
Start Where You Are isn't your average journal. Instead, it's one that prompts you to harness your creativity and count your blessings in a way that elicits self-exploration and feelings of accomplishment. Each page comes with inspiring quotes and beautiful illustrations, as well as copious room to write from thoughtful prompts like, "What are two positive things you gained from a negative experience?" Reviewers love it because it's both striking and effective, and it's a great way to reflect on past accomplishments, as well as prepare for new ones.
Wear A Reminder Of Your Strength
Mantra Bands, $30, Amazon
It's surprisingly helpful to fill your space with uplifting words and phrases that remind you how strong and resilient you are. Mantra Bands are an excellent way to do that because they'll match anything — making incorporating words of affirmation into your look incredibly simple and stylish. This one is made from sterling silver and reads, "You are braver than you believe, stronger than you seem, and smarter than you think." They also make a wonderful gift for any friend who might be going through a rough time.
Write Affirmations Where You Can See Them
Chalkola Glass Markers, $18, Amazon
I'm a huge fan of writing positive affirmations where I'll always see them. Post-It notes used to be my jam until I figured out I had tons of wasted (and more environmentally-friendly) space in the form of mirrors and windows. These Chalkola glass markers allow you to write uplifting reminders anywhere you'll see them on a daily basis (like the "I Am Enough" that I currently have on my bedroom mirror), and because they're vibrant, come in ten different colors, and are easy to clean, you'll have a blast writing your own personal mantras all over the house — on mirrors, glass, whiteboards, chalkboards, plastics, and ceramics.
Start Meditating Regularly
Organic Meditation Cushion, $45, Amazon; Meditation For Beginners, $11, Amazon
Meditation is known to increase grey matter in the brain, which perceives emotions and even has the ability to increase empathy levels. This meditation cushion and Meditation For Beginners DVD are an awesome combination to get you started. Because the cushion is 100 percent organic and machine-washable, you won't feel a need to be so precious with it. The meditation how-to comes with three different guided exercises to help you clear your mind and relax, as well as calming background music to comfort you even further. Even reviewers who "over-analyzed meditation" for the past ten years found this video to be the best and most informative lesson they've ever received. (Plus, until I started my own practice, I felt like I constantly needed other people's approval and attention; meditation helped me find that reassurance in my own mind.)
Write Down Your Goals
Bucket List, $16, Amazon
If you're suffering from low self-esteem, this bucket list system is a cute and effective way to set goals, stay on track, and keep track of how often you succeed (hint: it's more than you realize). The bucket itself is made of durable metal, and it comes with 30 dated cards to record your goals. As you complete them, hang them up on your wall for all (but mostly you) to see. I write down my goals every single day, both long-term and short-term — sometimes they're as simple as "Pick up eggs." And yes, writing them down helps me keep track and stay motivated, but they also help me to see how many things I actually accomplish in a day.
Show Your Body & Mind Some Appreciation
Yes4All Yoga Starter Kit, $36, Amazon
Exercise is known to improve self-esteem because it relieves stress, releases endorphins, and helps you feel better. Yoga is a particularly effective workout because it combines meditation and fitness in a way that forces you to be mentally present and understand your body and how it moves. This yoga starter kit comes with everything you need to get started, even if you're a beginner. It has a comfortable mat, two support blocks, a yoga strap for deep stretches, and a towel. All of these tools are made with high-quality fabrics that are durable and lightweight, and while it's made for beginners, even yogis in their 20th year are impressed with this set.
Learn A Skill That'll Boost Confidence
Guitar Starter Pack, $100, Amazon
If there's any one thing that really helped me come out of my shell, it was playing guitar. Not only is it an awesome way to make friends and up your confidence (because playing in front of people requires a lot of that), it's also a great hobby that helps you stay off Facebook long enough to realize, "Hey, I'm all right." This guitar starter pack comes with absolutely everything a beginner needs, including the guitar itself, a tuner, a book, a DVD, picks, and a travel case. The guitar is adult-sized and surprisingly good quality for the price, and with all the necessary tools, you'll be a boss at it in no time.
Bustle may receive a portion of sales from products purchased from this article, which was created independently from Bustle's editorial and sales departments.
Images: Fotolia; Amazon (11)