How To Protect Your Lips From The Sun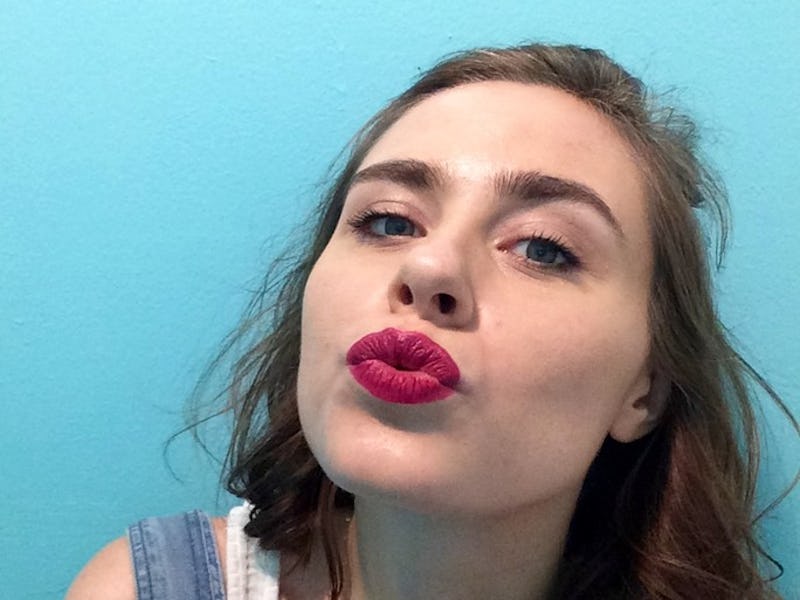 Just because your favorite lip color has zero SPF doesn't mean you can't wear it this summer. Learning how to protect your lips from the sun (even if you're wearing lipstick without SPF) is easier than you think. Thanks to brilliant folks at one of my favorite skincare brands, Supergoop! your on point pout can also be 100 protected from damaging UV rays.
And if you're over here thinking, "Why does my lip color always need SPF?" prepare for a not-so-awesome fact. According to the Center For Dermatology, "Most lip glosses and lipsticks attract the sun, making your risk [for lip cancer] higher." I know, WTF. But so it goes and now you know!
Luckily, Supergoop! was already all up in this issue and created a Shine On Lip Screen SPF 50 just in time for summer. People are obsessed with it, and it's easy to understand why. This grape polyphenol-infused lip screen turns any lipstick into a UV protected shade with one quick swipe. It also adds a soft, silky (but never gloppy) shine to whatever lipstick hue you're rocking.
The lip screen officially available, so get yours before they all undoubtedly sell out!
Shine On Lip Screen SPF 50, $22, Supergoop!
Bonus points for the fact the formula isn't sticky at all and leaves a refreshing cooling sensation.
But hey, if you are looking for lip color that already has SPF, it's out there, too!
1. ROUGE VOLUPTÉ - Silky Sensual Radiant Lipstick SPF 15
ROUGE VOLUPTÉ - Silky Sensual Radiant Lipstick SPF 15, $37, Yves Saint Lauren
This SPF-infused designer lippie is worth the splurge.
2. Sugar Rose Tinted Lip Treatment
Sugar Rose Tinted Lip Treatment, $24, Fresh
Sweet and rosy, this SPF tint adds a burst of spring color.
3. Balm Tint
Balm Tint, $18, MILK MAKEUP
For the softest hint of color and a solid dose of SPF 30, you can't beat this sweet tint.
Want more fashion and beauty tips? Check out the video below and subscribe to Bustle on YouTube!
Images: Author's Own; Courtesy of Brands