21 Mother's Day Gifts For Travel-Savvy Moms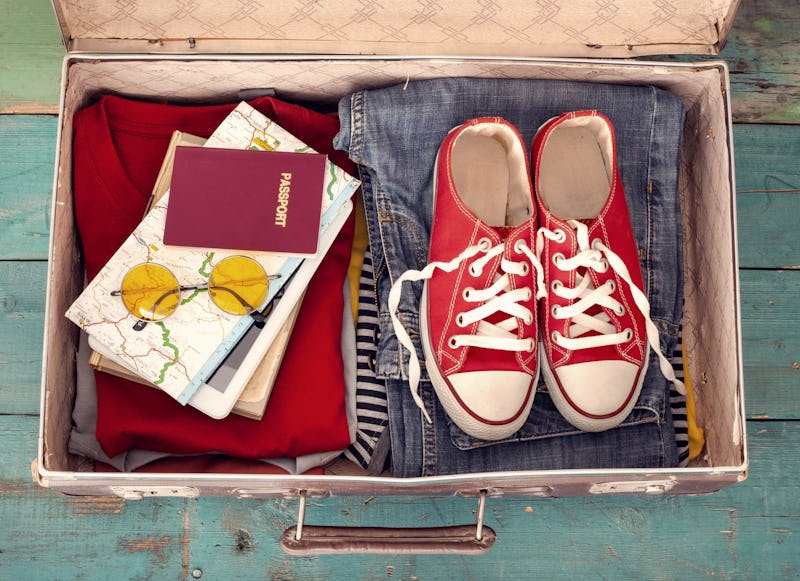 Whether Mom prefers exploring the world via planes, trains, boats, or cars, these Mother's Day travel gifts will be your ticket to gifting success on Sunday. To choose the perfect gift, it's good to first consider Mom's travel style. If she's a minimalist, frequently forgoing a checked bag for the more practical carry-on option, she'll love the throwaway convenience of Savvy Traveler's jet set kit, which includes 12 disposable face and body cleansing cloths. If it's important for Mom to appear chic and polished at all times, give her the gift of versatility with TM1985's convertible leather drawstring backpack, which easily transforms from utilitarian backpack to sleek shoulder bag with one simple strap adjustment. And if you're really going for the favorite child award this year, throw in a Nest citrine-scented rollerball along with a pair of Vint & York's beesknees sunglasses for extra style points.
For the mothers who love to capture the sweet memories of their travels, the iPhone four-in-one camera lens plus Etsy eco notebook duo is the obvious way to go. Whether carry-on or suitcase-sized, by keeping Mom's personal travel style in mind, you will surely find the ideal Mother's Day gift for your favorite travel-savvy Mom.
Moscow Mule Carry-On Cocktail Kit, $22, Amazon
Thanks to The Carry-On Cocktail Kit, Mom can make the most of that in-flight vodka mini bottle.
Kabuki Travel Candle No. 9, $15, Amazon
This soy wax travel candle from TokyoMilk will allow Mom to bring the soothing scents of sugared grapefruit, lychee, and sweet jasmine to any hotel, hostel, or Airbnb in the world.
Beesknees Sunglasses, $129, Vint & York
Thanks to Vint & York's beesknees sunglasses, Mom can jet set in style. These timeless frames are available in brown, beige, black, and blue.
TM1985 Drawstring Backpack, $195, Spring
TM1985's leather drawstring backpack easily transforms into a shoulder bag with one quick strap adjustment. This lightweight bag is the stylish traveler's solution to daytime sightseeing paired with evening dinner plans.
Nest Citrine Rollerball, $25, Sephora
Thanks to the sleek, compact size of Nest's rollerball fragrances, Mom can bring the bright and refreshing scents of lemon blossoms and lotus flowers with her wherever she travels.
Eco Notebook, $10, Etsy
This intricately designed eco notebook with garden watercolor illustrations will inspire Mom to keep track of her daily thoughts and doings while on the road. And who knows, this thoughtful gift may be the keeper of the next great American novel.
Savy Travelers Jet Set Kit, $17, Amazon
Savvy Travelers' Jet Set Kit is essential for any Mom who's frequently on the move. Each kit includes four deodorant wipes, four lens and screen cleaning wipes, four facial wipes, and four mouth cleansing wipes.
Breath of Fresh Air Toner, $11, Lush
Lush's spray toner is the perfect antidote to long travel days. This refreshing blend of seawater, seaweed extract, aloe vera, and rosemary oil will have Mom looking bright and fresh after just a spritz or two. Oh, and its 3.3 ounce bottle is carry-on friendly. How's that for an extra pick-me-up?
Sriracha2Go Mini Keychain Combo Pack, $12, Amazon
Mom will be well-equipped to handle any flavor emergency thrown her way with this 1.69 ounce keychain-friendly Sriracha bottle.
Audible Subscription, $15 Per Month, Amazon
Free Mom from the weight of carrying around heavy books with a gift subscription to Audible, which lets her choose from over 180,000 bestsellers, classics, and new releases.
4-In-1 iPhone Lens, $80, Amazon
Perfect for the mobile photographer, the four-in-one iPhone lens includes four compact quick-change lenses: fisheye, wide angle, 10x macro, and 15x macro.
Xinalani Retreat, $749, Gilt City
What's the greatest gift you can give a travel-savvy Mom? The correct answer is, travel. Luckily, Gilt City offers fantastic travel deals like this three-night yoga retreat in Mexico where Mom can indulge in morning and afternoon yoga classes, spa treatments, snorkeling, kayaking, and delicious chef-prepared meals.
Nautical Stationery, $6, Etsy
These nautical-themed notecards from Etsy provide a cute way for Mom to keep in touch with friends and family while traveling abroad.
Pinback Button, $2, Etsy
Mark Twain famously said, "Travel is fatal to prejudice, bigotry, and narrow-mindedness." And with this pinback button from Etsy, Mom can wear the philosophy on her sleeve, or lapel.
Joie de Vin Collection by Clos du Bois, $48, Clos du Bois
The Joie de Vin Collection by Clos du Bois is perfect for the traveling gourmand. Each collection canvas tote includes one bottle of Clos du Bois California Chardonnay, 10 paper plates, 10 cocktail napkins, 10 placemats, 10 wine bottle hang tags, 10 coasters, two reusable wine glasses, and one market shopping list.
Ultra Fast Dry Towel, $20, Amazon
Available in eight colors, this ultra fast dry towel promotes rapid evaporation. So whether Mom's traveling, swimming, backpacking, boating, or camping, she'll end the day in dry comfort.
Spices Of The World, $17, Etsy
With this Spices of the World spice set, Mom can easily pack her favorite flavors into her suitcase and take them with her wherever she goes.
Lavender Velvet Eye Pillow, $25, Amazon
Treat Mom to a little international aromatherapy with this lavender velvet eye pillow. Its flax seed filling provides gentle acupressure, while aromatherapeutic herbs relieve tension and stress after a long day on the road.
Grumpy Cat Travel Neck Pillow, $43, Etsy
This durable yet soft neck pillow will keep Mom comfortable on land, over water, or in the sky.
XBOOM Mini Portable Capsule Speaker, $15, Amazon
Music goes where Mom goes, thanks to this mini portable capsule speaker from XBOOM. Available in 10 bright colors, it'll be easy to choose Mom's favorite.
Drawing on the collective wisdom of more than 250 languages, The Meaning of Tingo is the perfect gift for anyone fascinated by esoteric words and their strange meanings.
Images: Fotolia; Amazon (6); TokyoMilk; Vint & York; TM1985; Nest Fragrances; Etsy (5); Savvy Travelers; Lush; Sriracha2go; Audible; Gilt City; Clos du Bois