The 'S.H.I.E.L.D.' Cast Reflects On Saying Goodbye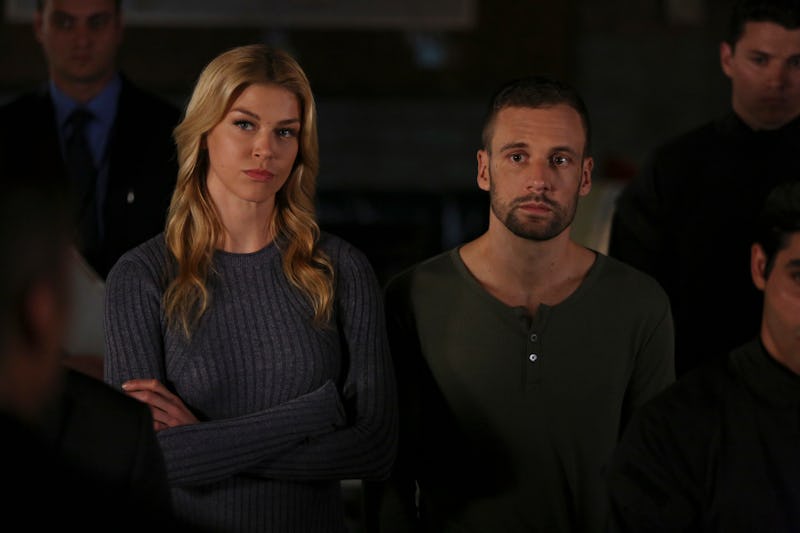 While some viewers might have known that Bobbi and Hunter have an Agents of S.H.I.E.L.D. spinoff in the works, no one could have prepared for how hard it would be to say goodbye to them. In last week's episode, "Parting Shot," the pair was captured on a mission in Russia and interrogated. Near the end, Coulson swooped in to offer them protection and relocation, but Bobbi and Hunter turned him down. They don't want to give up their identities and uproot their families, so they will escape on their own, disavowed and never to be acknowledged by any S.H.I.E.L.D. members again. Watching them get a last glimpse of the team was enough to bring tears to any fan's eyes and the cast tells Bustle that it was just as emotional for them to shoot as it was for us to watch. Update: According to The Hollywood Reporter, ABC will not move forward with Marvel's Most Wanted, Hunter and Bobbi's spinoff.
Earlier: At WonderCon in Los Angeles, Elizabeth Henstridge, who plays Simmons, says she was, "Heartbroken, devastated, traumatized," to say goodbye. It's understandable, since Bobbi was the one who rescued Simmons when they were undercover in Hydra and has been close to her ever since. As Coulson, however, Clark Gregg had to remain stoic.
"I thought that was a really rough episode for Coulson in that while he knew they were in dangerous territory in Russia, while he knew that Malick had something cooking there, the way it goes down and the selfless acts that they took to protect S.H.I.E.L.D. put him in a position where he was fighting to save their lives," Gregg says. "The fact that he found a way to do that is a plus, but to just out of nowhere lose two agents like that was as brutal for him as it was for us to suddenly lose Adrianne Palicki and Nick Blood who we love, who are family members." While the actor acknowledges that they left for the "exciting" reason of doing their spinoff, Marvel's Most Wanted, he says that "still doesn't take the pain away. But it did give me the chance to be utterly wrecked both the day we shot it and when I watched it."
Head of Marvel Television Jeph Loeb also has bittersweet feelings about Bobbi and Hunter's departure. While he gets to launch a whole new series in Marvel's Most Wanted, he also sees the toll it takes on S.H.I.E.L.D. characters and the fans.
"It was a group of people who have been a family, who realize that two members of the family are not coming back," Loeb says. "Seeing how immediately the fans accepted them and wanted them to be part of the team, to have the kind of emotional reaction that we got at the fact that they were leaving just speaks to the quality of the writing, the quality of the acting, the incredible crew, and our showrunners — Jeff Bell, Jed Whedon, and Maurissa Tancharoen — at being able to introduce, in this case, two characters that struck a chord."
However, beyond the emotional effects of Bobbi and Hunter leaving are the practical implications — like the fact that the S.H.I.E.L.D. team is now down two agents. "It weighs tremendously on the entire team because right now it's such a critical point in S.H.I.E.L.D. with the Inhumans and with this unknown entity named Hive," Ming-Na Wen, who plays Agent May, says. "Hyrdra's still out here. There's so many elements and to lose two very important team members, not just for that purpose alone but because of the family and the support and love that is built into this group, it was very, very tough."
Still, May will move on pretty quickly. "May will always be May," Wen says. "I don't think she will show her emotions but you know through her actions what she's really feeling and what she's thinking and what she's caring about. That's a really fun aspect about her, in playing that really close guarded façade that she has to always maintain."
Coulson may also be a little more broken up than he admits, as Gregg teases that we may see more emotion from his character. "For my money, he's got a really powerful nuclear emotional life that is just operating below the surface at all times because that's what the job requires ... How that comes out is anyone's guess."
Bobbi and Hunter's fate was sealed by Marvel's Most Wanted, but there's no doubt that their absence will continue to have repercussions on this season of Agents of S.H.I.E.L.D.
Images: John Fleenor, Kelsey McNeal/ABC (2)