How To Pose For Group Photos Like A Pro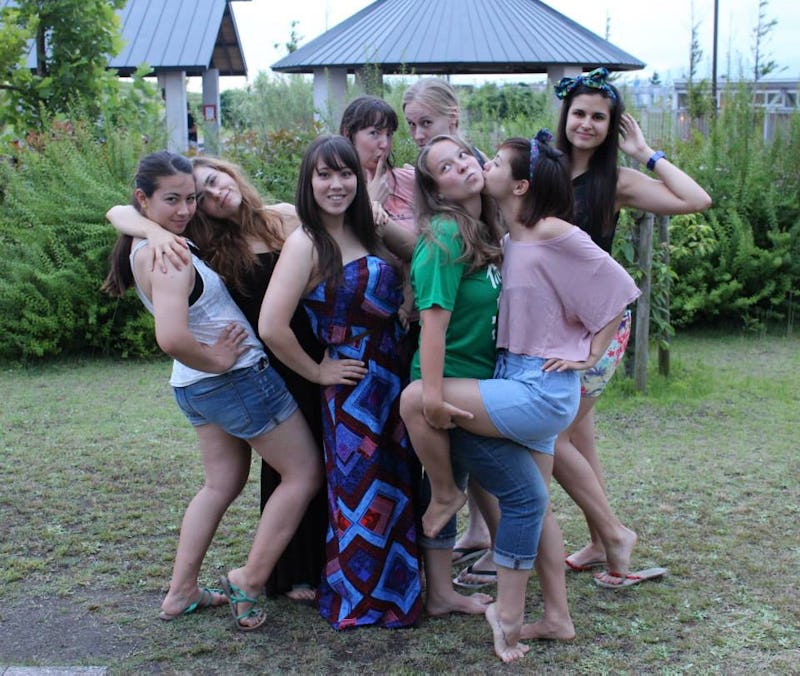 Spring means it's time to trade your winter cocoon of blankets and books (but only if you really want to!) for some serious sunshine moments with friends and fam. And to capture those glorious sunny days forever and ever on Instagram, I've broken down how to pose for group photos so you have no problem slaying every pic! With these simple hacks, you'll know how to pose for every situation.
Why do I feel qualified to speak on this subject? Well, my friends, I was a former pageant girl that learned some serious smile angles, and also happened to live a past life as a Disney kid on As The Bell Rings back in the day. After a few group pose "coaching sessions" from the Mouse himself (OK, OK, the mouse's PR team), my fellow cast members and I probably couldn't even take a horrible picture together even if we wanted to. Luckily, these skills continue to serve me well even though the red carpet days are definitely in the past.
Whether you're trying to master the perfect pose for prom, a casual beach party, graduation, or just a necessary #selfie moment, I know the strategy you need for pure pose perfection.
1. Sync Up
Nothing says, "Hello we're the cutest squad of pals ever" like a matching pose.
2. If You've Had A Drink (Or Two), Just Smile
Yup, embrace the fact you look a little tipsy and just roll with it.
3. Embrace The Candid For Prom
Stiff prom photos are a necessity, but let yourself have fun and giggle for the best shot! (As to why my sweet ex is arching his back so intensely? We shall never know.)
4. Pop A Knee
One of the easiest ways to add some serious 'tude to your group pose is a little knee pop. Just don't actually dislocate your knee cap, because ouch.
5. Cross Your Legs
For group glam, tilt your popped knee slightly to one angle with your pals for some old Hollywood-style photo magic.
6. Be Proud Of Your Grad Swag
For a graduation group photo, rock all your hard-earned sashes and whatever with a big smile. You put in serious work for all that!
7. Master Your Squad Squat
When you need to fit several friends into the same photo, put a little booty into it and channel your elementary school yearbook-style rows pose. I promise it's gonna turn out cute.
8. Show The Love
Strategic smiles are nice, but kisses, hugs, and giggles are even better.
9. Smush For Selfies
For a group selfie, my best advice is to just shove your faces together and angle your chin ever so slightly. #ModelStatus
Want more fashion and beauty tips? Check out the video below and subscribe to Bustle on YouTube!
Images: Author's Own