8 Common Hair Hygiene Mistakes You Might Be Making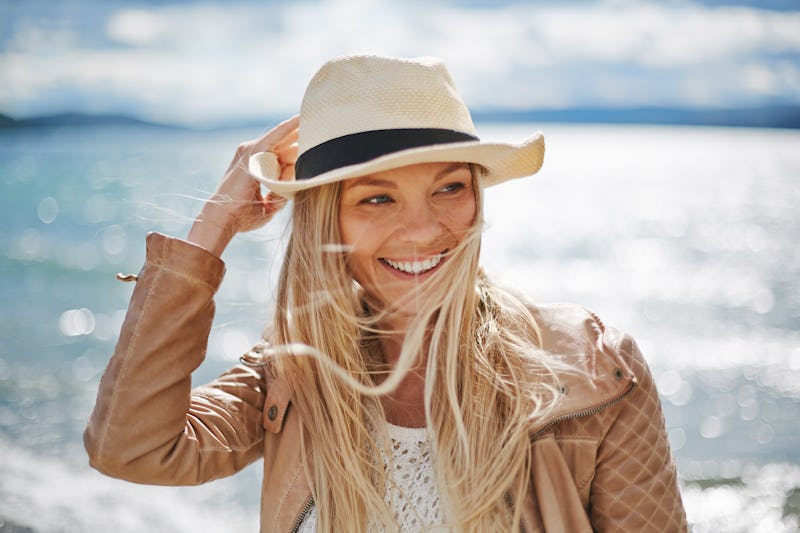 When it comes to hair hygiene, most of us only have one question: Is washing your hair every day bad for you? While the answer is debatable, the entire concept of going beyond the standard shampoo-and-conditioner routine is foreign to many of us, despite having heads full of hair. Unfortunately, that's why you might be falling for some common hair hygiene mistakes, which could be keeping your locks from being as healthy and strong as they could be.
For example, you do things like exfoliate your body and tone your skin, but you may never have thought to do the same thing for your scalp. Get started with a scalp exfoliator, which can reduce dryness and irritation while helping your hair grow stronger. A scalp toner can stimulate your skin, too, absorbing oils for hair you won't have wash as often. And while you may not give a second thought to what water you use to wash out your shampoo, the fact of the matter is, it could be doing more harm than good. A filtered shower head can eliminate damaging chemicals, so you can worry less about your water quality, and more about your hair.
Chances are, you're probably making at least one of these common hair care mistakes. The good news is, they all have easy fixes — whether it's adding a product to your routine, or just washing your hair less often. And seriously, who can complain about needing to wash your hair less?
1. Remember Scalp Is Skin, Too, And Tone With Witch Hazel
Philip Kingsley Scalp Toner, $15, Amazon
You tone the skin on your face, so why wouldn't you treat your scalp the same way? The Philip Kingsley toner refreshes your scalp with witch hazel to keep it healthy and clear of blemishes caused by heavy product use. It also stimulates blood flow to your scalp, absorbs excess oils, and protects your skin against bacteria, so your hair can grow stronger. Just add some to your scalp when your hair is damp, and massage it in with your fingers before styling hair like you normally would.
2. If Your Hair Is Dry, Avoid Products With Alcohol In Them
Macadamia Professional Nourishing Oil Treatment, $14, Amazon
If you've got dry hair, especially at the ends, the products you're using could be making the situation worse. Avoid products that have alcohol in them — it dries your hair out. Instead, try this moisturizing oil treatment. It's alcohol-free and non-greasy, so your hair stays hydrated without looking oily. The macadamia and Argan oil absorb into your hair to leave it shiny and frizz-free. Just apply the treatment to your hair after you shampoo! Oh, and don't forget to make sure the other products you use free of alcohol, too.
3. Exfoliate Scalp With A Botanical Complex To Diminish Dandruff
PHYTO Phytheol Scalp Exfoliating Shampoo, $26, Amazon
If the skin on your scalp is dry and irritated, those aggravations can be reflected in your hair. Use a scalp-exfoliating and moisturizing shampoo to hydrate your scalp and eliminate dandruff, so you can keep your hair shiny and flake-free. The botanical complex of black pepper and Guyana wood helps stimulate growth, too — keeping your hair healthy, while preventing new flakes from forming.
4. If You Have Thin Hair, Unclog Follicles To Build Thickness
Alterna Caviar Clinical Daily Detoxifying Shampoo, $20, Amazon
When your hair follicles are all clogged up, it's tough for tresses to continue to grow thick and strong. This detoxifying shampoo rids your scalp of everything that keeps your hair from being as healthy as possible — like dirt, residue from sweat and remnants from other hair products. The red clover growth complex helps hair grow thicker, and the shampoo purifies, essentially working like a facial for your scalp.
5. For Curly Hair, Try A Co-Wash Instead Of Shampoo
Deva Curl No-Poo, Zero Lather Conditioning Cleanser, $14, Amazon
Co-washes, or cleansing conditioners, are alternatives to shampoo that can work well for curly hair. Most shampoos have ingredients like sodium lauryl sulfate, which can be harsh and weigh your curls down curls. That's why this co-wash is a great alternative. It's free of intense chemicals — instead, rice amino acids and invigorating peppermint oil cleanse your hair — and the hydrating botanical formula keeps hair frizz-free. One user said, "I even let my hair dry naturally, and the ensuing curls were soft and looked intentional!"
6. Filter Out Water Chemicals With The Right Shower Head
Culligan Filtered Showerhead, $35, Amazon
Unfortunately, chemicals in your water can do a lot to stop your hair from getting clean. Thankfully, there are solutions — like this filtered shower head. This shower head can get rid of 99 percent of the chlorine in your water (which can dry out your hair), in addition to freeing your H2O from funky sulfur odors. Just mount it on your shower head, and enjoy filtered showers from five different spray settings that users say offer great, powerful pressure.
7. Lay Off Chemical Treatments And Try Color-Depositing Shampoo, Instead
Joico Color Infuse Red Shampoo, $15, Amazon
When you chemically color your hair, it can become weaker over time. Instead of frequent sessions with your colorist, consider a color depositing shampoo. This one, intended for red hues, uses a bio-advanced peptide complex to repair damage, while green tea and sunscreen within the shampoo prevents fading caused by UV rays.
8. Instead Of Over-Washing To Rid Hair Of Oil, Try Boar Bristles To Distribute Oils
GranNaturals Boar Bristle Paddle Hair Brush, $15, Amazon
When your hair is greasy, your first instinct might be to wash your hair. Stop right there: Instead, spread out the sebum oil your scalp naturally produces by brushing it with a brush featuring boar bristles. Boar bristles distribute this natural oil throughout your hair, so it doesn't stay right at your roots — helping to hydrate your hair and fight frizz. When you shampoo-and-condition less often, your hair has time to regulate its oil levels and get back to its naturally healthy self.
Bustle may receive a portion of sales from products purchased from this article, which was created independently from Bustle's editorial and sales departments.
Images: Fotolia (1); Amazon (8)