7 Sexy Poems That Are Definitely NSFW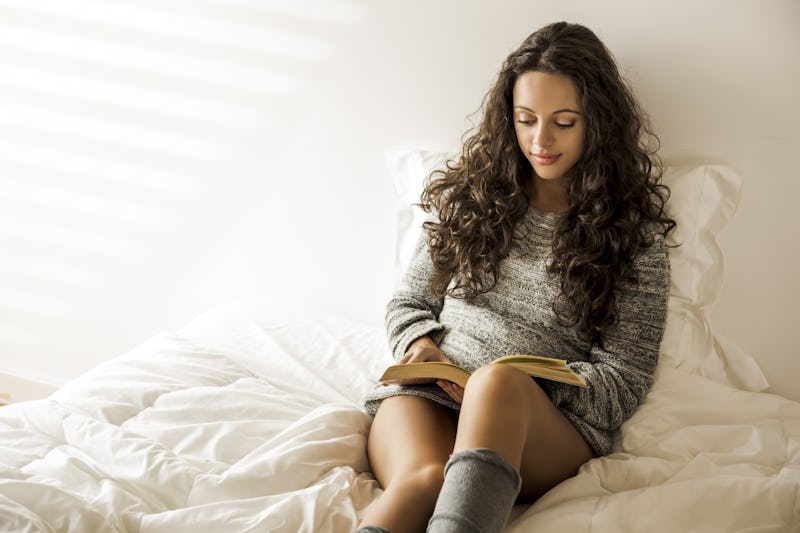 All yearlong there are countless ways to honor the ancient-yet-alive-and-kicking art of poetry, but when April appears on your calendar, no holds are barred. Since it's National Poetry Month for a few more days, I thought it'd be an excellent opportunity to celebrate those verses that get you all hot and bothered — or at least hot under the collar — in a way that makes you just this-much uncomfortable at work.
There are plenty of misconceptions about poetry, and maybe the worst is that it's all rhymes and saccharine. Poetry is power — raw power — and a lot of that power is completely sexual in nature. Power can be disarming... in the best way. Other times, of course, what makes a poem totally NSFW is the brutality of its sentiments. We're all adults here, after all ... right? Not every mention of a D. or V. needs to induce serious blushing.
No, these poems aren't accompanied by lewd pop-ups or nudie pics, but they are guaranteed to get you all stirred up. No matter what month it is, read these seven writers to experience the earth-shattering force of saying what you want and making it art.
Poetry, fiction, essays that go down like water — she does it all and then some: Rookie writer Jenny Zhang can do no wrong in my book. Her poems, though, especially the longer ones like "I Would Have No Pubes ...", get into some messy, deep territory guaranteed to make you squirm (in that good way, obvi).
This poem is Lithub's most popular poetic offering of all time. Read it and find out why Parker is THE writer-performer-editor extraordinaire to know.
You get a steady dose of sexual and philosophical headiness in all of Reines' work, though Mercury is my fave for how it gets you all caught up.
Lasky is a powerhouse poet (and astrologist, NBD) who has an unnerving — and so spot-on — take on that thing you and me and everyone you know is on all day long.
The surreal, violent, and utterly corporeal imagery in this poem will follow you around all day long. Laurentiis is a poet to know, and his work always illuminates the gorgeous/grotesque side of evil.
"My mouth/is sore since it gawked out redness, I learn to lick to find surfaces,/the salty gesture I pin my tongue against time to taste" writes Eilbert in this epic poem filled with evocative imagery and serious moxie. Her other work is just as adept at eroticizing the rangiest terrain.
This poem is more narrative than many on this list; it depicts a love affair afire with fetishes and complications. Jones, who's currently bringing his editorial prowess to BuzzFeed, is a poet whose ability to invite strangers into utterly intimate tableaus is nothing less than remarkable.
Images: Fotolia; Giphy (4)