How To Smooth The Roughest Parts Of Your Body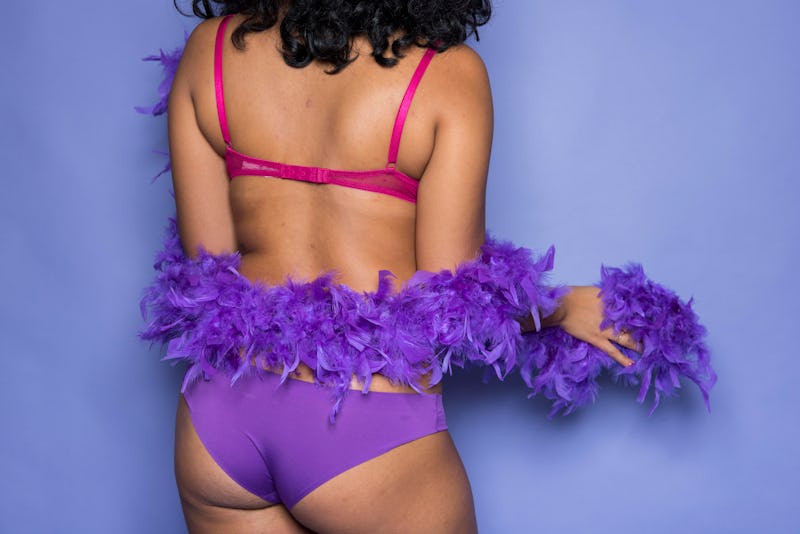 I'll just come out and say it: After 30 years of dry lumps and flaky bumps covering my body, I think I've finally figured out how to smooth the roughest skin. And it's not all delicate rubbing of my adorable elbows and knees, either. Sure, those places get dry, but my dry skin issues are far less commercial-ready and more along the lines of "flaking upper arms" and the very scientific and official "Dry Butt Cheek Syndrome."
I won't give up hot showers, and lotion can't fix everything, so the only thing left to do was find some seriously effective exfoliation methods to slough off dry skin, leaving my body feeling soft and glowing the glow of someone who has just rubbed off about 30 percent of her epidermis.
Simply put, a good exfoliation sesh should do wonders for the texture and tone of your skin, and there are a few great products and methods to try if you're experiencing the same problems. While it's probably not a good idea to overdo it (don't go straight to Exfoliation Town every single time you hit the shower), these tips gathered from experience are the best once-or-twice-a-week solutions a girl could ask for. Now go forth and slough wisely, my friends.
EcoTools Dry Brush, $13, Amazon
At nearly every spa I've been to, dry brushing has been on the menu. Some believe that the dry brush can tighten your skin, remove toxins, and clear up cellulite. While I'm not going to take it that far, I will say this: Nothing exfoliates quite like a natural tampico fiber or boar bristle dry brush.
I like to use mine before a shower, sloughing off and roughing up dead skin areas like my knees, feet, the backs of my thighs, and upper arms before rinsing it all away. Additionally, the process of lightly brushing your skin when it's dry is akin to a massage, which can stimulate circulation and cell reproduction. Simply put, it should exfoliate your skin incredibly well and make you feel like you're getting an at-home spa treatment.
Alba Botanica Sea Salt Body Scrub, $9, Amazon
Particularly great for those with oil skin, sea salt scrubs rough away dead skin like nobody's business. While many salt scrubs claim they are OK for use on the face, be warned: If you've got sensitive skin like I do, the salt granules might be just a bit too harsh. Instead, use the scrubs on your elbows, shoulder blades, and anywhere on your body that needs a refresher.
3. Make A Coffee-Based Potion
There's honestly nothing I don't like about a coffee scrub. For starters, it's basically the cheapest and most convenient scrub you can treat yourself to. After all, haven't you just finished your morning coffee? Grab those grinds and head to the shower, but not before mixing them with a few other ingredients (my favorite recipe being that of the video above).
You might notice that a lot of these DIY coffee scrubs claim to combat cellulite, the reasoning being that many "cellulite-busting" products contain caffeine. I can't attest to that (your cellulite is pretty awesome, anyways), but at the very least, the lumps and bumps on your skin deserve to be exfoliated with all the rest.
Warning: Make sure your drain catch is affixed to your shower, as these coffee grounds can really gum up the works.
LUSH Buffy Body Bar, $24, Amazon
It's a little pricey, and I was skeptical at first, but LUSH's "Buffy" Body Bar is by far the most exfoliating product I've ever used. It's also marketed specifically to exfoliate those beautiful buns of yours — hey, none of us usually want to admit it, but man-oh-man can our cheeks get dry and bumpy.
Buffy combats this by sloughing away pesky butt skin with ground rice and almonds, leaving behind a silky moisture layer of cocoa and shea butters. If you splurge on your exfoliation needs at all, do it with Buffy.
Exfoliating Bath Washcloth, Red & Green, $6, Amazon
I first learned about these while living in Seoul, South Korea, where exfoliation isn't just the most important part of skincare, it's a way of life. They sell these cloths everywhere (at first, I thought they were for the dishes), and admittedly, they're pretty harsh to use. However, that's kind of the point.
Steer clear of your more sensitive areas, and use a bit of shower time go bananas on your thighs, shoulder blades, butt, and elbows (believe me, they can take it). You'll be scrubbed pink by the end of it all, but your skin will have never felt smoother. Just make sure you have a nice moisturizer on hand afterwards.
6. Take A Visit To The Korean Spa
Speaking of Koreans and their commitment to routine exfoliation, there's one foolproof way to smooth your skin like it has never been smoothed before: Find the nearest Korean spa and head there immediately.
Here's how it goes down in Seoul: After you head to a Korean bathhouse, or jjimjilbang, you make your way towards the exfoliation room. There, you'll usually find a middle-aged Korean woman who means business, sporting black underwear in preparation to scrub every single part — and I mean every part — of your body.
Sure, it can be a bit punishing, but I assure you that your skin will never feel better. The best part? You then get to go soak in a hot tub or sauna for as long as you like. There are quite a few Korean spas in New York City and Los Angeles, but if you happen to live in a smaller town with a decent Korean population, you're bound to find at least one.
These are just a few of the ways to obtain the soft, smooth, ready-for-anything skin you've always dreamed up. Lumps, bumps, and flakes can be a thing of the past — and just in time for summer, too.
Love beauty and want more tips and tricks? Check out the playlist below and subscribe to Bustle on YouTube!
Images: Andrew Zaeh/Bustle (1); Courtesy Brands