How To Use Too Faced's Sweet Peach Palette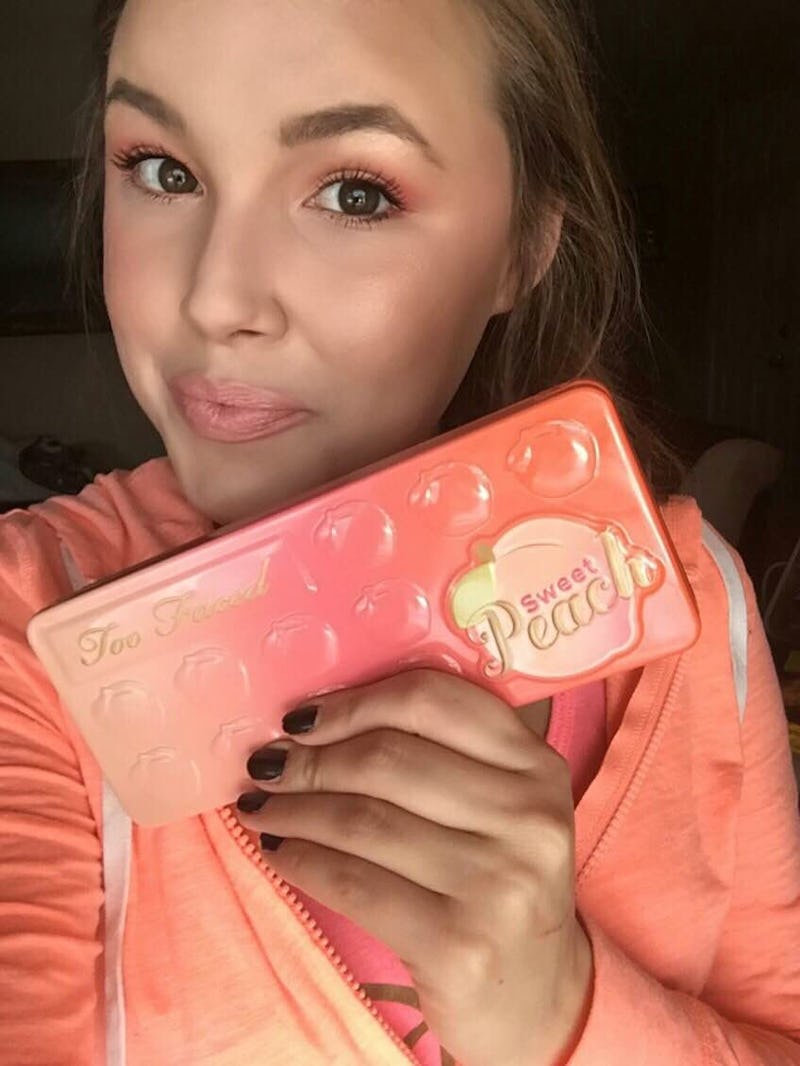 The latest summer palette has been released and it's a coral, peachy dream. Here's how to use Too Faced's Sweet Peach Palette to create three different looks, from neon coral to a cool-toned smoky eye.
Too Faced released the Sweet Peach Palette as a part of the brand's 2016 Summer Collection, and when they announced it, the Internet blew up. In classic Too Faced fashion, the shadows smell like peaches and contain antioxidant-rich peach essence. The palette contains 18 shades with 12 shimmer eyeshadows and 6 matte shadows. The palette retails for $49, so each shadow costs less than $3. It's an amazing deal and perfect for someone who loves peachy, pink, and sunny summer shades.
Like most of the Too Faced Palettes, the Sweet Peach collection of shadows are a great balance of shimmer, matte, warm and cool tones. The diversity of the colors combined with the durability of the packaging mean you can take the palette with you anywhere to create subtle, everyday looks and bold, smoky night-out drama. It's great for those summer vacations!
Too Faced Sweet Peach Eye Shadow Palette, $49, Sephora
I tried the palette for myself to create three different looks. Pro tip: When working with these shadows, try wetting the brush before so that the shimmery ones create a metallic finish.
1. Neon Coral
I created the base for this super bright look with the peach colors in the palette. I started with the matte shade Georgia, and then wet my brush to apply Candied Peach all over the lid. I chose Nectar for the inner lid.
I love this look for a summer day outing. While you can swap out the amped up neon shimmer for lighter mattes, I love that you can go bold with lighter colors. Before I did anything, however, I prepped my face with a primer to ensure the colors stayed put on my eyes.
MAC Prep+Prime Fix+, $24, Nordstrom
2. Cool-Toned Smoky
My favorite look created with this palette didn't include a single peach shade in it. I started with Charmed, I'm Sure, as a transition shade for the eye. I slowly built Tempting into the crease and mixed the purple shades together with a wet brush and focused that color on the center of the lid.
The trick to creating a bold, dark smoky eye is keeping the colors low on the lid. I also like balancing out the color on the upper lid with a matte brown shade lightly dusted on the lower lid with a small pencil brush.
Sigma E30 Pencil Brush, $15, Amazon
3. Earthy Green
Summer Yum is a deep, russet red matte shade and my favorite in the entire palette. I used it to create a halo of reddish brown all over my lid and topped it with Bless Her Heart, a shimmery light green with golden flecks of glitter. This look would be gorgeous with blue eyes, and was so easy to do with just a couple shades. I lined my lower lid with the green to balance out the eye. I topped off the camo-inspired look with a matte, reddish brown lip.
NYX Cosmetics Lip Lingerie in Ruffle Trim, $7, Ulta
While I only shared three looks, the possibilities are endless when it comes to this palette. If you're still debating whether you should get one, take my word for it — it's the best beauty buy you'll make all summer.
Want more fashion and beauty tips? Check out the video below and subscribe to Bustle on YouTube!