The New 'Alice' Trailer Features A Haunting Track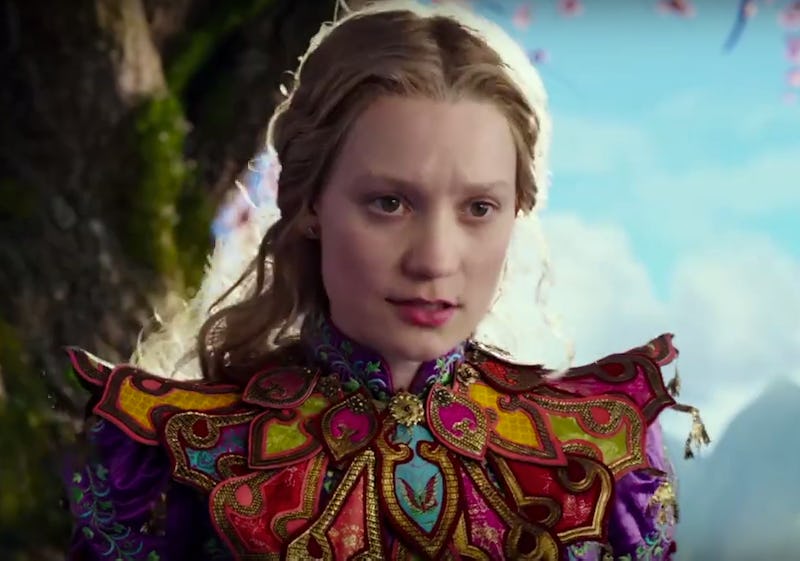 The sequel to the 2010 live action blockbuster Alice In Wonderland is proving to be just as trippy and fascinating as its predecessor, if the Alice Through The Looking Glass trailer song is to judge. The new preview of the movie, out May 27, highlights some interesting themes, such as how the film will discuss gender roles; in the trailer, a doctor can be seen telling Alice that she has "hysteria" (a medical condition of intense emotional duress once attributed to many women back in the day), not believing she was actually just on a mission back in Wonderland. The song encapsulates both the craziness of Wonderland and the Victorian gender roles of the time, and it's sung by one of the coolest singers around.
The track featured in the trailer is a cover of one of Jefferson Airplane's most popular songs, called "White Rabbit," and the singer is the lovely and fabulous Pink. "White Rabbit" was originally written by Grace Slick, the lead vocalist of Jefferson Airplane. According to the Jefferson Airplane website, Slick wrote "White Rabbit" as a jab at parents who read their children stories like Alice in Wonderland — in which Alice uses various substances to change herself — and then wonder why their kids grow up and do drugs. Not a bad choice for a movie like Through the Looking Glass.
Pink ias a wonderful choice for this song, because not only is her voice firm while still hypnotic, a great fit for the movie, but she's strong and determined, just like Alice. And she's contributing more than just this one track; as Hypable reports, Disney announced that along with the cover, Pink will be writing and recording an original song for Alice Through The Looking Glass. I'm so excited to see what she comes up with, and how it related to the movie; perhaps she'll find a way to incorporate both Alice's sensibilities and the zaniness of the land of the Mad Hatter.
Alice Through The Looking Glass comes to theaters in just a few months time, and with a trailer like that, it's sure to be a can't miss experience.
Images: Disney (2) Giphy (2)