'Civil War' Is Starting The Battle Of The Year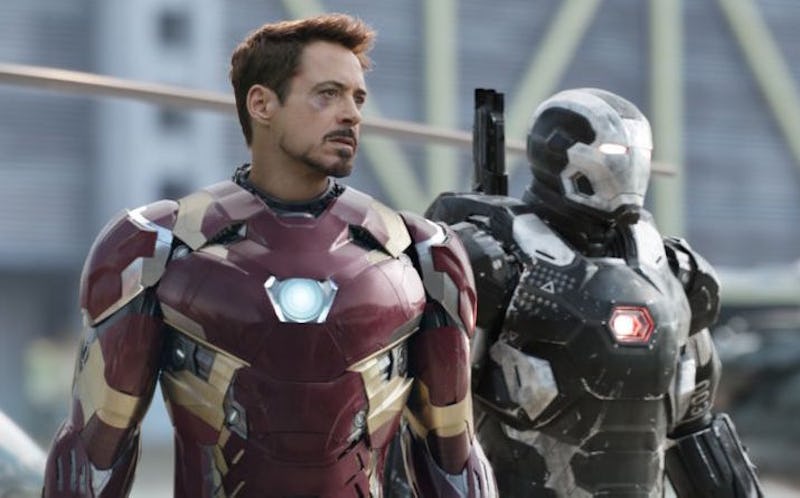 Comic book fans: The superhero battle is about to officially begin! And, no, I'm not talking about the one between Captain America and Iron Man. And I'm not talking about Batman and Superman either. I'm talking about Marvel versus DC Comics. Yep, 2016 is the year we have all been waiting for. The year when our favorite comic book entertainment companies aren't only putting their own characters head-to-head, but they're also both releasing major motion pictures around the same time. Seriously, there is no time to sit back and watch one film without already looking forward to the next. And now, despite DC Comics releasing Batman V Superman: Dawn of Justice March 25th, Marvel is already gearing up for Captain America: Civil War. How? By announcing that they will be releasing an exclusive clip of the next blockbuster superhero battle during the MTV Movie Awards airing on April 10th.
While there's no insight just yet on exactly what this new clip could include (fingers crossed that the new Spider-Man is involved), what we do know is that Captain America himself — actor Chris Evans — will be the one taking the stage at the celebrity-filled award show to present the new footage to us for the very first time. This new clip is coming to fans just two weeks after Batman V Superman hit theaters and a little bit less than a month before the May 6th premiere of Civil War in theater nationwide.
But, how is this all leading up to this year's one big superhero battle? Because pretty soon we can let the box office decide. In it's opening weekend, Batman V Superman: Dawn of Justice pulled in $166 million worldwide. Allowing BvS to win the box office for the weekend, but also continue to trail behind Marvel who successfully made $191 million in it's opening weekend for Avengers: Age Of Ultron last summer. However, perhaps it is the box office number comparisons between Batman V Superman and Captain America: Civil War that give us a clearer perspective.
Then, as the year goes on, other films from both Marvel and DC Comics will be holding wide releases in theaters. Including DC Comics' Suicide Squad and Marvel's Doctor Strange. Making the tallies for both major motion picture companies at two wide releases each this year — One being in the first half of the year and the other being closer to the second half. And when those box office numbers are all set and done, that's when the battle can be noted.
However, if you haven't already noticed, there is a long way off before the real superhero showdown is underway. So, as for right now, trade your Batman pin in for a Captain America one (at least, the sides I'm rooting for at least) and get ready for April 10th. Because even though you may still have your ticket stubs from Batman V Superman, there is no time to spare. Captain America: Civil War is coming at us strong at MTV Movie Awards. Game. On.
Images: Marvel Entertainment; Giphy